This post may contain affiliate links. Please read my disclosure for details at the bottom of this page. As an Amazon Associate, I earn from qualifying purchases on this post about paengi-beoseot, otherwise known as enoki mushrooms. Learn all about this ingredient in Korean cooking here! 
The enoki mushroom, also known as the velvet shank, is a species of non-toxic mushroom native to much of East Asia. This edible fungus grows on the stumps and trunks of different species of trees, examples of which include mulberry, persimmon, ash, and the Chinese hackberry. 
Famously, these mushrooms are a well-known ingredient in Japanese and Chinese cuisines. In Japan, these mushrooms are known as 'enokitake,' and are used in popular dishes such as shabu shabu. In Chinese cooking, they are known as  'jin-zhen-gu' which translates to 'golden needle mushrooms,' and are used in hot pots as well! 
While more popular in Japanese and Chinese cooking, people in South Korea use enoki mushrooms as an easy-to-add ingredient in soups and stews as well as braised dishes. In the Korean language, these mushrooms are known as 'paengi-beoseot' (팽이버섯). In English, this translates to 'mushroom planted near catalpa.' 
Let's learn about these long-stemmed and delicately chewy mushrooms below! 
Enoki Mushrooms in Korean Cooking:
Like I stated above, people more commonly use enoki mushrooms in Japanese and Chinese cooking. That being said, people in South Korea use these mushrooms in a multitude of dishes. Because of their mild flavor, people often slip them into different dishes to add texture and nutrition when cooking at home. Below, we list some Korean dishes that sometimes include this ingredient.
Examples of How to Use Paengi-Beoseot:
Paengi-Beoseot Jeon (팽이버섯전): In Korean cuisine, 'Jeon' (전) is a type of fritter or pancake dish made by seasoning whole, sliced, or minced protein and vegetable. Then, you pan fry these ingredients in a batter or egg wash. The main ingredient for paengi-beoseot jeon is enoki mushrooms!
Dubu Jorim (두부조림): Dubu Jorim is a popular spicy braised tofu dish in and outside of South Korea. Often, people add enoki mushrooms to their braised tofu to add a chewy texture. 
Beoseot Bap (버섯밥): In English, this dish translates to 'mushroom rice.' Beoseot bap is a comforting dolsot dish made by cooking rice with many different mushrooms such as enoki, oyster, shiitake, and king oyster. 
Gamjatang (감자탕): Gamjatang, or pork bone stew, is a popular thick Korean soup made with pork bones. Often, it contains ingredients such as potatoes, sweet potato noodles, perilla leaves, enoki mushrooms, and more.
Spicy Enoki Mushrooms (매운 팽이버섯): Scrolling through Youtube shorts or Instagram, you may come across Korean mukbang videos. Often, you will see people eating bright red enoki mushrooms. You make these spicy mushrooms using a gochujang-based sauce.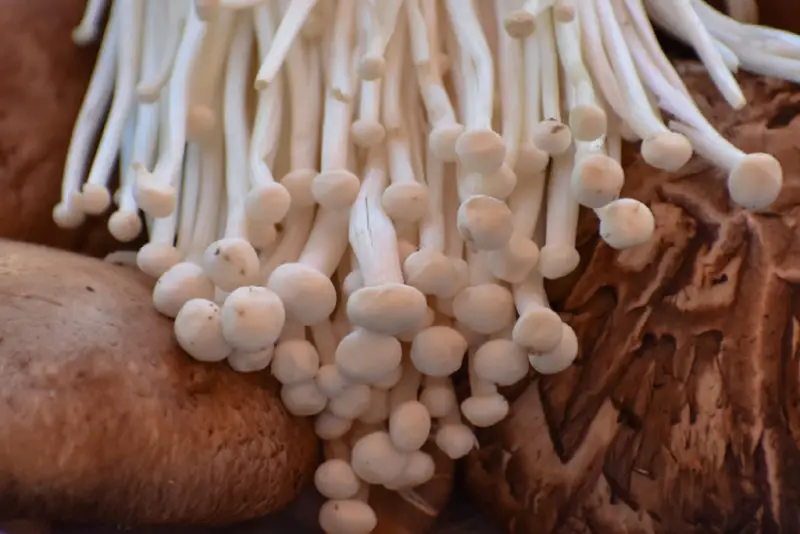 Enoki Mushrooms Frequently Asked Questions:
Now that we have listed some examples of these small clumps of white mushrooms in Korean cooking, we want to answer some potential questions you may have about this ingredient as well! If we do not answer your question about paengi-beoseot, feel free to leave a comment in the section below or email us at [email protected]. 
What Do Enoki Mushrooms Taste Like?
Enoki mushrooms have a springy snap when raw. Once cooked, the texture becomes softer but keeps a spongy center that resembles perfectly cooked noodles.  Compared to the flavor-packed shiitake or oyster mushrooms, some people say that these taste like mild-nothingness. I like to say that they have a delicate umami 'mushroom-like' flavor. 
When Is Paengi-Beoseot Season?
Typically, people harvest this winter fungus starting in September. The season for sourcing them usually ends around March. 
Where to Buy Enoki Mushrooms?
You can often find enoki mushrooms in well-stocked grocery stores or farmers' markets. If you cannot find them in either of these locations, check out your local Asian grocery store such as H-Mart. 
How Do You Store Paengi-Beoseot?
To store enoki mushrooms, place them in the refrigerator. In the fridge, they can stay fresh for up to 14 days. 
Do not wash or soak your enoki mushrooms until right before use or consumption. Rinsing them in water will cause the mushrooms to get incredibly slimy and go bad quickly because of the moisture. 
We Hope You Enjoyed Learning About Enoki Mushrooms!
In the end, we hope you enjoyed learning about paengi-beoseot, otherwise known as enoki mushrooms. If so, let us know in the comment section! 
If you would like to read more about cooking, you can find further recipes on our blog. We listed some of our favorite Carving A Journey Korean recipes below! For reference, many recipes are influenced by our blended Korean and Southern heritage.
Korean Ingredient Articles: 
Further Carving A Journey Korean Recipes:
If you have any questions or comments, you can also email us at [email protected].
And, finally, we would love to hear from you through our social media as well! You can follow us at @carvingajourney on Instagram, Twitter, Facebook, and Pinterest. Or, if you would like more articles like these, you can subscribe to our blog by joining our mailing list. We hope you enjoyed learning about enoki mushrooms! Thank you so much for stopping by!
Carving A Journey is a participant in the Amazon Services LLC Associates Program, an affiliate advertising program designed to provide a means for sites to earn advertising fees by advertising and linking to Amazon.com. Although we may earn commissions for our endorsement, recommendation, testimonial, and/or link to any products or services from this website, these opinions are my own and I fully support these products.