This post may contain affiliate links. Please read my disclosure for details at the bottom of this page. As an Amazon Associate, I earn from qualifying purchases on this ingredient article about napa cabbage. I hope you enjoy learning about napa cabbage, otherwise known as baechu!
Published 09/28/2021 Updated 11/09/2022
What Is Napa Cabbage?
Napa cabbage is a variety of Chinese cabbage native to the Beijing region. Famously, this vegetable has a long barrel shape with a mildly sweet flavor.
Historians strongly believe that this cabbage originated as a result of the centuries-long natural hybridization between bok choy from southern China and turnip from northern China. The first written records of people cultivating this ingredient are from the 15th century in the Yangtze River region. That being said, it is believed that cultivation started much sooner because the use of this ingredient had already started to spread to other countries. Some historians estimate that people started cultivating napa cabbage since the 5th century. 
History of Baechu in Korea:
While there are differing accounts, most accept that the cabbage made its way to the Korean peninsula sometime in the 15th century. There, people named it 'baechu' (배추). Then, it continued to spread to other Southeast Asian countries before finally being introduced to Japan in the 19th century. 
Now, people use napa cabbage throughout the world. You may have heard of it referred to as wombok in Australia, won bok in New Zealand, and Chinese cabbage in many other western countries.
Since its introduction, napa cabbage has become essential to both North and South Korea's cultural cuisine. Most famously, it is the main ingredient in the well-known national dish of both North and South Korea: kimchi. 
Beyond the use of napa cabbage in kimchi, people often use it in steamed, boiled, fried, pickled, and braised dishes. In the next section, I will list a few examples of napa cabbage in Korean cuisine. 
Korean Foods Using Napa Cabbage (Baechu):
As I stated above, people refer to napa cabbage as 'baechu' (배추) in South Korea.
Below, I list some of the most common ways people use it in Korean cuisine. You may notice that napa cabbage is the main ingredient in Korea's most famous food.
Examples of Baechu in Kimchi: 
Baechu Kimchi (배추김치): Outside of South Korea, people refer to this type of kimchi as 'cabbage kimchi' or simply 'kimchi.' Not only is kimchi the national dish of both North and South Korea, but it is also the most famous banchan (side dish) outside of the Korean peninsula. You make this dish by fermenting napa cabbage with other ingredients such as radish, green onions, and gochugaru. 
Nabak Kimchi (나박김치): Nabak kimchi is a type of water kimchi made using different types of vegetables and fruit. Often, napa cabbage is included as one of the vegetable ingredients in this banchan. 
Baek Kimchi (백김치): In English, this translates into 'white kimchi.' Traditionally, you make this is a non-spicy variety of kimchi without the use of gochugaru. 
Examples of Baechu in Other Foods:
Baechu Jeon (배추전): In Korean 'jeon' refers to a type of savory fritter or pancake dish using different ingredients. You make 'Baechu jeon' by coating napa cabbage leaves in a batter and pan-frying them. 
Bossam (보쌈): 'Bossam' refers to a traditional Korean meal made by placing boiled or steamed pork and other ingredients in cabbage wraps. Usually, people eat this dish when people gather to make their familial kimchi at home. 
Baechu Geotjeori (배추겉절이): In English, we can translate this dish to 'fresh kimchi.' While regular kimchi requires a period of fermentation, you eat this right away.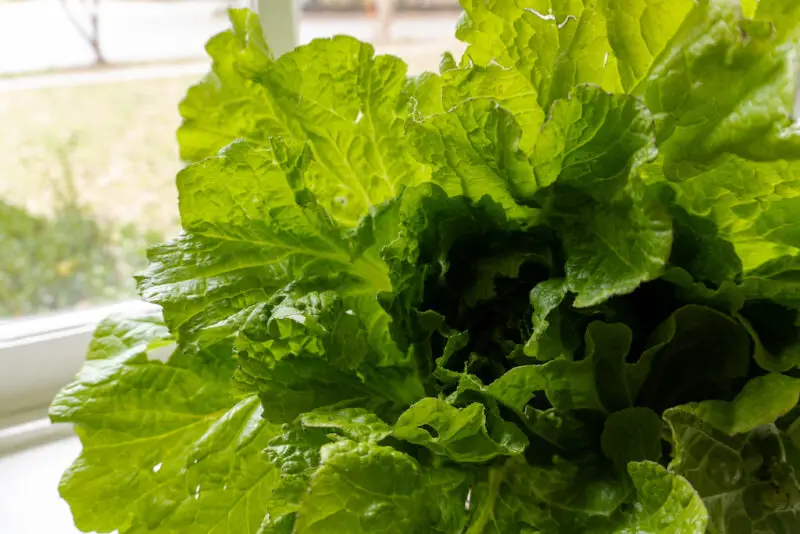 Napa Cabbage Frequently Asked Questions:
Now that we learned about napa cabbages in Korean cuisine, I want to answer some questions you may have about this ingredient! If I do not answer your question, feel free to leave a comment in the section below or email me at [email protected]. 
Where Can I Buy This Ingredient?
While you can buy napa cabbage throughout the year, it starts appearing regularly in grocery stores during the late fall months. As a cold-weather crop, it is best eaten in the late fall, winter, and early spring. The cold weather brings out the sweetness of the vegetable. Out of season, you may find that they turn bitter instead.
While you can often find napa cabbage in a well-stocked grocery store, it is not always guaranteed. Instead, for larger and cheaper napa cabbages, try shopping at your local Asian market. You can also find this ingredient at your local farmer's market when in season. 
How Do I Properly Store Baechu?
You can keep a whole head of napa cabbage for a week or more when storing it unwashed in the refrigerator. I recommend keeping this ingredient in a sealed Ziplock bag or wrapped in plastic wrap to help prevent wilting.
What Is a Good Napa Cabbage Substitute?
Napa cabbage has a uniquely sweet and mild flavor. The top end of the leaves is thin and soft, while the base of the leaves is crunchy and thick. As a result, substitutes either do not have the same flavor or texture. Nevertheless, below, I list some good examples of substitutes that you can use in soups, stews, etc. 
Bok Choy
Green Cabbage
Swiss Chard
While you can make kimchi using any of the ingredients above, they will be considered a completely different type of kimchi dish in South Korea.
I Hope You Enjoyed Learning About Baechu (Napa Cabbage)!
In the end, I hope you enjoyed learning about the uses of napa cabbage in Korean cuisine. If so, let me know in the comment section! 
If you would like to read more about cooking, you can find recipes as well as further Korean ingredient articles on my blog. I listed some of our favorite Carving A Journey Korean recipes below! For reference, many recipes are influenced by my family's blended Korean and Southern heritage.
Korean Ingredient Articles: 
Further Carving A Journey Korean Recipes:
If you have any questions or comments, you can also email me at [email protected].
And, finally, I would love to hear from you through social media as well! You can follow me at @carvingajourney on Instagram, Twitter, Facebook, and Pinterest. Or, if you would like more articles like these, you can subscribe to my blog by joining the mailing list. Let me know if you try cooking with napa cabbage (baechu)! Thank you so much for stopping by!
Carving A Journey is a participant in the Amazon Services LLC Associates Program, an affiliate advertising program designed to provide a means for sites to earn advertising fees by advertising and linking to Amazon.com. Although we may earn commissions for our endorsement, recommendation, testimonial, and/or link to any products or services from this website, these opinions are my own and I fully support these products.