This post may contain affiliate links. Please read my disclosure for details at the bottom of this page. As an Amazon Associate, I earn from qualifying purchases on this Korean fresh kimchi recipe. We hope you enjoy learning about baechu geotjeori!
One of my favorite side dishes to eat with Korean barbecue is geotjeori! Crispy and fresh, it always tastes delicious with samgyeopsal (grilled pork belly).
In the past, I wrote an article for sangchu geotjeori, otherwise known as fresh lettuce kimchi. This time, I am sharing a recipe for baechu geotjeori, otherwise known as fresh cabbage kimchi! I love this small-batch recipe because it tastes so light and refreshing. It is perfect with fatty meat dishes! While kimchi typically takes days and days to make and ferment, this recipe takes no more than 3 hours (30 minutes of active cooking)! 
While geotjeori recipes often include sugar, honey, or sweet syrup, this recipe is sweetened naturally by using an Asian pear. Excitingly, as a result, this recipe is naturally sugar-free! It is also Whole30 for anyone following the diet. 
For more napa cabbage recipes, try making baechu jeon (Korean cabbage pancakes)!
What Is Geotjeori?
'Geotjeori' (겉절이) is a type of kimchi made fresh without fermentation. In English 'geot' (겉) translate to 'out' or 'outer.' Then, 'jeori' (절이) translates and refers to 'something salted or pickled.' 
In other words, for geotjeori, you salt and pickle the outer layer of the vegetable rather than letting it penetrate and ferment over an extended period. 
Baechu Geotjeori Note: Like our sangchu geotjeori recipe, people make this side dish to eat with rice and other less salty dishes (such as samgyeopsal). As a result of the quick pickling process, this dish is a bit salty. I do not recommend serving this as a main salad without rice. 
Geotjeori vs Kimchi:
As I stated above, geotjeori and kimchi are very similar. On one hand, geotjeori refers to a particular type of kimchi dish made fresh without fermentation. On the other hand, when people refer to kimchi, they refer to the style of dish made by fermenting the ingredients over time. 
Baechu Geotjeori (Fresh Kimchi) Tips & Tricks:
Now that we learned about geotjeori, we wanted to give some tips & tricks to help you make this baechu geotjeori recipe! Let us know if these tips help you prepare this recipe at home! If you have any questions, leave a comment below or email us at [email protected].
Check out the tips below!
-Soak the Cabbage In Salt Water (2-Methods):
Method 1: Using a large bowl, combine 1 cup of water with 3 TBSP of water. Stir the mixture until the salt dissolves into the water. Then, add the cut and washed cabbage to the bowl. Finally, mix and combine the water with the cabbage. Every 30 minutes, remix the cabbage and salted water. Make sure the cabbage on the top goes to the bottom and vice versa. You will notice the cabbage on the bottom gets more and more wilted. You want it to wilt evenly.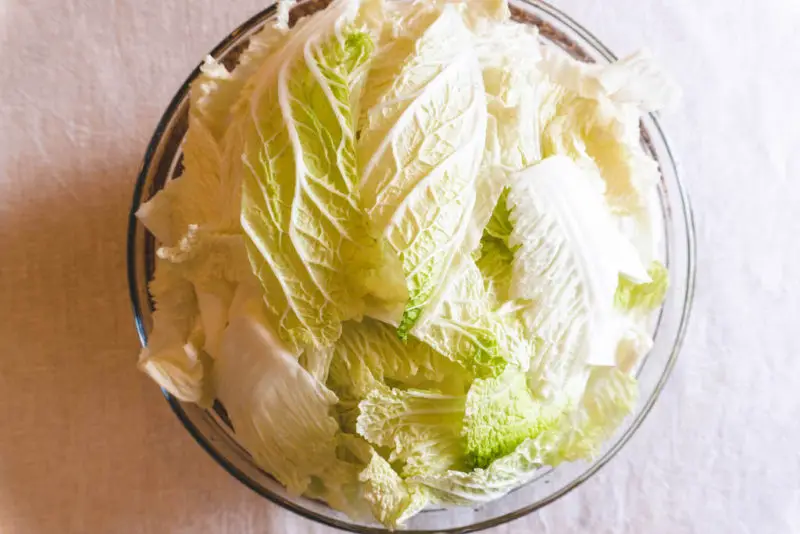 Method 2: Using a gallon-sized Ziploc bag, combine 1 cup of water with 3 TBSP of salt. Then, close the bag and shake it until the salt dissolves. Then, add the cut and washed cabbage to the Ziplock bag. Shake the bag to soak the cabbage in the salted water. Every 15 to 30 minutes, shake and flip the bag to soak the cabbage. Once again, you want to evenly soak all the cabbage.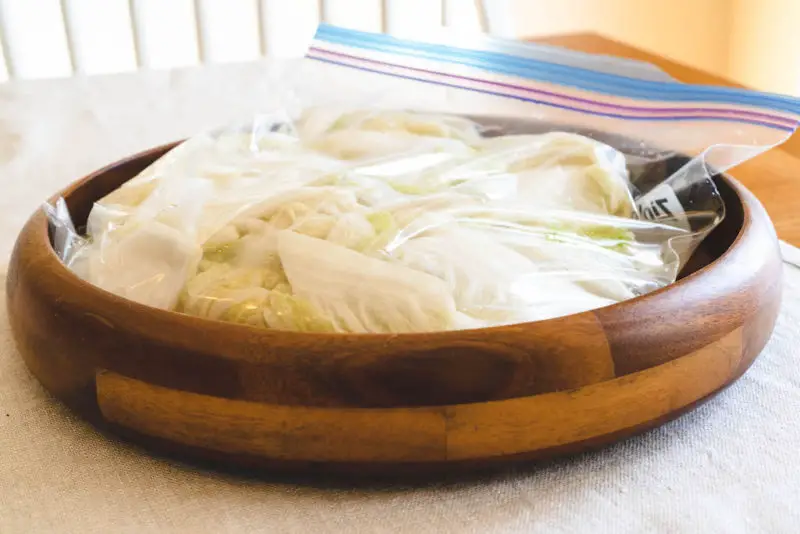 -How to Know the Cabbage Is Ready:
Typically, I recommend soaking the cabbage for approximately 2 hours. This process may take a little less or a little more time. 
To know the cabbage is ready, take a piece of the cabbage with a good amount of the white fibrous center. Then, bend the piece in half. If the white part snaps in half, you need to soak it more. If it bends when pressed together, your cabbage is ready!
Once ready, you just need to wash off all the salt!
-Squeeze the Wilted Cabbage:
After you finished soaking the cabbage and washing the salt off, squeeze the cabbage to remove all excess water before putting it into a new bowl. 
Removing the excess water allows the sauce to stick to the cabbage more easily. Otherwise, your fresh kimchi will be overly liquidy. 
-Use Your Hands to Mix the Fresh Kimchi Sauce: 
While unnecessary, using your hands allows you to evenly distribute the sauce over the entirety of the cabbage leaves, including the nooks and crannies. Completely coating and needing in the sauce is an important part of making kimchi and geotjeori. In Korea, they even have the saying: 'son-mat' (손맛), which literally translates to 'hand taste.' Learn about 'hand taste' and how it affects the flavor of food in this article!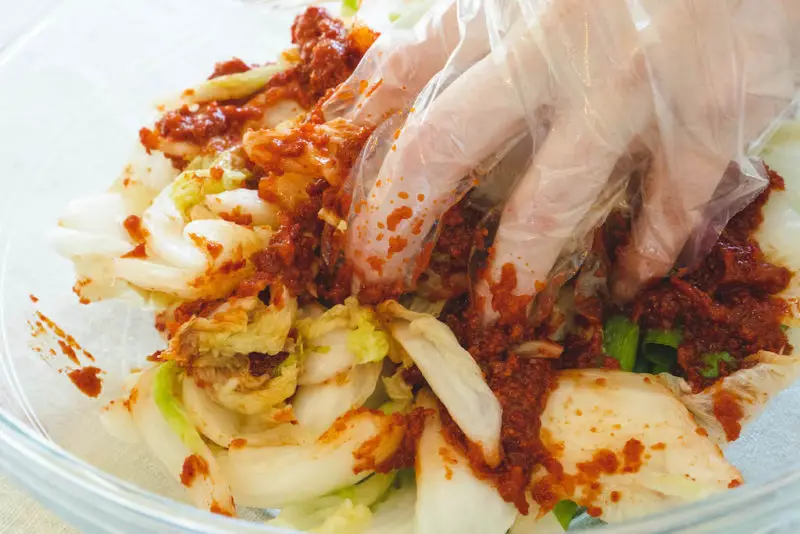 Note: If you do not want to get sauce on your hands, I recommend buying biodegradable food prep gloves. Also, people in Korea buy reusable gloves that they use solely to make kimchi! 
Fresh Kimchi Frequently Asked Questions:
Now that we learned some tips & tricks for making this recipe, we want to answer some questions you may have about fresh kimchi! If we do not answer your question, feel free to leave a comment in the section below or email us at [email protected]. 
Can I Make This Recipe in Advance?
You should make fresh kimchi right before serving. As geotjeori sits, it wilts more and more until it becomes soggy. Freshly made baechu geotjeori is still crispy and crunchy! 
How Should I Store the Leftovers? 
To store the leftovers, place the baechu geotjeori in an airtight container. Then, place it into the refrigerator. As I mentioned above, leftover geotjeori will become soggy over time. Eat it quickly so it still has a crunchy texture. That being said, I still enjoy it even after it is soggy! Eat within a few days. 
Does This Fresh Kimchi Recipe Contain Any Allergens? (Gluten, Soy, Etc.)
For the most part, this recipe does not contain major allergens. It does not contain any tree nuts, peanuts, gluten, wheat, soy, milk, and/or eggs. 
Unfortunately, this recipe does contain fish sauce. For those with fish or shellfish allergies, this recipe is not for you. 
Where Can I Buy the Ingredients?
You can shop for some of the ingredients, such as green onions, garlic, and salt, in a well-stocked grocery store. That being said, some of the other ingredients might be more difficult to find.
To find a Korean pear (also known as Asian pear), napa cabbage, gochugaru, and fish sauce, you may need to shop at your local Asian grocery store. You can also order some of these ingredients online!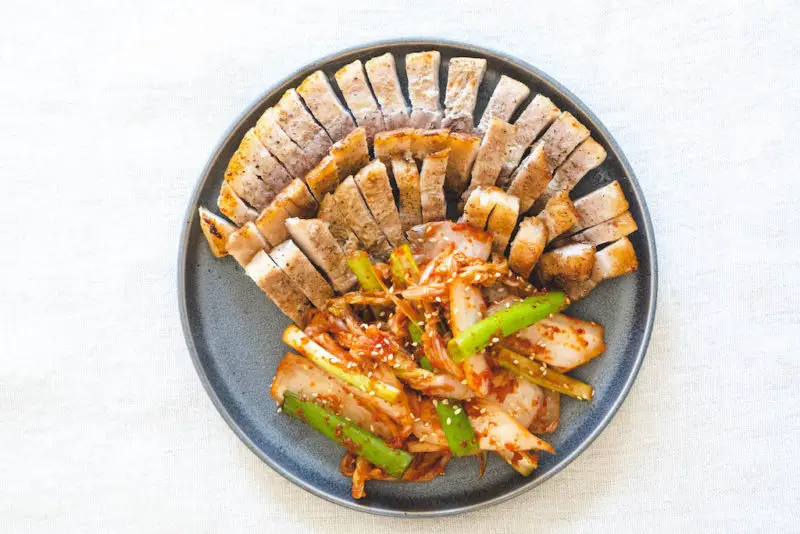 We Hope You Enjoyed Learning How to Make Baechu Geotjeori!
In the end, I hope you enjoyed learning how to make this baechu geotjeori (fresh kimchi) recipe! If so, let me know in the comment section! 
If you would like to read more about cooking, you can find recipes as well as further Korean ingredient articles on our blog. I listed some of our favorite Carving A Journey Korean recipes below! For reference, many recipes are influenced by my family's blended Korean and Southern heritage.
Korean Ingredient Articles: 
Further Carving A Journey Korean Recipes:
If you have any questions or comments, you can also email us at [email protected].
And, finally, we would love to hear from you through our social media as well! You can follow us at @carvingajourney on Instagram, Facebook, and Pinterest. I also started a vlog Youtube channel! Or, if you would like more articles like these, you can subscribe to my blog by joining the mailing list. Let me know if you make this fresh kimchi dish! Thank you so much for stopping by!
Carving A Journey is a participant in the Amazon Services LLC Associates Program, an affiliate advertising program designed to provide a means for sites to earn advertising fees by advertising and linking to Amazon.com. Although we may earn commissions for our endorsement, recommendation, testimonial, and/or link to any products or services from this website, these opinions are my own and I fully support these products.