This post may contain affiliate links. Please read my disclosure for details at the bottom of this page. As an Amazon Associate, I earn from qualifying purchases on this recipe for kimchi rice balls. We hope you enjoy learning about kimchi jumeokbap!
Do you enjoy picnicking during the warmer months of the year? If so, try adding kimchi jumeokbap, otherwise known as Korean kimchi rice balls, to your picnic repertoire! Or, instead, you can also make these for a simple meal at home. 
In South Korea, people often make these quick and easy rice balls as a rice-based filling ingredient in packed lunches. Previously, I wrote about Korean rice balls when I published my basic jumeokbap recipe. Now, I want to introduce you to these kimchi-based rice balls!  These are a favorite in our household, as my husband's mother always made these for him when he went on school field trips!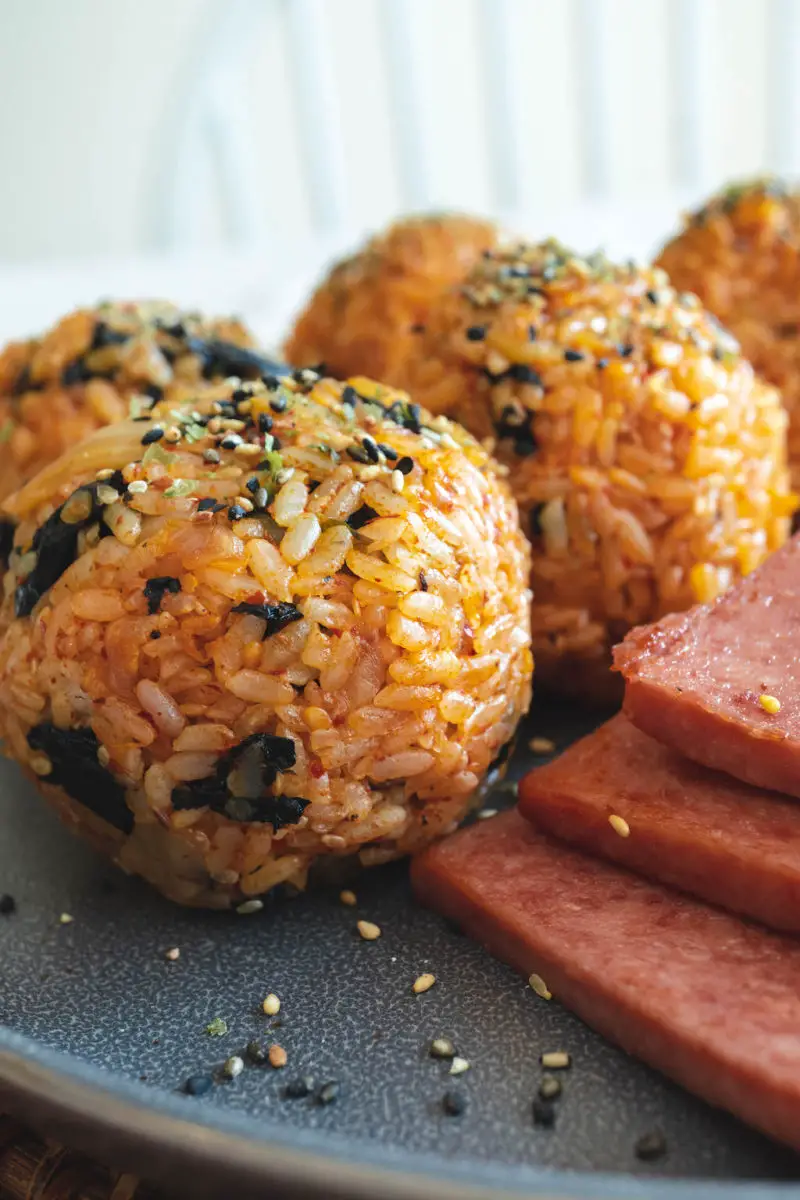 What Is Jumeokbap?
Like I stated in my basic Korean rice ball recipe, the term 'jumeokbap' (주먹밥) literally translates from Korean to English as 'fist rice.' The word 'jumeok' (주먹) means 'fist,' while 'bap' (밥) translates to 'rice.'
To make this Korean rice-based dish, you form a handful of cooked rice into the shape of a ball inside your fist. Some common ingredients include canned tuna, ground meat, dried seaweed, spam, corn, carrots, and more! There is no rule–You can add anything that you think will taste good! 
Like kimbap (such as our cheese kimbap or tuna kimbap), triangle kimbap, or mayak eggs, jumeokbap is a common ingredient in 'dosirak' (도시락), otherwise known as a Korean packed meal or lunchbox. People often pack these dosirak to eat on school field trips, picnics, and more!
Kimchi Rice Balls Tips & Tricks:
Now that we learned about jumeokbap, we wanted to give some tips & tricks to help you make this kimchi rice balls recipe! Interestingly, you make this recipe much like you would making kimchi fried rice (kimchi bokkeumbap)! 
Let us know if these tips help you prepare this recipe at home! If you have any questions, leave a comment below or email us at [email protected].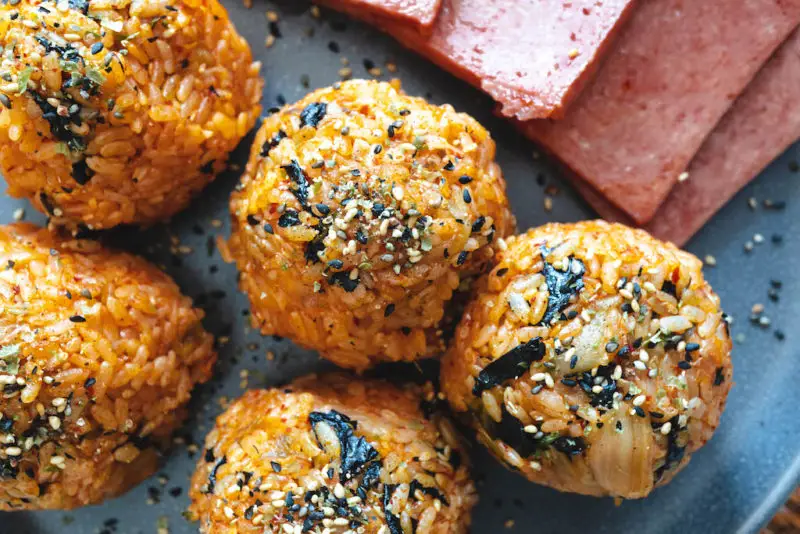 Kimchi Jumeokbap Tips & Tricks:
Kimchi Rice Balls Frequently Asked Questions: 
Now that we learned some tips & tricks for making this recipe, we want to answer some questions you may potentially have about kimchi rice balls as well! If we do not answer your question, feel free to leave a comment in the section below or email us at [email protected]. 
How Big Should I Make These Rice Balls?
You can make these rice balls any size. In our basic jumeokbap recipe, we made the rice balls smaller, the size of one or two bites. Here, we made the rice balls larger. I made the pictured kimchi rice balls by packing a ⅓ measuring cup full of the rice mixture before forming them.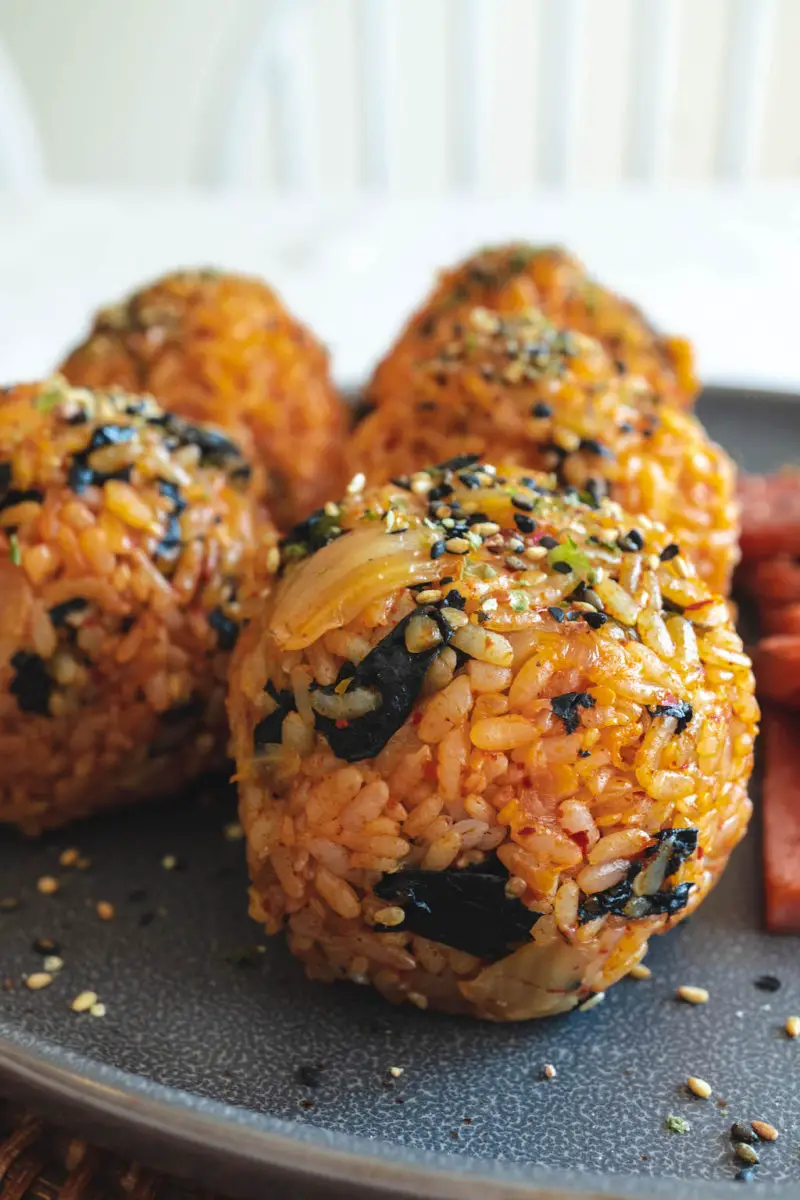 How Should I Store the Leftovers?
To store leftovers, place the rice balls into an airtight container. Then, place the container in the refrigerator. To reheat, cook the rice balls into the microwave.
How Long Can I Store the Leftovers?
I recommend eating the leftovers within one or two days. Rice gets harder the longer it stays in the refrigerator. 
What Should I Serve With These Kimchi Rice Balls?
Often, people serve protein and banchan next to jumeokbap in packed lunch boxes. You can add items such as:
We Hope You Enjoyed Learning How to Make These Kimchi Rice Balls!
In the end, we hope you enjoyed learning how to make this kimchi rice balls recipe! If so, let us know in the comment section! 
If you would like to read more about cooking, you can find further recipes on our blog. We listed some of our favorite Carving A Journey Korean recipes below! For reference, many recipes are influenced by our blended Korean and Southern heritage.
How to Articles: 
Further Carving A Journey Korean Recipes:
If you have any questions or comments, you can also email us at [email protected].
And, finally, we would love to hear from you through our social media as well! You can follow us at @carvingajourney on Instagram, Facebook, and Pinterest. I also started a vlog Youtube channel! Or, if you would like more articles like these, you can subscribe to our blog by joining our mailing list. Let us know if you made this kimchi rice balls recipe! Thank you so much for stopping by!
Carving A Journey is a participant in the Amazon Services LLC Associates Program, an affiliate advertising program designed to provide a means for sites to earn advertising fees by advertising and linking to Amazon.com. Although we may earn commissions for our endorsement, recommendation, testimonial, and/or link to any products or services from this website, these opinions are my own and I fully support these products.