This post may contain affiliate links. Please read my disclosure for details at the bottom of this page. As an Amazon Associate, I earn from qualifying purchases on this Korean-Italian fusion dish article. I hope you enjoy learning about how to make Korean perilla pesto recipe!
Are you looking for a new way to enjoy Korean perilla leaves? If so, try this Korean-Italian perilla pesto recipe! Learn all about this Korean perilla pesto recipe below! 
What Is Perilla Pesto?
Pesto is an Italian paste made traditionally by combining crushed garlic, pine nuts, coarse salt, basil leaves, and hard cheese (such as Parmigiano-Reggiano or Pecorino Sardo) with olive oil. This thick paste originated in Genoa, the capital city of Liguria, Italy, and has spread in popularity worldwide. 
Perilla pesto is a take on the traditional Italian recipe, replacing basil with perilla leaves. Perilla is a herb native to the Korean peninsula. This plant is a relative to mint, though the flavor profile is quite different. I would describe perilla as having a slightly spicy, grassy flavor with a hint of mint as an afterthought. To me, perilla is an herb that tastes like a mixture of basil and mint, making it the perfect deliciously light and refreshing ingredient for pesto! 
I hope you enjoy learning how to make this Korean-Italian fusion dish! But, before we get to the recipe, let's learn more about perilla via my ingredient articles on the subject: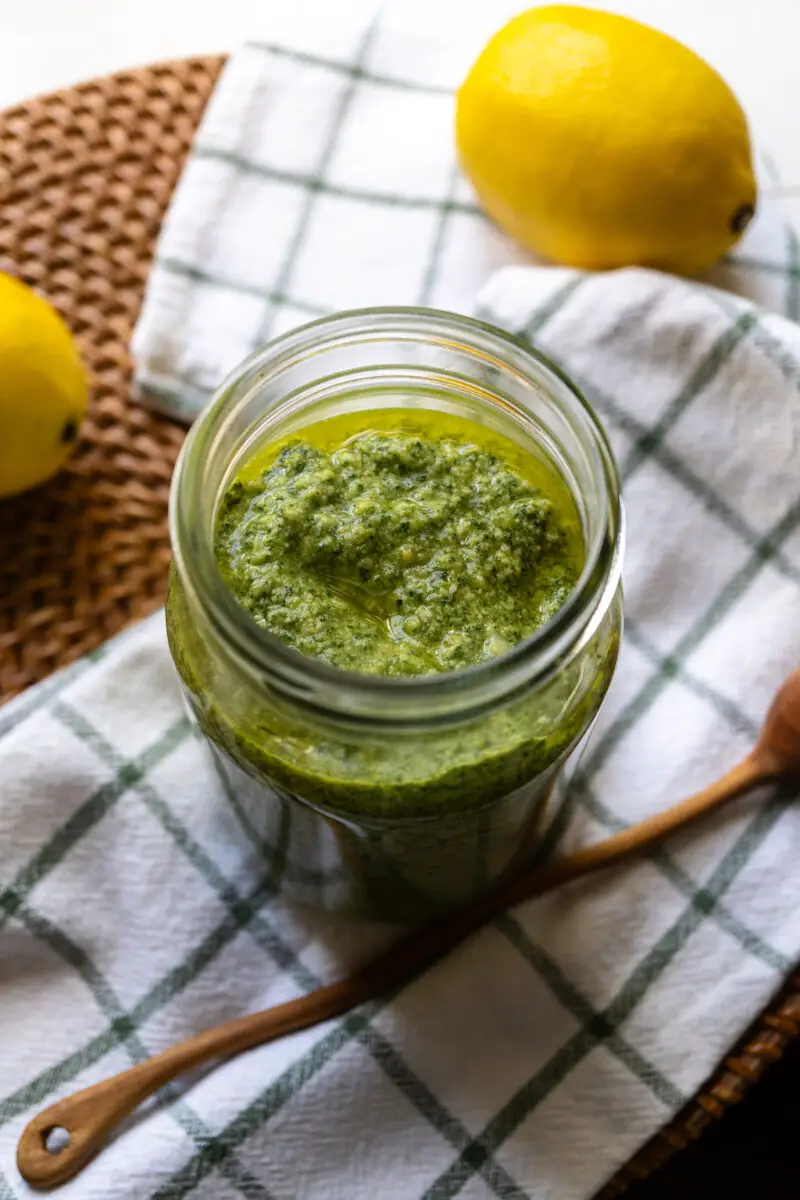 Korean Perilla Recipe Ingredients:
Below, I list the ingredients used to make this delicious Korean-inspired perilla pesto. I also linked any informative articles on my site connected to these ingredients:
Korean Perilla Pesto Ingredients:
Perilla Pesto Tips & Tricks: 
Here, I list some helpful tips & tricks to help you make this quick and easy perilla pesto. If you have any questions, leave a comment below or email me at [email protected]!
You can either use a food processor or a mortar and pestle to blend the ingredients. While the latter is the more traditional way, I find the former to make the process quicker and easier. 
If using a food processor, I recommend adding a few ice cubes to the mixture. This helps keep the fresh, bright green color of the perilla. When processing herbs, the color darkens as a result of the oxidation and heat from the blending process. The ice helps mitigate the discoloring. 
When adding ingredients to the food processor, start with the garlic, toasted pine nuts, lemon juice, salt, and pepper. Pulse until well chopped.
Then, add in the perilla leaves. Pulse until well combined.
Finally, while running the food processor, add the olive oil in a slow steady stream. Afterward, scrape the sides and pulse again until combined. 
Lastly, add the grated cheese.
For smoother and richer pesto, add in more oil. For a thicker pesto, keep it as is. 
Serve the pesto over noodles, in sandwiches, on pizza, and more! 
Korean Perilla Pesto Frequently Asked Questions: 
Now that we learned some tips & tricks for making this Korean perilla recipe, I want to answer some questions you may have as well! If I do not answer your question, feel free to leave a comment in the section below or email me at [email protected]. 
Does This Recipe Contain Major Allergens? (Gluten, Soy, Etc.)
Before listing all of the major allergens, I want to state that all of my recipes are naturally gluten-free. On this blog, I only use and recommend gluten-free ingredients and brands. That being said, I list gluten as a potential allergen when necessary– this is because many Korean ingredients (such as soy sauce, gochujang, and doenjang) contain gluten unless you specifically buy gluten-free versions. Not only is this true for gluten, but it is true for other major allergens as well. As such, I always list allergy substitutions in the next section of my post. 
This recipe does not contain 7 of the 9 major allergens. It does not contain: 
Peanuts
Sesame
Wheat (Gluten)
Soybeans
Fish
Crustacean Shellfish
Eggs
This recipe does contain 2 of the 9 major allergens. It can contain: 
Allergy Substitutions or Omissions: 
For those with a tree nut allergy:
This recipe contains pine nuts which are classified as a variety of tree nuts. For this reason, this recipe is not safe for those with a tree nut allergy. Instead, try switching the pine nuts with toasted sunflower seeds! These seeds are fatty, creamy, and slightly nutty in flavor which helps balance out the pesto. 
It is important to note that there is a chance of cross-reactivity with sunflower seeds and tree nuts. For that reason, anyone with a nut allergy should speak with an allergist if uncertain about eating sunflower seeds. I am not an allergist and cannot speak for each case. 
For those with a milk (dairy) allergy: 
Unfortunately, for those with a milk allergy, you need to avoid this recipe because it contains Parmesan-Reggiano. Thankfully, these days, they sell dairy-free parmesan cheese you can use as a replacement. 
Is This Recipe Vegetarian or Vegan?
Excitingly, this recipe is naturally vegetarian! Unfortunately, it is not vegan because of the parmesan-reggiano cheese.  Thankfully, you can easily replace the cheese with vegan ingredients such as ground cashews and nutritional yeast! 
Where Do I Buy the Ingredients?
You can buy most ingredients listed for this recipe at your local well-stocked grocery store. Unfortunately, perilla can be difficult to find in most Western-style markets. Instead, look for perilla leaves at a Korean or Asian grocery store (such as H-Mart or a family-run business). 
For those really adventurous people, you can buy Perilla seeds online to grow at home during the summer and early fall! 
Where to Buy Korean Ingredients Online? 
Nowadays, there are many online options to choose from to order Korean food online. These websites are not limited to but include:
Amazon
H-mart
Hanpoom
Wooltari 
How Do I Store Leftovers?
To store your leftovers, place your pesto in an airtight container and store it in the refrigerator. I recommend eating it within a week. Place leftover noodles in a separate container.  
I Hope You Enjoyed Learning How to Make This Korean Perilla Pesto Recipe!!
In the end, I hope you enjoyed learning how to make this delicious Korean-Italian perilla pesto recipe! If so, let me know in the comment section! Also, let me know if you have a favorite fusion recipe you cook and eat at home! 
If you would like to read more about cooking, you can find further recipes on this blog. I listed some of my favorite Carving A Journey recipes below! For reference, many recipes are influenced by my family's blended Korean and Southern heritage.
Further Carving A Journey Recipes:
If you have any questions or comments, you can also email me at [email protected].
And, finally, I would love to hear from you through our social media as well! You can follow me at @carvingajourney on Instagram, Facebook, and Pinterest. I also started a vlog YouTube channel with my husband! Or, if you would like more articles like these, you can subscribe to the blog by joining the mailing list. Let me know if you try making this Korean perilla pesto recipe! Thank you so much for stopping by!
Carving A Journey is a participant in the Amazon Services LLC Associates Program, an affiliate advertising program designed to provide a means for sites to earn advertising fees by advertising and linking to Amazon.com. Although we may earn commissions for our endorsement, recommendation, testimonial, and/or link to any products or services from this website, these opinions are my own and I fully support these products.