This post may contain affiliate links. Please read my disclosure for details at the bottom of this page. As an Amazon Associate, I earn from qualifying purchases on this article about deulgireum, otherwise known as Korean perilla oil. We hope you enjoy learning about perilla oil in Korean cooking!
Recently, we learned about toasted sesame oil in Korean cooking. People use this popular ingredient throughout East Asia as a finisher and cooking ingredient. Now, we want to teach you about perilla oil, a similar ingredient that is used almost exclusively in Korean cuisine. 
Learn all about this oil below! 
What is Perilla Oil?
Perilla oil is an edible vegetable oil made from pressing perilla seeds. Like sesame oil, there are two types of oil, toasted and untoasted. 
Once made, the leftover smushed seed byproduct (known as press cakes) of the oil-making process is then used as animal seed and garden fertilizer.
Furthermore, in South Korea, people also use the other parts of the perilla plant for cooking. Perilla leaves are used as an herb in dishes as well as an ingredient used in meat and lettuce wraps known as 'ssam' (쌈).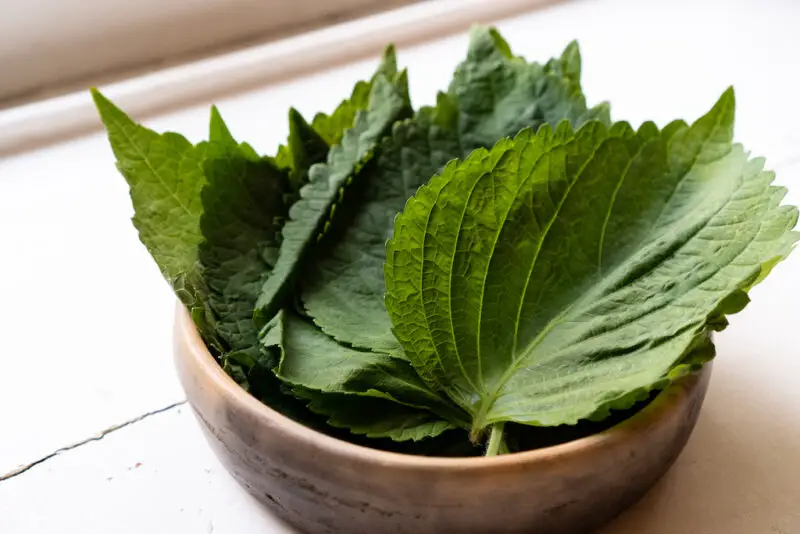 This 'no waste' mentality of using the entire plant or animal is prevalent in Korean food and eating culture. 
Perilla Oil in Korean Cooking:
In the Korean language, the term for perilla oil is 'deulgireum' (들기름). Like I stated above, people use this ingredient as a flavor-enhancing finisher, condiment, and cooking oil. 
While used commonly in South Korea, it can be an acquired taste. Often, people describe the flavor as nutty and earth with strong licorice and anise finish. I recommend using this ingredient sparingly until you decide whether or not you like the flavor. 
Below, I list some examples of dishes that use perilla oil as an ingredient. Often, it is used interchangeably (based on preferred flavor) with toasted sesame oil. 
Example of Perilla Oil in Korean Cuisine: 
As always, if you cannot find perilla oil, you can easily replace it with sesame oil in recipes! 
Deulgireum Frequently Asked Questions:
Now that we learned about perilla oil, we want to answer some potential questions you may have about this ingredient as well! If we do not answer your question, feel free to leave a comment in the section below or email us at [email protected]. 
What Is a Perilla Oil Substitute?
Like I stated above, you can replace this ingredient with sesame oil if you cannot find perilla oil. That being said, remember that they have a different flavor profile. 
Perilla Oil vs Sesame Oil: What Is the Difference?
You should not confuse perilla oil, 'deulgireum' (들기름), with toasted sesame oil known as 'chamgireum' (참기름). While people in South Korea refer to both as 'sesame,' they are not the same plant and do not have the same flavor. 
That being said, people often use them in similar ways when cooking.
Is Perilla Oil Gluten-Free?
This oil is naturally gluten-free! As always, check the ingredients to make sure the product you choose does not have any cross-contamination. 
What About Other Major Allergens?
Excitingly, this oil does not contain any major allergens. This includes soy, wheat, dairy, peanuts, tree nuts, shellfish, eggs, and milk. 
That being said, I think it is important to note that people can develop allergies to seed-based products such as sesame or perilla. 
How Should I Store Deulgireum?
You should store sesame oil in a cool, dark, and dry location. I recommend keeping it in your refrigerator as this ingredient can go rancid rather quickly. 
How Long Does Perilla Oil Stay Good?
Once refrigerated, perilla oil can stay good for up to six months. After that, I recommend buying a new bottle. 
Where Can I Buy Perilla Oil?
The most common Korean brands include Ottogi, Hansang, Beksul, Haepyo, Chungjungwon, NongHyup, and Sempio. You can buy all of these brands online. 
You can also buy this ingredient at your local family-owned Asian grocery store or bing chains such as H-Mart.
Where to Buy Korean Ingredients Online? 
Nowadays, there are many online options to choose from to order Korean food online. These websites are not limited to but include:
We Hope You Enjoyed Learning About Perilla Oil in Korean Cooking!
In the end, we hope you enjoyed learning about perilla oil in Korean cooking. If so, let us know in the comment section! 
If you would like to read more about cooking, you can find further recipes on our blog. We listed some of our favorite Carving A Journey Korean recipes below! For reference, many recipes are influenced by our blended Korean and Southern heritage.
Korean Ingredient Articles: 
Further Carving A Journey Korean Recipes:
If you have any questions or comments, you can also email us at [email protected]. And, finally, we would love to hear from you through our social media as well! You can follow us at @carvingajourney on Instagram, Facebook, and Pinterest. I also started a vlog Youtube channel! Or, if you would like more articles like these, you can subscribe to our blog by joining our mailing list. We hope you enjoyed learning about deulgireum, otherwise known as perilla oil! Thank you so much for stopping by!
Carving A Journey is a participant in the Amazon Services LLC Associates Program, an affiliate advertising program designed to provide a means for sites to earn advertising fees by advertising and linking to Amazon.com. Although we may earn commissions for our endorsement, recommendation, testimonial, and/or link to any products or services from this website, these opinions are my own and I fully support these products.