This post may contain affiliate links. Please read my disclosure for details at the bottom of this page. As an Amazon Associate, I earn from qualifying purchases on this article about the Korean melon. We hope you enjoy learning about chamoe!
When traveling in South Korea, you may notice how expensive fruit is in grocery stores. When living in Korea, I was shocked by the price of specialty apples, kiwis, pineapples, etc. Though that is the case, some of the locally grown fruits unique to parts of East Asia are much cheaper and more readily available. One of these fruits is the Korean melon! Many people describe this fruit as tasting like a combination of a honeydew melon and cucumber. Compared to Western varieties, this fruit tastes less sweet and milder.
Note: To learn about other Korean fruits, check out our article listing the most popular varieties cultivated in South Korea! Or, you can look into some of our ingredient articles. We wrote in-depth about fruits such as the Korean pear (bae).
What Is the Korean Melon?
The Korean melon, also known as the oriental melon, is a type of fruit from the Cucumis melo group of cultivators that people grow and cultivate in much of East Asia. Researchers believe this edible plant may have originated in eastern India before spreading to China through the Silk Road. From there, it was introduced to the Korean peninsula and Japan.
The Oriental Melon in Korean Culture:
In the Korean language, people refer to the Oriental melon as 'chamoe' (참외). The term is a portmanteau, aka a word composed of multiple words combined. The first word is 'cham' (잠), meaning 'true' or 'real.' The second term, 'oe' (외), means 'cucumber.' 
The oriental melon was first introduced to the Korean peninsula through China during the Three Kingdoms period. Because of its deliciously sweet and mild flavor, people fell in love with the fruit, spreading its popularity across both North and South Korea. Now, it is considered the most popular fruit of summer. 
While the chamoe fruit has existed in South Korea for a few centuries, certain varieties dominated the market since the mid-1900s. 
First, the variety known as 'euncheon-chamoe' (은천참외) dominated the Korean market once people introduced it from Japan in 1957. 'Euncheon' (은천) is the Korean reading and pronunciation of the Chinese characters used for the Japanese name of Oriental melon. 
Then, in 1984, cultivators developed its descendant known as 'geumssaragi-euncheon' (금싸라기은천). This new variety became the most popular grown across South Korea. In English, you translate 'geumssaragi-euncheon' to 'gold dust euncheon.'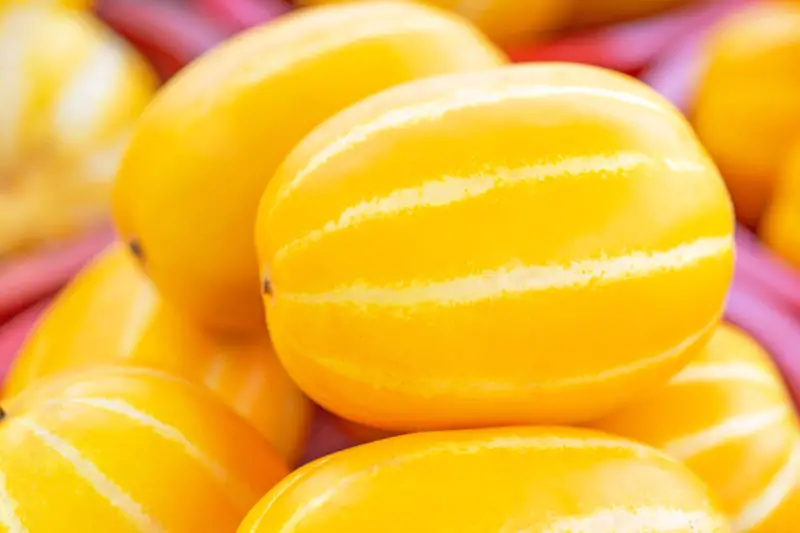 Examples of Oriental Melon in Korean Cooking:
As I stated above, in the Korean language, this melon is known as 'chamoe' (참외). Usually, people serve this fruit freshly sliced. Though that is the cause, people in Korea also use it as an ingredient in certain dishes! Below, I list two such dishes:
Chamoe-Jangajji (참외장아찌): In English, this is known as 'Korean pickled melon.' Pickled with spices, this recipe tastes sweet and sour! 
Chamoe Muchim (참외초무침): This newer recipe is known as 'Korean melon seasoned salad.' While not traditional, people make this sweet salad using the typical ingredients used to make cucumber seasoned salad.  
Korean Melon Frequently Asked Questions:
Now that we learned about the Korean melon, we want to answer some questions you may have about this ingredient! If we do not answer your question, feel free to leave a comment in the section below or email us at [email protected]. 
Where Can I Buy a Korean Melon?
Unfortunately, finding Korean melons can be difficult outside of China, South Korea, and Japan. In the United States, outside of California and Hawaii, you won't typically find these fruits in your regular grocery store. 
Instead, shop for this fruit at your local Korean grocery or large Asian market chain.
How Do I Properly Store This Ingredient?
While unpeeled, you can store this fruit in a cool place away from direct sunlight. Once peeled, I recommend storing any leftovers in an airtight container in the refrigerator. Remember to eat it within a few days. 
How Can You Tell When a Chamoe Is Ripe?
When ripe, this melon feels dense and heavy. Unripe melons tend to feel as though they are more hollow in the center. The fruit will also have a subtle fruity smell and will give slightly when pressed. 
We Hope You Enjoyed Learning About the Korean Melon (Chamoe)!
In the end, we hope you enjoyed learning about the Korean melon! If so, let us know in the comment section! 
If you would like to read more about cooking, you can find further recipes on our blog. We listed some of our favorite Carving A Journey Korean recipes below! For reference, many recipes are influenced by our blended Korean and Southern heritage.
Korean Ingredient Articles: 
Further Carving A Journey Recipes:
If you have any questions or comments, you can also email us at [email protected].
And, finally, we would love to hear from you through our social media as well! You can follow us at @carvingajourney on Instagram, Facebook, and Pinterest. I also started a vlog Youtube channel! Or, if you would like more articles like these, you can subscribe to our blog by joining our mailing list. Let us know if you try this fruit! Thank you so much for stopping by!
Carving A Journey is a participant in the Amazon Services LLC Associates Program, an affiliate advertising program designed to provide a means for sites to earn advertising fees by advertising and linking to Amazon.com. Although we may earn commissions for our endorsement, recommendation, testimonial, and/or link to any products or services from this website, these opinions are my own and I fully support these products.