This post may contain affiliate links. Please read my disclosure for details at the bottom of this page. As an Amazon Associate, I earn from qualifying purchases on this Korean seaweed salad recipe. We hope you enjoy learning about miyeok namul!
While I enjoy heavy and rich foods, I usually crave something light and refreshing during the warmer months of the year. This Korean seaweed salad recipe, known as miyeok namul, is the perfect side dish for those craving something that tastes fresh. 
Quick and easy to make, this healthy side dish gives strong flavors of the sea as well as a slightly nutty note from sesame oil. 
Below, we discuss namul as well as teach you how to make this dish. Then, we answer some questions you may have as well. We hope you enjoy this Korean seaweed salad recipe! 
Note: Before we get started, are you interested in trying another namul recipe besides this Korean seaweed salad recipe? If so, try our sukju-namul muchim, otherwise known as Korean mung bean sprout salad! 
What Is Namul?
In English, namul (나물) translates to 'root' or 'vegetable.' Not only is it a generic word for edible vegetation, but it also refers to a fresh style of vegetable-based side dish. 
Typically, this variety of Korean side dish is classified by its simple and clean taste rather than the ingredients used or cooking method. You can prepare namul using raw, pickled, sauteed, blanched, or even dried ingredients. Ingredients can include bean sprouts, leafy greens, fibrous stems, starchy root vegetables, sweet fruits, and more. 
To make these vegetable side-like side dishes, people in Korea use culturally common flavor-enhancing ingredients such as soy sauce, sesame oil, sesame seeds, and garlic. 
Note: People often use namul and muchim interchangeably. Namul (나물) literally means 'root' or 'vegetable.' Muchim (무침) means 'seasoned.' That being said, I find that miyeok muchim is different from miyeok namul–the muchim has more of a sweet and sour taste compared to this mild and nutty namul recipe.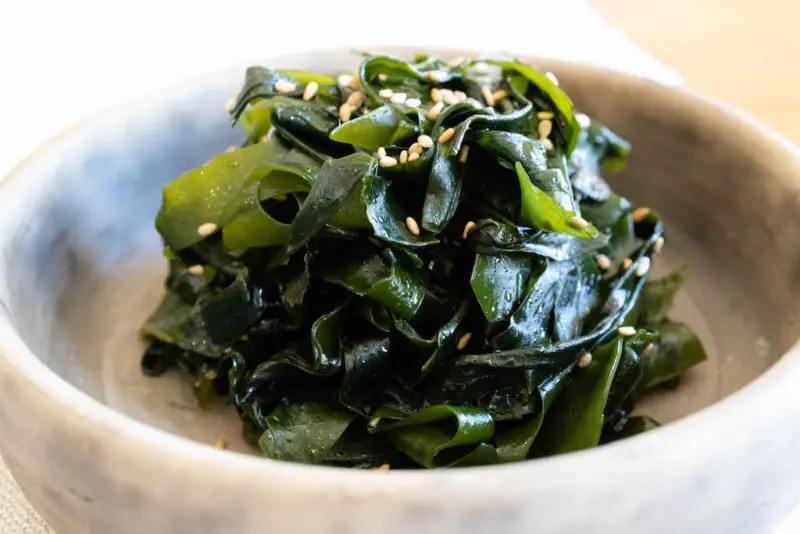 What Is Miyeok Namul?
In English, 'miyeok namul' (미역 나물) translated to seaweed salad. This salad is made using the stems of the wakame variety of seaweed. In Korean, this variety of seaweed is known as 'miyeok.' In Japanese, it is known as 'wakame.' Finally, in English, people refer to it as 'wakame' or 'sea mustard.' 
Interestingly, this salad uses the same type of seaweed people use to make the Japanese seaweed salad found in Japanese sushi restaurants across the United States. That being said, you may notice that the seaweed looks completely different. Korean seaweed salad uses the leaves of the wakame variety. Japanese seaweed salad uses the thin stems of the wakame seaweed. 
Note: After reading an article on Nami's blog Just One Cookbook, I learned that the Japanese-style seaweed salad mentioned above does not exist in Japan, but rather it is a foreign invention!  
Korean Seaweed Salad Tips & Tricks:
Now that we learned about namul, we wanted to give some tips & tricks to help you make this miyeok namul recipe! Let us know if these tips help you prepare this recipe at home! If you have any questions, leave a comment below or email us at [email protected].
Check out the tips below!
First, soak the dried seaweed in a large bowl. This seaweed expands A LOT. You do not want the seaweed to expand and spill out of your small mixing bowl. 
Do not soak the seaweed for an extended period. If you do, you may lose the strong seaweed flavor. Soak for no more than 10 to 20 minutes. For this recipe, I soak for 15 minutes.
Then, pour out the seaweed into a colander and rinse the seaweed. After rinsing, gently squeeze out some of the water. Do not squeeze out too much as you need a bit of water when sauteing in the frying pan. 
Before stir-frying, transfer the seaweed to a cutting board and chop it into large bite-sized pieces. It is easier to do this step before than after! After chopping, combine the seaweed with soy sauce and fish sauce. 
Then, stir fry over medium-high heat until all the water evaporates. The miyeok will become nice and chewy. This takes 2-3 minutes. It is ready when the surface of the seaweed looks more matte than shiny. 
As you stir fry the seaweed, it may pop sometimes because of the excess water over high heat. Be careful not to burn yourself.
Korean Seaweed Salad Frequently Asked Questions:
Now that we learned some tips & tricks for making this recipe, we want to answer some questions you may have about this Korean seaweed salad! If we do not answer your question, feel free to leave a comment in the section below or email us at [email protected]. 
Can I Make This Recipe In Advance?
You can easily make miyeok namul in advance! Preparing this recipe a day or two in advance does not affect the flavor or texture. On the day of your event or family meal, remove the prepared seaweed salad from the refrigerator. Before serving, reheat the salad by quickly sauteing it in a warm pan. Or, you can serve it cold! 
Note: I prefer this salad served warm, but both are tasty! 
How Should I Store The Leftovers?
To store the leftovers, place the seaweed salad in an airtight container. Then, place it into the refrigerator. I recommend eating this Korean seaweed salad recipe within a week!
Does This Recipe Contain Any Major Allergens? (Gluten, Soy, Etc.)
Typically, this recipe does contain major allergies such as soy and gluten. Thankfully, you can easily replace the soy sauce (like I do as someone with celiac disease) to make it more allergen friendly. 
As someone who cannot eat gluten, I always replace the soy sauce with gluten-free tamari or coconut aminos. Look for our favorite brands in our post about gluten-free soy sauce! For those with a soy allergy, once again, replace the soy sauce with coconut aminos. It tastes so similar!
Now, it is important to note that for some people with seafood or shellfish allergies, you are told to avoid seaweed as well because it may contain iodine. So, if you cannot eat seaweed, this recipe is unfortunately not a good fit for your diet. 
Is This Recipe Vegetarian or Vegan?
Unfortunately, this recipe is not vegetarian or vegan. The seaweed salad contains fish sauce. Thankfully, these days, there are vegan fish sauces if you would like to eliminate the seafood from this dish! Please just note that it will slightly alter the taste. 
Where Can I Buy the Ingredients?
Dried miyeok is a staple item in Korean household pantries. People use it to make a variety of dishes such as this seaweed salad, miyeok guk (Korean seaweed soup), and more. 
For this recipe, dried seaweed is the only ingredient that can be difficult to find. You can find dried miyeok in Asian markets or small Korean grocery stores. You can also buy it online. 
All the other ingredients can be found online, at a well-stocked grocery store, or your local Asian grocery.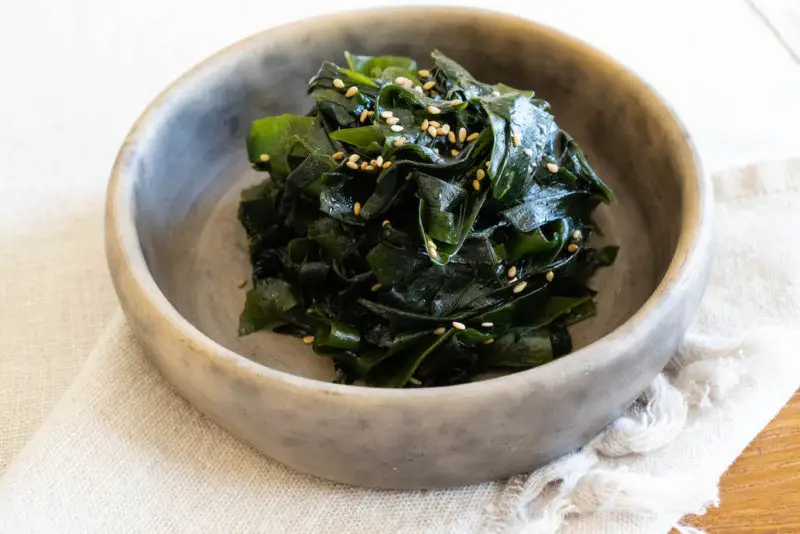 We Hope You Enjoyed Learning How to Make This Korean Seaweed Salad Recipe!
In the end, we hope you enjoyed learning how to make this miyeok namul recipe! If so, let us know in the comment section! 
If you would like to read more about cooking, you can find further recipes on our blog. We listed some of our favorite Carving A Journey Korean recipes below! For reference, many recipes are influenced by our blended Korean and Southern heritage.
Korean Ingredient Articles: 
Further Carving A Journey Korean Recipes:
If you have any questions or comments, you can also email us at [email protected]. And, finally, we would love to hear from you through our social media as well! You can follow us at @carvingajourney on Instagram, Facebook, and Pinterest. I also started a vlog Youtube channel! Or, if you would like more articles like these, you can subscribe to our blog by joining our mailing list. Let us know if you make this Korean seaweed salad dish! Thank you so much for stopping by!
Carving A Journey is a participant in the Amazon Services LLC Associates Program, an affiliate advertising program designed to provide a means for sites to earn advertising fees by advertising and linking to Amazon.com. Although we may earn commissions for our endorsement, recommendation, testimonial, and/or link to any products or services from this website, these opinions are my own and I fully support these products.