This post may contain affiliate links. Please read my disclosure for details at the bottom of this page. As an Amazon Associate, I earn from qualifying purchases on this Yakult soju recipe. We hope you enjoy learning how to make this Yakult soju cocktail!
Every few months, I publish a soju cocktail recipe. My past soju cocktail recipes include: 
This time, I am publishing a recipe for the popular Yakult soju cocktail! In South Korea, people make this cocktail using a well-loved childhood sweet drink known as 'Yakult.' From there, they add soju and Sprite. In the end, the drink tastes citrusy, light, and refreshing. Honestly, it is a bit dangerous because you cannot taste the alcohol! 
I recommend making this drink for friends and family as the weather warms up. During the summer, it really helps you beat the heat! Let's learn all about this drink below. 
Note: If you are interested in making this cocktail into a popsicle, learn how to in our Yakult soju popsicle recipe post!
What Is Yakult?
Yakult is a sweet Japanese probiotic beverage made by fermenting milk with the Shirota strain of the bacteria Lactobacillus casei. It was first invented in 1935 by Minoru Shirota, who helped found the Yakult Honsha company to commercialize the product. Since its invention, Yakult has grown in popularity across Asia. Now, it is sold in supermarkets and convenience stores in over 40 countries. 
Yakult is distributed in single-serving containers, often packaged in single-row packs of five or ten. Often, you will see people drinking these in both Korean and Japanese dramas and reality shows. People across multiple generations love it! 
What Does Yakult Taste Like? 
The Yakult Honsha company produces two flavors of Yakult: citrus and vanilla. Both contain yogurt flavoring that causes these liquid treats to taste light and refreshing! 
What Is Yakult Made Of?
The full ingredient list includes water, skimmed milk, glucose-fructose syrup, sucrose, and live Lactobacillus casei Shirota bacteria.
How Is Yakult Made?
In Japan, the company prepares this drink by adding the glucose to the skimmed milk before heating it to 90 to 95°C for approximately 30 minutes. Then, once cooled to 45°C, they inoculate the mixture with the bacteria before incubating for 6 to 7 days. After the fermentation process, they add further sugar, water, lactic acid, and gums.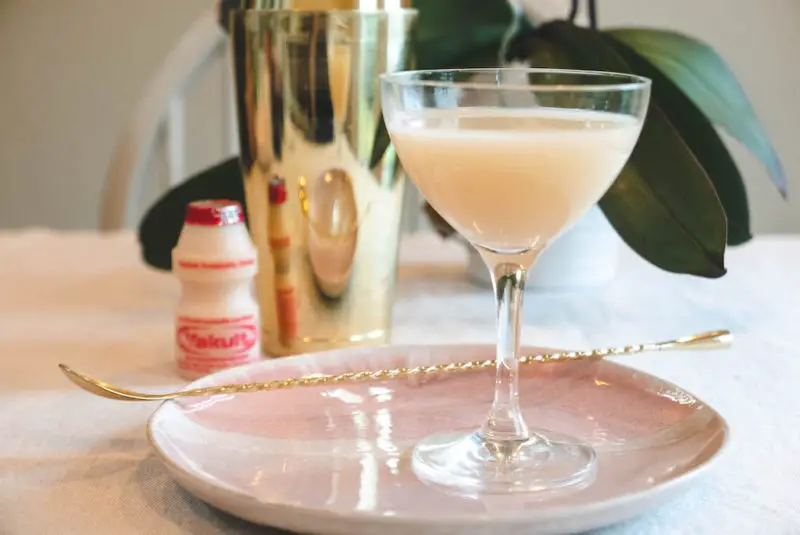 Yakult Soju Ingredients:
Yakult Soju Cocktail Frequently Asked Questions:
Now that we listed all the ingredients, we want to answer some potential questions you may have as well! If we do not answer your question about this Yakult soju cocktail recipe, feel free to leave a comment in the section below or email us at [email protected]. 
What Does This Yakult Soju Drink Taste Like?
First, the flavor entirely depends on the flavor of Yakult you buy. I recommend buying the original citrus flavor instead of the vanilla flavor. The thin, fruit-flavored yogurt drink makes this cocktail taste bright and light. Then, the Sprite or 7up adds more sugary citrus flavor and fizziness to the drink. 
While soju does have flavor, it is masked in this drink. Be careful though, this drink does contain a lot of alcohol! 
Is This Recipe Free of Major Allergens?
For the most part, this recipe does not contain major allergens. It does not contain any tree nuts, peanuts, fish, shellfish, gluten, wheat, soy, and/or eggs. 
Unfortunately, this recipe does contain milk. For those with milk allergies or lactose intolerance, this recipe is not for you. 
What Are the Ratios?
In South Korea, people have their preferred ratios for this cocktail. In this recipe, we keep the ratio 1:1 for the Yakult drink and soju. Then, we recommend adding the soda based on your preference. Some people prefer not to even add it! 
I like to use the Yakult bottle to measure out my 1:1 ratio. First, I pour the Yakult into a shaker. Then, I measure out my soju in the Yakult bottle. I shake the two ingredients with ice before straining the mixture into a glass. Then, I add my soda. I also add the same amount of soda to my drink. That's just my preference though! 
After using my ratios, you can always change them to fit your personal preferences. Add more soju for a stronger drink! 
We Hope You Enjoyed Learning How to Make Yakult Soju!
In the end, we hope you enjoyed learning about how to make this Yakult soju cocktail. If so, let us know in the comment section! 
If you would like to read more about cooking, you can find further recipes on our blog. We listed some of our favorite Carving A Journey Korean recipes below! For reference, many recipes are influenced by our blended Korean and Southern heritage.
Korean Ingredient Articles: 
Further Carving A Journey Korean Recipes:
If you have any questions or comments, you can also email us at [email protected].
And, finally, we would love to hear from you through our social media as well! You can follow us at @carvingajourney on Instagram, Twitter, Facebook, and Pinterest. Or, if you would like more articles like these, you can subscribe to our blog by joining our mailing list. We hope you enjoyed learning how to make this Yakult soju drink! Thank you so much for stopping by!
Carving A Journey is a participant in the Amazon Services LLC Associates Program, an affiliate advertising program designed to provide a means for sites to earn advertising fees by advertising and linking to Amazon.com. Although we may earn commissions for our endorsement, recommendation, testimonial, and/or link to any products or services from this website, these opinions are my own and I fully support these products.