This post may contain affiliate links. Please read my disclosure for details at the bottom of this page. As an Amazon Associate, I earn from qualifying purchases on this soju lemonade cocktail recipe article. I hope you enjoy learning about soju and lemonade!
Are you ready for the warmer months when it's nice enough to sit outside with a tall glass filled with an ice cold-beverage? 
While I know lemons are typically considered a winter fruit, I can't help but enjoy them best on a hot, sunny day. During those warmer weather months, I crave lemons. I want them in my desserts (think lemon curd, lemon meringue pie, or lemon squares), drinks, and savory foods. 
Famously, people in the Southern United States love their lemonade, and I am no exception. As a result, I thought it would be fun to make a soju-based lemonade cocktail. This deliciously tart cocktail combines my Southern-ness with a twist of my husband's Korean upbringing.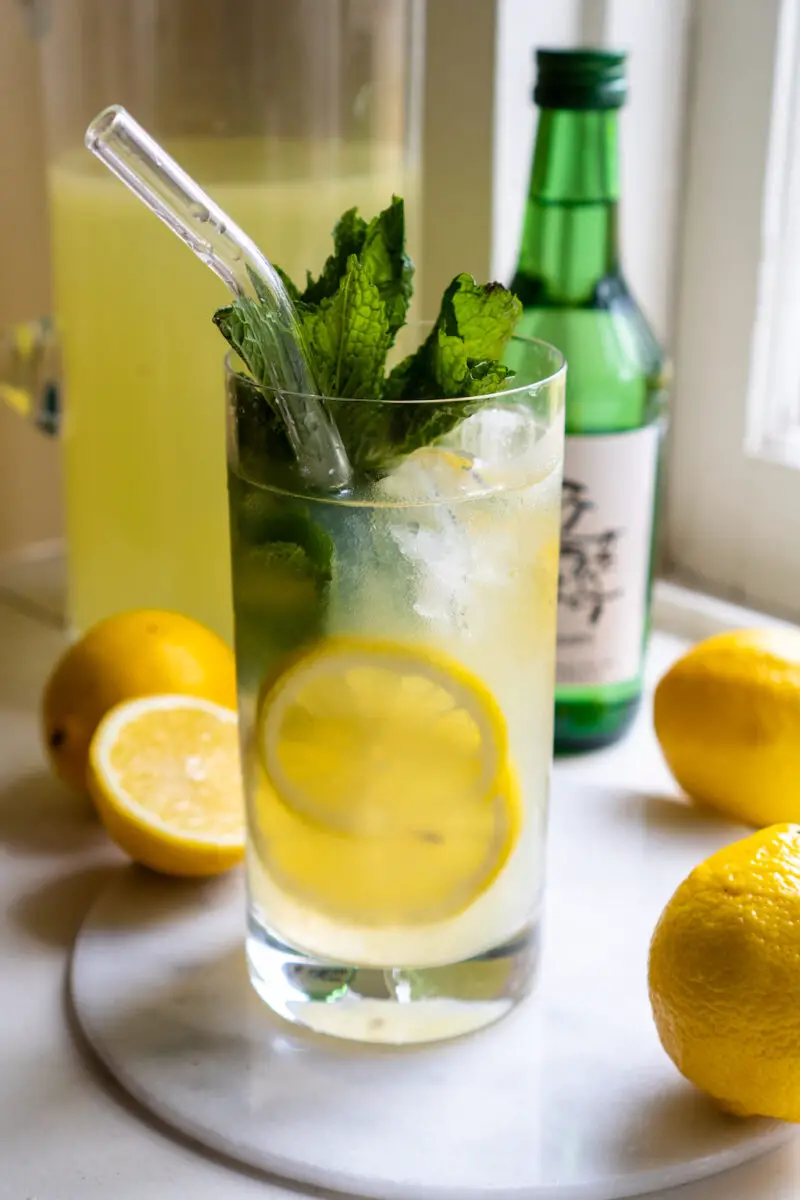 In this article, I will teach you how to use fresh lemons to make a delicious Korean/Southern-inspired soju lemonade cocktail. Then, I will answer some questions you may have about this recipe! Let me know if you try making this delicious, tart cocktail at home! 
Before we get started, I list further Carving A Journey soju-based drinks you may enjoy below!
What Is a Soju Lemonade Cocktail?
As the name suggests, you make this cocktail by combining Korean soju with fresh-squeezed, homemade (or store-bought) lemonade. For well-versed cocktail lovers out there, you notice that you make this recipe exactly how you would for the similarly delicious vodka lemonade. Just use soju instead of vodka! While both clear liquids mingle well with the lemonade, the soju (20% ABV) version will have a bit less alcohol than the vodka (40% ABV).
This recipe is light and refreshing, making it the ultimate beverage for the spring and summer when you are hot and sticky. I recommend enjoying this drink while socializing on your porch or barbecuing! I especially love this after working in the garden all day!!
Note: For an in-depth article about the history of lemonade as well as a delicious recipe, check out my recipe article for homemade, fresh-squeezed lemonade. Otherwise, just follow the instructions listed here.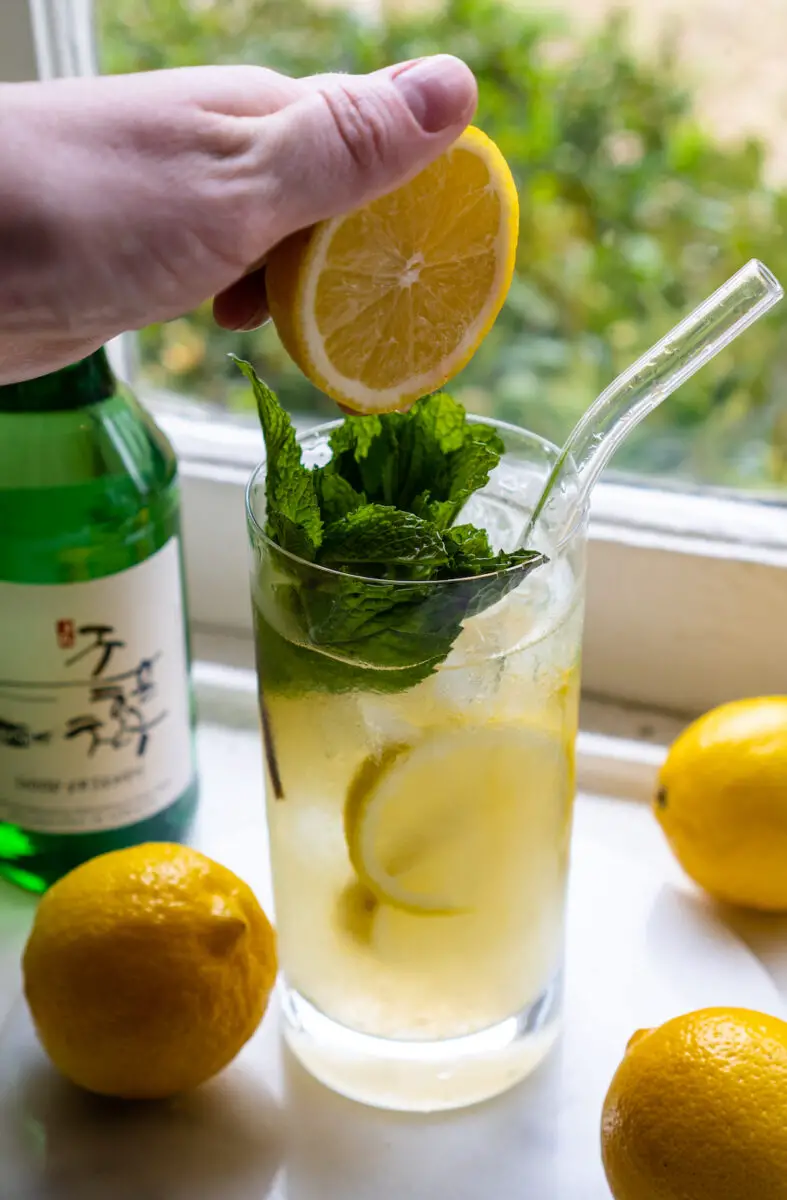 Soju Lemonade Cocktail Ingredients:
Below, I list the ingredients used to make this soju lemonade cocktail recipe:
Ingredients to Make This Soju Lemonade Cocktail: 
Soju
Lemonade
Fresh Lemon Peel or Slices (for Garnish)
Mint (for Garnish)
Ice
Soju Lemonade Cocktail Tips & Tricks: 
Here, I list some helpful tips & tricks to help you make this soju lemonade recipe. I hope these tips help! If you have any questions, you can leave a comment below or email me at [email protected].
How to Make Homemade, Fresh-Squeezed Lemonade:
Start by making a simple syrup. You do so by combining 1 cup of sugar with 1 cup of water in a saucepan. Turn the heat down to low. Continuously stir until the sugar completely dissolves. Then, set aside.
Next, juice the lemons. You need 2 cups of lemon juice for a pitcher of lemonade.
Combine your simple syrup, lemon juice, and water in a pitcher. Then, stir. While I like 3 cups of water, you can use less or more to your taste. 
Finally, chill in the refrigerator until cold. 
While I think homemade lemonade tastes better, there is never harm in buying some instead. I know some of you do not have the time or desire to make it fresh!
How to Make This Soju Lemonade Cocktail:
Once you chill your homemade lemonade, you can quickly and easily make this soju-based cocktail! Excitingly, you can make it in the glass without needing to dirty a cocktail shaker! 
To make this drink start by adding the soju and lemonade to your glass. Then, give it a quick stir. 
Next, add your ice. 
Finally, garnish! I recommend using fresh mint, lemon slices, and/or a lemon peel twist. 
Enjoy!
Soju Lemonade Cocktail Frequently Asked Questions: 
Now that we learned some tips & tricks for this recipe, I want to answer some questions you may have as well! If I do not answer your question, once again, feel free to leave a comment in the section below or email me at [email protected]. 
What Does This Soju Lemonade Cocktail Taste Like?
This soju lemonade cocktail tastes sweet, tart, light, and refreshing. Once again, like my strawberry soju cocktail recipe, adding mint makes it the perfect beverage to enjoy during the warmer months of spring and summer!! 
Does This Recipe Contain Major Allergens? (Gluten, Soy, Etc.)
This recipe does not contain 9 of the 9 major allergens. It does not contain: 
Crustacean shellfish
Eggs
Fish
Tree nuts
Peanuts
Wheat (Gluten)
Soybeans
Sesame
Milk
Is This Recipe Vegetarian or Vegan?
Like many of my other cocktail recipes, this beverage is naturally vegetarian and vegan!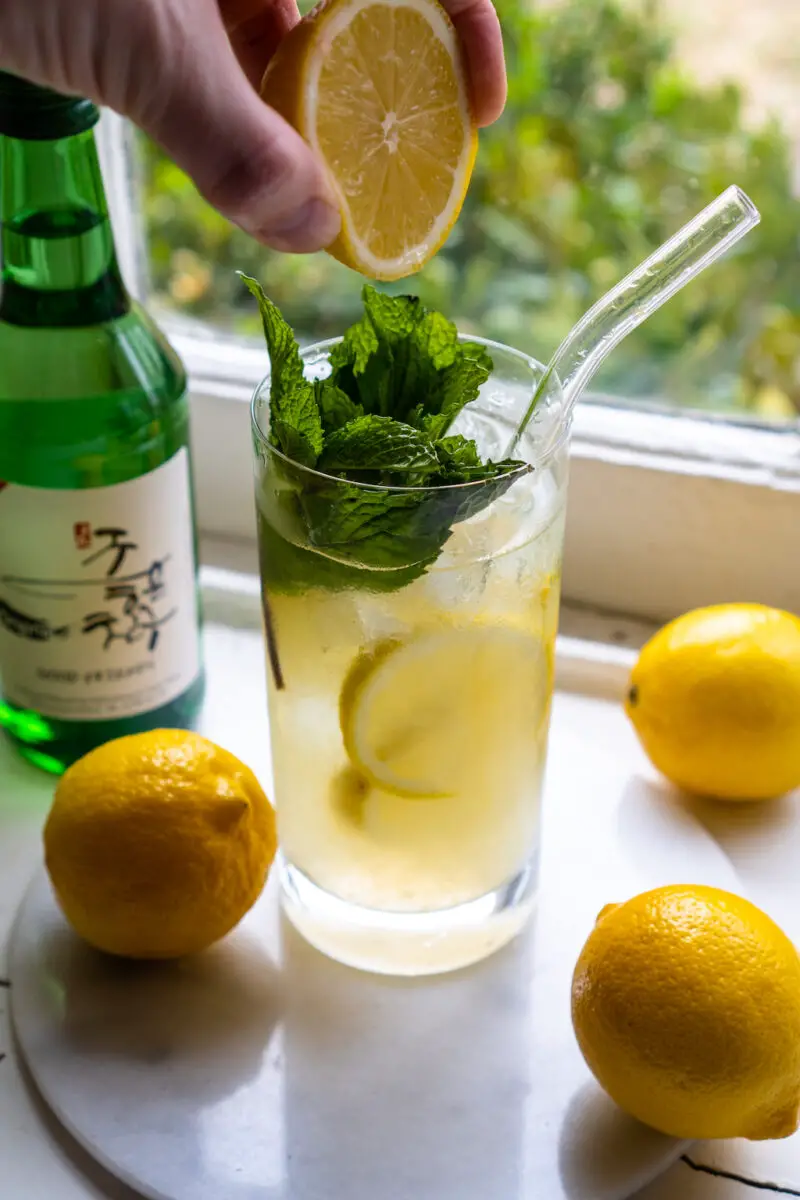 Where Do I Buy the Ingredients?
Excitingly, you can find all the necessary ingredients, except soju, to make this tart lemon-based cocktail at your local well-stocked grocery store!
While some grocery store chains may carry soju, you will probably need to go to a liquor store or Asian grocery store to find this ingredient. 
How Do I Store Leftovers?
I recommend storing the leftover ingredients in separate containers. That way, you can enjoy your lemonade with or without soju. Below, I explain how you should store each ingredient: 
To store the soju, screw the cap back on the bottle and place it into the refrigerator. 
Then, to store lemonade, place it into an appropriate container. You can keep the fresh lemonade in the refrigerator for approximately a week. 
If you have any leftover lemons, you can either store them at room temperature for a week or in the refrigerator for a few weeks.
Finally, you can store the optional mint garnish in the refrigerator. I recommend wrapping the stems in a damp paper towel.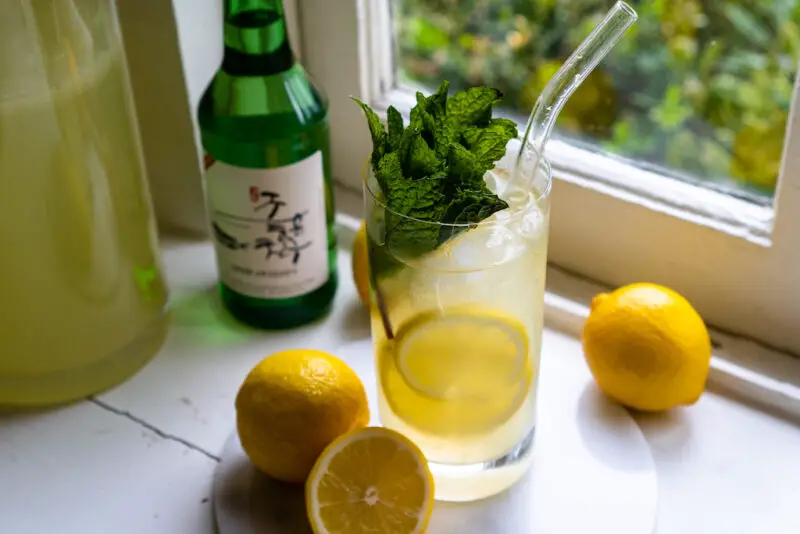 I Hope You Enjoyed Learning How to Make This Soju Lemonade Cocktail!
In the end, I hope you enjoyed learning how to make this soju lemonade cocktail! If so, let me know in the comment section! 
If you would like to read more about cooking, you can find further recipes on this blog. I listed some of my favorite Carving A Journey recipes below! For reference, many recipes are influenced by my family's blended Korean and Southern heritage.
Further Carving A Journey Recipes:
If you have any questions or comments, you can also email me at [email protected].
And, finally, I would love to hear from you through our social media as well! You can follow me at @carvingajourney on Instagram, Facebook, and Pinterest. I also started a vlog Youtube channel with my husband!
 If you would like more articles like these, you can subscribe to the blog by joining the mailing list. Let me know if you try making this soju lemonade cocktail recipe! Thank you so much for stopping by!
Carving A Journey is a participant in the Amazon Services LLC Associates Program, an affiliate advertising program designed to provide a means for sites to earn advertising fees by advertising and linking to Amazon.com. Although we may earn commissions for our endorsement, recommendation, testimonial, and/or link to any products or services from this website, these opinions are my own and I fully support these products.