This post may contain affiliate links. Please read my disclosure for details at the bottom of this page. As an Amazon Associate, I earn from qualifying purchases on this article about hot mustard in Korean cooking. I hope you enjoy learning about Korean hot mustard, otherwise known as gyeoja!
What Is Hot Mustard (Gyeoja)?
Hot mustard, otherwise known as 'gyeoja' (겨자) in the Korean language, is an ingredient made by grinding mustard seeds into a bright yellow-orange powder. 
In Korea, you can find this ingredient at the grocery store in two forms:
 Yeon Gyeoja (연겨자): Pre-made hot mustard paste in a tube, or
 Gyeojagaru (겨자가루): Powdered mustard that you mix with warm water to make the paste at home 
Hot Mustard in Korean Cuisine:
As stated above, in South Korea, people refer to hot mustard as 'gyeoja' (겨자). Culturally, they use this ingredient sparingly as a condiment to add heat to dishes. Below, I list a few well-known Korean foods that often include this ingredient:
Mul Naengmyeon (물냉면): Korean cold noodle soup
Makguksu (막국수): Buckwheat noodle salad
Haepari Naengchae (해파리냉채): Cold jellyfish salad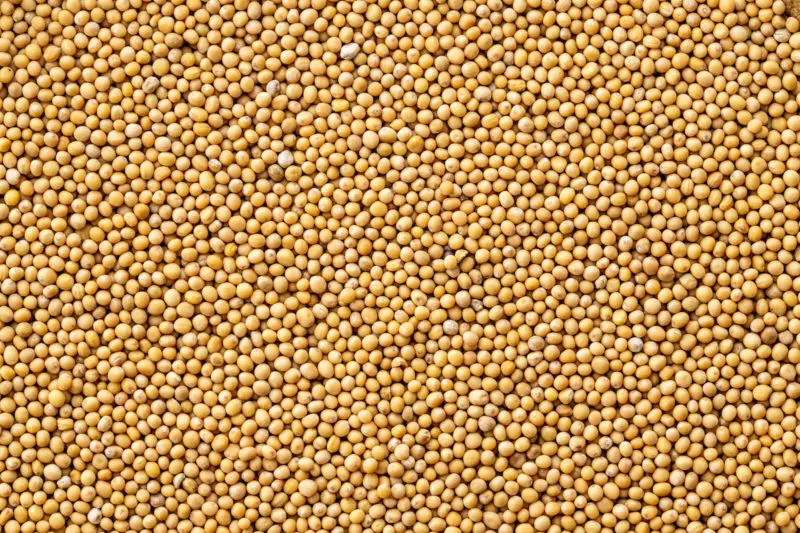 Hot Mustard (Gyeoja) Frequently Asked Questions:
Now that we learned about gyeoja in Korean cuisine, I want to answer some questions you may have about this ingredient! If I do not answer your question, feel free to leave a comment in the section below or email me at [email protected]. 
What Does Gyeoja Taste Like?
Korean hot mustard has a similar flavor profile to Japanese wasabi or horseradish. This potent ingredient has a sharp, zesty, and spicy flavor that will clear your sinuses and shock your system. 
Where Can I Buy This Ingredient?
Sometimes, you can find a similar ingredient in your local well-stocked grocery store on the International and/or Asian aisle. While they may not carry Korean hot mustard, they may carry Oriental mustard from China or Japan. 
You can also find this ingredient at your local Asian grocery store or online! As I stated above, you can buy this ingredient in two forms. You can buy it as a pre-made paste or, you can buy it in powder form! 
Note: If you buy the paste, look at the ingredients. Often, it contains more than just water and mustard powder. For those with allergies, it may be better to buy the powder ingredient even though it is not as convenient.
Where to Buy Korean Ingredients Online? 
Nowadays, there are many online options to choose from to order Korean food online. These websites are not limited to but include:
How Do I Properly Store Korean Hot Mustard?
If you buy mustard paste, I recommend storing it in the refrigerator. Like anything processed, it will last longer and more safely in a cool location.
If you buy mustard powder, recommend storing it with the rest of your spices. Typically, you should store all your spices in a cool, dark place like the pantry or a cabinet.
What Is a Korean Hot Mustard Substitute?
As I stated above, if you cannot find Korean hot mustard, you can substitute it with Chinese or Japanese hot mustard. These products are very similar, if not identical.  
I Hope You Enjoyed Learning About Hot Mustard in Korean Cooking (Gyeoja)!
In the end, I hope you enjoyed learning about Korean hot mustard, otherwise known as gyeoja! If so, let me know in the comment section! 
If you would like to read more about cooking, you can find recipes as well as further Korean ingredient articles on my blog. I listed some of our favorite Carving A Journey Korean recipes below! For reference, many recipes are influenced by my family's blended Korean and Southern heritage.
Korean Ingredient Articles: 
Further Carving A Journey Recipes:
If you have any questions or comments, you can also email me at [email protected]. And, finally, I would love to hear from you through social media as well! You can follow me at @carvingajourney on Instagram, Facebook, and Pinterest. I also started a vlog Youtube channel! Or, if you would like more articles like these, you can subscribe to my blog by joining the mailing list. Let me know if you try using Korean hot mustard as an ingredient! Thank you so much for stopping by!
Carving A Journey is a participant in the Amazon Services LLC Associates Program, an affiliate advertising program designed to provide a means for sites to earn advertising fees by advertising and linking to Amazon.com. Although we may earn commissions for our endorsement, recommendation, testimonial, and/or link to any products or services from this website, these opinions are my own and I fully support these products.