This post may contain affiliate links. Please read my disclosure for details at the bottom of this page. As an Amazon Associate, I earn from qualifying purchases on this article about lotus roots in Korean cuisine. I hope you enjoy learning about yeongeun, otherwise known as a lotus root!
While you may have seen a lotus flower in gardens, paintings, or photographs, have you ever eaten part of the plant? In many East Asian countries, people have cooked with the plant for generations (historians can pinpoint lotus consumption for at least 7,000 years in parts of the world). Not only is the flower edible, but so are the leaves, seeds, and roots! 
In this article, I will focus on discussing the use of lotus roots in Korean cuisine. I will also answer questions you may have about this ingredient. 
What Are Yeongeun?
In South Korea, people refer to the lotus flower as 'yeonkkoch' (연꽃) and the lotus root as 'yeongeun' (연근). 
The elumbo nucifera, also known as lotus, sacred lotus, Laxmi lotus, and Indian lotus is a species of aquatic plant in the family Nelumbonaceae. In Nature, the lotus plants adapted to grow in floodplains of slow-moving rivers and delta areas. 
In South Korea, farmers and gardeners not only cultivated these flowers to grow in the wild but also to be raised in ponds and swamps. The purpose of cultivating these water plants was for their beauty and consumption. In traditional cuisine, every part of the plant, including the roots, leaves, seeds, and flowers, are used to make dishes. We list a few lotus root dishes below. 
Lotus Root in Korean Cuisine:
As stated above, in South Korea, people refer to lotus root as 'yeongeun' (연근). Below, I list the main way people use lotus root as an ingredient in Korea: 
Beyond the three dishes listed above, people use this ingredient to make soups as well as deep-fried, braised, and stir-fried dishes. Most commonly, you will see this ingredient used in temple foods and traditional royal cuisine.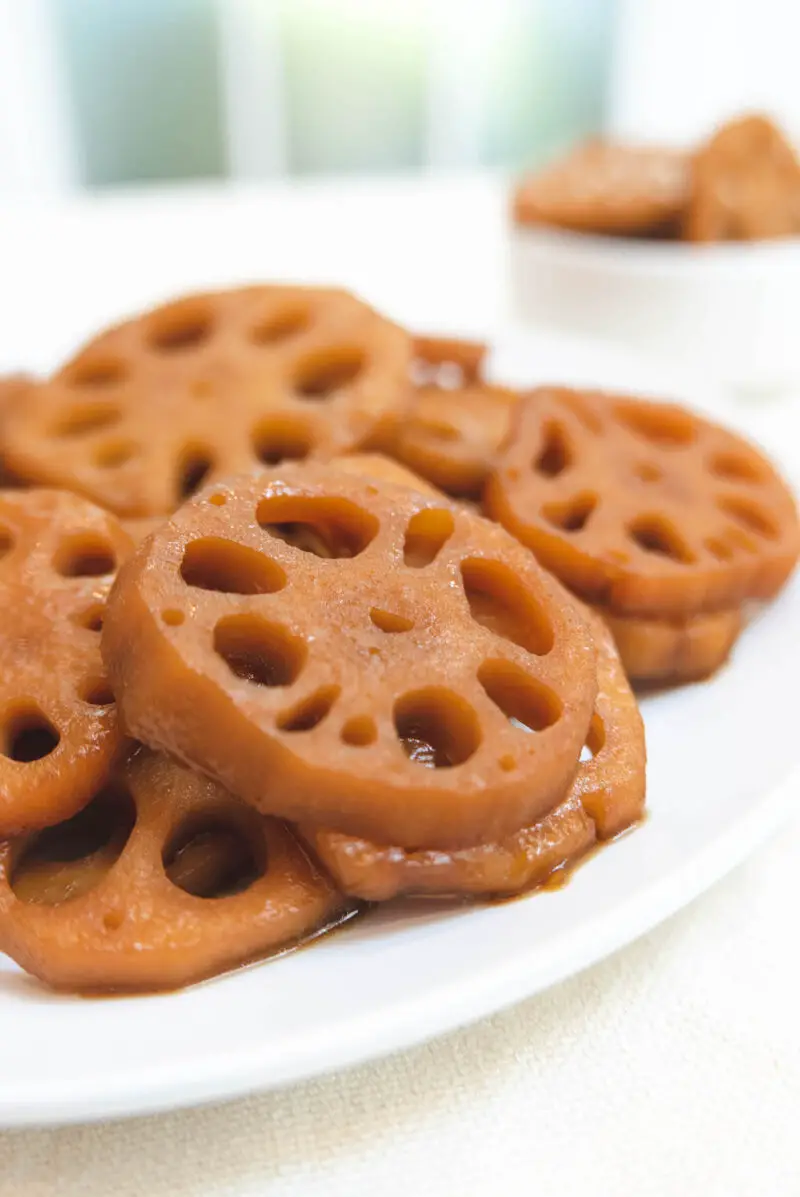 Yeongeun Frequently Asked Questions:
Now that we learned about yeongeun in Korean cuisine, I want to answer some questions you may have about this ingredient! If I do not answer your question, feel free to leave a comment in the section below or email me at [email protected]. 
What Does Lotus Root Taste Like?
Lotus root tastes very similar to water chestnuts. Most describe this root vegetable as having a mildly sweet and nutty flavor. When cooked, people also describe it as having a similar flavor and texture to a chewy potato. 
Texturally, lotus root is crisp, starchy, and crunchy when raw. When cooked, it softens, though it keeps a slight crunch. 
Note: Though you can eat this ingredient raw, it contains a high tannin content making it taste incredibly astringent. I recommend at least parboiling it first. 
Where Can I Buy This Ingredient?
You can buy packages of this Korean ingredient at your local Korean or Asian grocery store. Unfortunately, you will not find this ingredient in your typical (western) grocery store.
Where to Buy Korean Ingredients Online? 
Nowadays, there are many online options to choose from to order Korean food online. These websites are not limited to but include:
How Do I Properly Store Dried Lotus Roots?
If you do not intend to use your lotus root right away, store them sliced or whole in their raw form in the refrigerator.
Typically, you can find either whole, fresh lotus roots or pre-sliced packaged ones at your Asian grocery store. To store sliced lotus root, store the unwashed root vegetable in a plastic bag with a damp cloth or paper towel. While best when eaten fresh, you can store them for a couple of weeks. 
Often, Asian grocery stores also sell pre-boiled lotus root in packages. This type of packaging allows the lotus root to stay on the shelf longer in the grocery store. You can use these interchangeably with fresh lotus root.  
What Is a Lotus Root Substitute?
Unfortunately, there isn't a good substitute for this ingredient when it comes to traditional Korean lotus root dishes. You can use other root vegetables such as a turnip, salsify, or parsnip if you aren't using lotus root as a main ingredient. If you do, just note that the texture and/or flavor may not be exactly the same.
I Hope You Enjoyed Learning About Lotus Roots (Yeongeun)!
In the end, I hope you enjoyed learning about the uses of yeongeun (lotus root) in Korean cuisine. If so, let me know in the comment section! 
If you would like to read more about cooking, you can find recipes as well as further Korean ingredient articles on my blog. I listed some of our favorite Carving A Journey recipes below! For reference, many recipes are influenced by my family's blended Korean and Southern heritage.
Korean Ingredient Articles: 
Further Carving A Journey Recipes:
If you have any questions or comments, you can also email me at [email protected]. And, finally, I would love to hear from you through our social media as well! You can follow me at @carvingajourney on Instagram, Facebook, and Pinterest. I also started a vlog Youtube channel with my husband! Or, if you would like more articles like these, you can subscribe to the blog by joining the mailing list. Let me know if you try using lotus root while cooking! Thank you so much for stopping by!
Carving A Journey is a participant in the Amazon Services LLC Associates Program, an affiliate advertising program designed to provide a means for sites to earn advertising fees by advertising and linking to Amazon.com. Although we may earn commissions for our endorsement, recommendation, testimonial, and/or link to any products or services from this website, these opinions are my own and I fully support these products.