This post may contain affiliate links. Please read my disclosure for details at the bottom of this page. As an Amazon Associate, I earn from qualifying purchases on this campfire brie article and recipe. We hope you enjoy learning how to make brie with figs and prosciutto over the fire!
In late summer, figs begin to appear in every grocery store and farmer's market. These juicy fruits signal the closing of summer and the start of autumn. At this time of the year, our family still enjoys barbecuing and grilling while slowly incorporating fall flavorings into our diets. 
Campfire brie is the perfect late-summer appetizer to enjoy with a large group of people. Over the barbecue or campfire, you place a large round of brie in a cast iron. Then, you top it with fig jam, fresh figs, and prosciutto before adding a final drizzle of honey and/or balsamic glaze reduction. Honestly, as the evening cool there is nothing more perfect than sitting outside, enjoying a delicious appetizer, and a glass of wine. 
I hope you enjoy this campfire brie recipe (brie with figs and prosciutto)!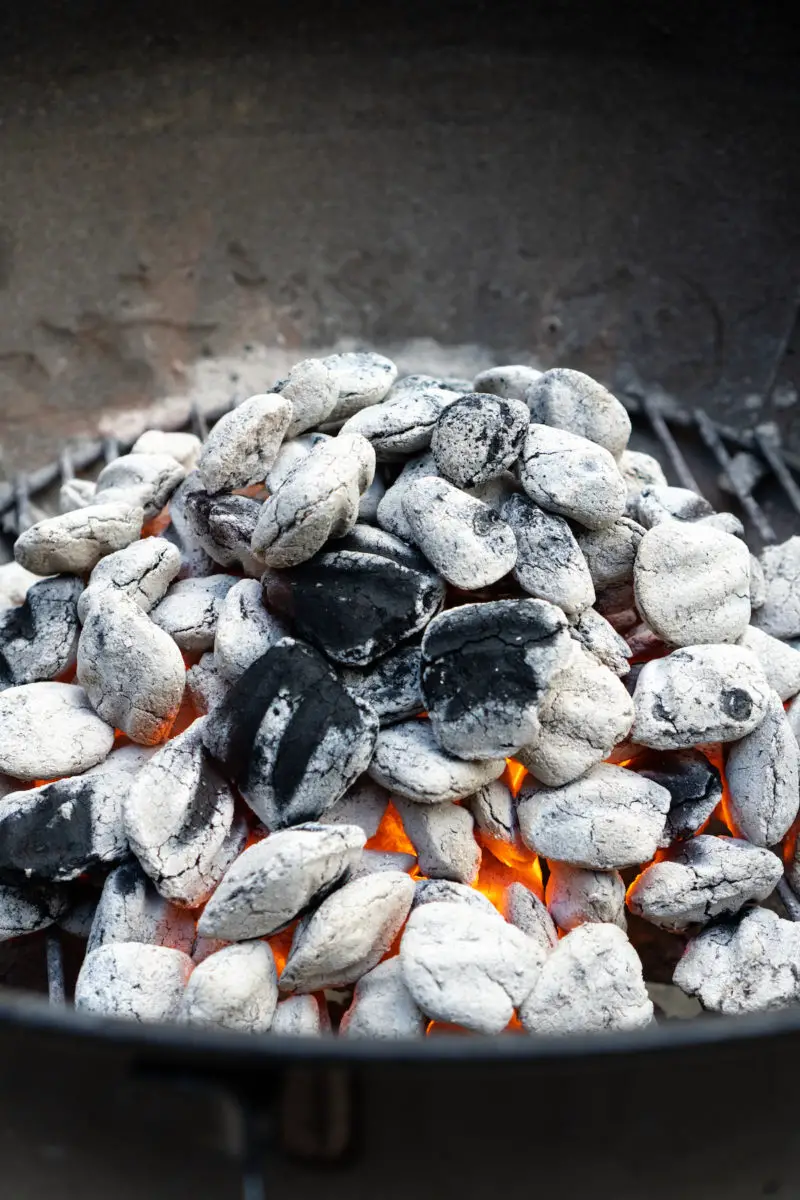 Campfire Brie Ingredients: 
Below, I list the ingredients used to make this dish:
Brie
Fig jam (I prefer ginger fig jam if you can find it!)
Figs
Prosciutto
Honey
Optional: balsamic glaze
Serving crackers or toasted bread
Brie With Figs and Prosciutto Tips & Tricks:
Before we get to the recipe, I wanted to give some tips & tricks to help you make this delicious late-summer (or early-fall) dish! Let us know if these tips help you prepare this recipe at home! If you have any questions, leave a comment below or email me at [email protected].
Campfire Brie Tips & Tricks:
Before you start building your brie, I recommend washing the figs to remove any potential pesticides or dirt from transportation. To do so, you can run them under cold water or soak them in a bit of baking soda for a few minutes. The baking soda trick allows the pesticides to leech out of the outer skin of the fig. You need approximately 1 tsp of baking soda for every 2 cups of cold water.
Next, I recommend cooking this dish in a cast iron skillet. Because you cook this dish over a campfire or grill, you need a pan that can safely handle the heat and smoke. Cast iron is safe for campfires and easy to clean! 
The bigger the brie the better for large parties! I like using brie that is approximately 1.5 lbs for groups of 6 to 8. 
When recipe testing this campfire brie recipe, about half the people liked the prosciutto cooked with the brie, while the other half liked the cold, softer prosciutto added to the brie once you remove it from the heat. Both taste delicious! Do what you prefer! 
If you cook the prosciutto with the brie, add it to the skillet approximately halfway through the cooking time. If you add it at the same time as the brie, you may overcook the meat. 
If you are using a charcoal grill, add a little wood to the charcoal. This wood, such as cherry or pecan, adds flavors through the smoke. 
Finish the recipe with a drizzle of honey, balsamic reduction, or a combination of both!
I like serving this with toasted slices of baguette, but it also tastes delicious with crackers! 
When taking the cast iron off the grill, make sure to have a trivet prepared. The bottom of the skillet will be extremely hot!
Campfire Brie Frequently Asked Questions:
Now that we learned some tips & tricks for making this recipe, I want to answer some questions you may have as well! If I do not answer your question, feel free to leave a comment in the section below or email us at [email protected]. 
Does This Recipe Contain Major Allergens? (Gluten, Soy, Etc.)
Excitingly, this recipe does not contain most of the major allergens. It does not contain gluten (wheat), soy, shellfish, fish, peanuts, tree nuts, or eggs. 
Unfortunately, for those with a milk allergy or lactose intolerance, this recipe's main ingredient is brie, a type of cheese. It is impossible to make this recipe milk or lactose-free. 
Is This Recipe Vegetarian or Vegan?
Unfortunately, this recipe is not vegan because it contains prosciutto, honey, and brie. 
Thankfully, for those who are vegetarian, you can eliminate the prosciutto and make this recipe! 
Where Do You Buy the Ingredients?
You can buy almost all of the ingredients year-round at your local well-stocked grocery store. The exception to this rule is figs, which you can typically only find when in season. 
When Is Fig Season? 
Technically, domestic (United States) figs have two seasons. The first season, known as the 'breba' season, is from late May through early June. The second, known as the 'new wood' season runs from August through October (or early November). 
How Should I Store the Leftovers?
To store the leftovers, place them in an airtight container. Then, store the brie in the refrigerator. To reheat, take the brie out of the refrigerator and cook on the stove or low heat in the oven. 
I recommend eating within a few days because of the sliced figs! 
I Hope You Enjoyed Learning How to Make This Campfire Brie Recipe!
In the end, I hope you enjoyed learning about this campfire brie recipe! If so, let me know in the comment section! 
If you would like to read more about cooking, you can find further recipes on this blog. I listed some of our favorite Carving A Journey recipes below! For reference, many recipes are influenced by my family's blended Korean and Southern heritage.
Further Carving A Journey Southern Recipes:
If you have any questions or comments, you can also email me at [email protected]. And, finally, I would love to hear from you through our social media as well! You can follow me at @carvingajourney on Instagram, Facebook, and Pinterest. I also started a vlog Youtube channel! Or, if you would like more articles like these, you can subscribe to the blog by joining the mailing list. Let me know if you try making this fire-cooked brie with figs and prosciutto! Thank you so much for stopping by!
Carving A Journey is a participant in the Amazon Services LLC Associates Program, an affiliate advertising program designed to provide a means for sites to earn advertising fees by advertising and linking to Amazon.com. Although we may earn commissions for our endorsement, recommendation, testimonial, and/or link to any products or services from this website, these opinions are my own and I fully support these products.