This post may contain affiliate links. Please read my disclosure for details at the bottom of this page. As an Amazon Associate, I earn from qualifying purchases on this Korean pickled perilla leaves recipe article. I hope you enjoy learning about how to make kkaennip jangajji!
Are you looking for another new way to enjoy Korean perilla leaves? If so, try this classic Korean side dish known as kkaennip jangajji aka Korean pickled perilla leaves! 
What Is Kkaennip Jangajji?
Kkaennip jangajji (깻잎 장아찌) is a classic Korean side dish (banchan 반찬) that we can translate to 'pickled perilla leaves.' In English, 'kkaennip' translates to 'perilla leaves,' while 'jangajji ' refers to any type of pickled vegetables. 
To make this pickled side dish, you marinate the perilla leaves in a sauce overnight. Typically, this sauce is soy sauce-based, though that isn't a necessity. My version of this popular side dish is garlicky, salty, and slightly sweet. 
Excitingly, this Korean pickled perilla leaf recipe is one of the quickest and easiest traditional Korean side dishes you can make. I typically can whip this up in less than 10 minutes, though you need to let this dish marinate in the sauce overnight. Once it sits for the appropriate amount of time, serve this side dish with a big bowl of rice. In Korea, people always consume this dish with rice. Otherwise, it will be too salty. 
I hope you enjoy learning how to make this Korean perilla side dish! But, before we get to the recipe, let's learn more about perilla via my ingredient articles on the subject:
Korean Pickled Perilla Leaves Ingredient List:
Below, I list the ingredients used to make this delicious Korean kkaennip jangajji. I also linked any informative articles on my site connected to these ingredients:
Kkaennip Jangajji Ingredients: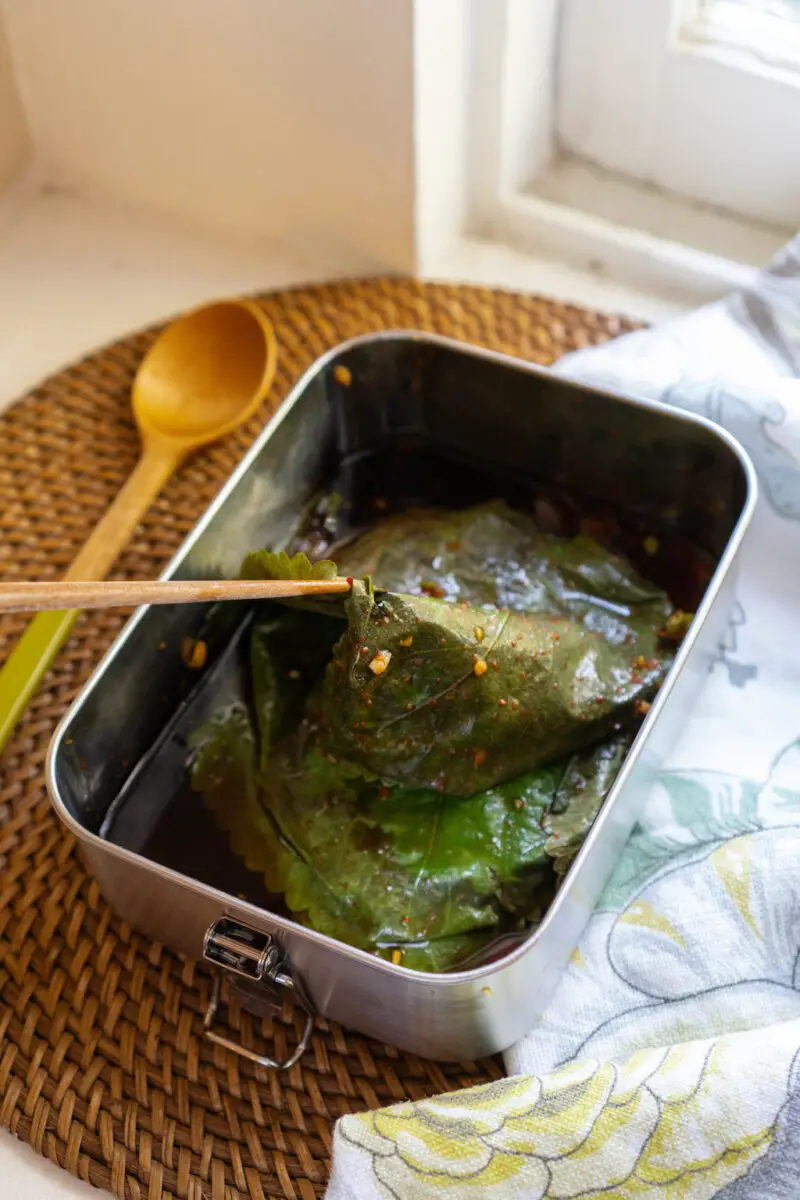 Korean Pickled Perilla Leaves Tips & Tricks: 
Here, I list some helpful tips & tricks to help you make this quick and easy Korean pickled perilla leaf recipe. If you have any questions, leave a comment below or email me at [email protected]!
Before pickling your perilla leaves, wash them with cold water to remove any potential dirt and germs.
Then, prepare the sauce. Do so by combining the soy sauce, vinegar, gochugaru, maesil cheong, water, sugar, minced garlic, and thinly sliced green onions. 
Once you prepare the sauce, add it to your container of perilla leaves. Pour a thin layer of the sauce over every three leaves. You do not need to place the sauce on every leaf. 
If you run out of your sauce, tip the container and scoop out the sauce from the bottom corner of the container. Then spoon it over the perilla leaves. 
If you have more than enough sauce, pour the last bit over the top of all the leaves.
Once you prepare this dish, let it sit in the refrigerator overnight to marinate in the pickling juice. This process softens the fibrous texture of the leaves.  
Serve this traditional Korean side dish with a bowl of rice. Otherwise, it will taste too salty. 
Korean Pickled Perilla Leaves Frequently Asked Questions: 
Now that we learned some tips & tricks for making this kkaennip jangajji recipe, I want to answer some questions you may have as well! If I do not answer your question, feel free to leave a comment in the section below or email me at [email protected]. 
Does This Recipe Contain Major Allergens? (Gluten, Soy, Etc.)
Before listing all of the major allergens, I want to state that all of my recipes are naturally gluten-free. On this blog, I only use and recommend gluten-free ingredients and brands. That being said, I list gluten as a potential allergen when necessary– this is because many Korean ingredients (such as soy sauce, gochujang, and doenjang) contain gluten unless you specifically buy gluten-free versions. Not only is this true for gluten, but it is true for other major allergens as well. As such, I always list allergy substitutions in the next section of my post. 
This recipe does not contain 7 of the 9 major allergens. It does not contain: 
Peanuts
Sesame
Fish
Crustacean Shellfish
Eggs
Milk (Dairy)
Tree Nuts
This recipe does contain 2 of the 9 major allergens. It can contain: 
Allergy Substitutions or Omissions: 
For those with celiac disease, gluten allergy, and/or wheat allergy: 
To make this recipe gluten and wheat-free, switch out the soy sauce for gluten-free tamari or coconut aminos. 
For those with a soy allergy: 
Like those with a gluten allergy, you need to avoid soy sauce and if you have a soy allergy. Instead of using soy sauce, I recommend using coconut aminos. It is an excellent soy sauce alternative and is naturally soy and gluten-free! 
Is This Recipe Vegetarian or Vegan?
Excitingly, this recipe is naturally vegetarian and vegan! While often served with meat, I also recommend eating this with pan-fried tofu and a hot bowl of rice! 
Where Do I Buy the Ingredients?
You can buy many ingredients listed (such as soy sauce, garlic, and green onions) for this recipe at your local well-stocked grocery store. 
Unfortunately, perilla leaves, gochugaru, and maesil cheong can be difficult to find in most Western-style markets. Instead, look for these ingredients at a Korean or Asian grocery store (such as H-Mart or a family-run business). 
Note: For those really adventurous people, you can buy Perilla seeds online to grow at home during the summer and early fall! 
Where to Buy Korean Ingredients Online? 
Nowadays, there are many online options to choose from to order Korean food online. These websites are not limited to but include:
Amazon
H-mart
Hanpoom
Wooltari 
How Do I Store Leftovers?
To store your leftovers, place your kkaennip jangajji in an airtight container and store it in the refrigerator. I recommend eating it within a week.  
I Hope You Enjoyed Learning How to Make This Korean Pickled Perilla Leaves Recipe!!
In the end, I hope you enjoyed learning how to make this delicious Korean pickled perilla leaves recipe! If so, let me know in the comment section! Also, let me know if you have a favorite perilla leaves recipe you cook and eat at home! 
If you would like to read more about cooking, you can find further recipes on this blog. I listed some of my favorite Carving A Journey recipes below! For reference, many recipes are influenced by my family's blended Korean and Southern heritage.
Further Carving A Journey Recipes:
If you have any questions or comments, you can also email me at [email protected]. And, finally, I would love to hear from you through our social media as well! You can follow me at @carvingajourney on Instagram, Facebook, and Pinterest. I also started a vlog YouTube channel with my husband! Or, if you would like more articles like these, you can subscribe to the blog by joining the mailing list. Let me know if you try making this Korean pickled perilla leaf recipe! Thank you so much for stopping by!
Carving A Journey is a participant in the Amazon Services LLC Associates Program, an affiliate advertising program designed to provide a means for sites to earn advertising fees by advertising and linking to Amazon.com. Although we may earn commissions for our endorsement, recommendation, testimonial, and/or link to any products or services from this website, these opinions are my own and I fully support these products.