This post may contain affiliate links. Please read my disclosure for details at the bottom of this page. As an Amazon Associate, I earn from qualifying purchases on this spiced simple syrup recipe and article. We hope you enjoy learning how to make spiced simple syrup!
Taking little time or effort, making homemade simple syrup is a great (and cheap) way to change your simple beverages–whether it be a cocktail, coffee, mocktail, etc. While the plain and classic simple syrup is always good to have at home, you can also keep other flavors available as an option! In my household, especially as the seasons change, we love making this spiced simple syrup as a twist on the classic version used in many cocktails. To make this recipe, I switch out the granulated sugar with brown sugar. Then, I added traditional fall and winter spices such as clove, allspice, and coriander. 
The resulting spiced simple syrup tastes like the changing of the seasons. When the weather starts to get cool in the evening, try making this spiced sweetener as a warm, rich, and strong base for your food & drinks. I hope this helps you cozy up throughout the fall and winter! I especially recommend this to use with bourbon!!!
Note: Learn how to make classic simple syrup here!
Spiced Simple Syrup Ingredients: 
Below, I list the ingredients used to make this delicious sweetener:
Water
Brown Sugar
Cinnamon Sticks
Whole Cloves
Ground Allspice
Ground Coriander; And
Lemon Zest
Spiced Simple Syrup Tips & Tricks:
Before we get to the recipe, I wanted to give some tips & tricks to help you make this delicious simple syrup at home! Let me know if these tips help you prepare this recipe! If you have any questions, leave a comment below or email me at [email protected].
Before you start to make this recipe, sterilize the jar or bottle you plan to use when storing your spiced simple syrup. If you plan on using a plastic container, make sure it is clean without an odor. 
Once you sterilize your storage container, place it on a clean towel while you make the simple syrup. 
Using a saucepan, combine all the ingredients besides the brown sugar. Bring the saucepan to a boil.
Then add in the brown sugar and stir constantly until the sugar dissolves. You need to stir constantly so the sugar doesn't burn on the bottom of the pan. 
Once you dissolve the brown sugar, remove the saucepan from the heat and over. Allow the newly-made spiced simple syrup to cool completely. 
Leave the syrup sitting for a while so all the flavors infuse. I like to let it sit for 30 minutes to a few hours. Then, strain out the spices from the simple syrup using the fine mesh sieve. 
Bottle and store in the refrigerator for up to two weeks!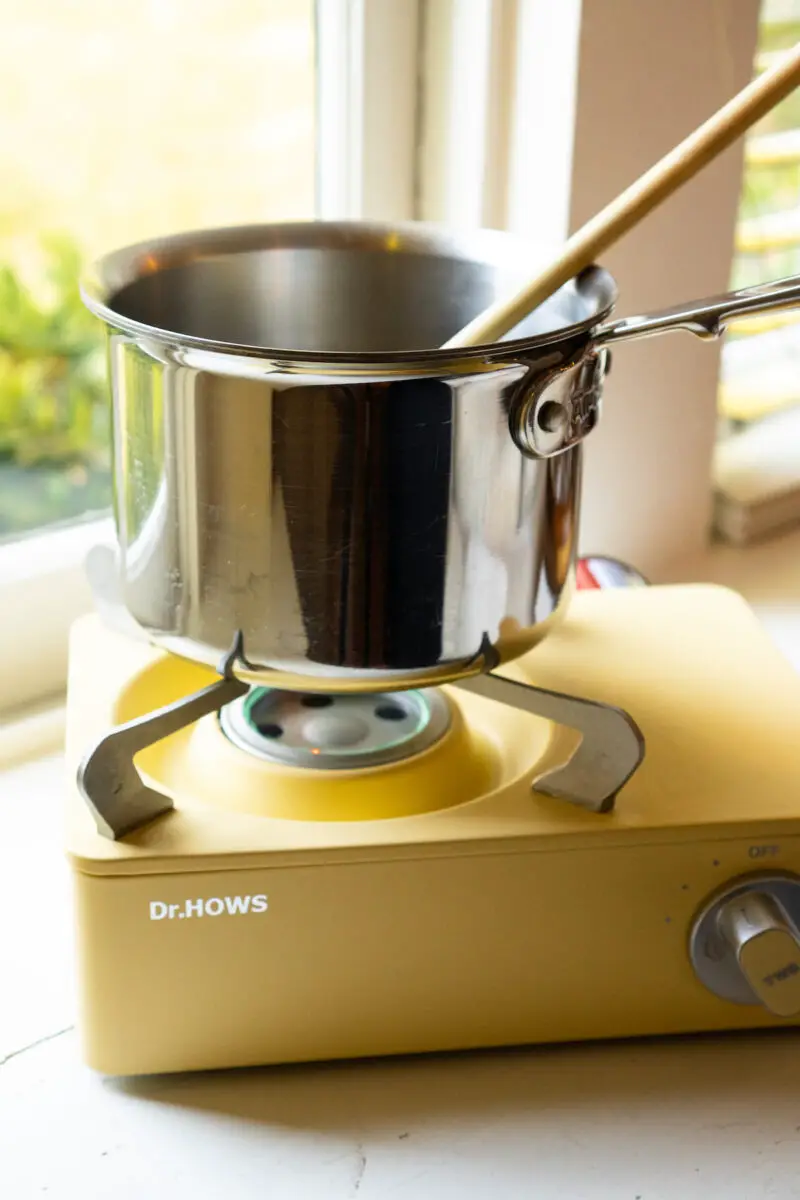 Spiced Simple Syrup Frequently Asked Questions:
Now that we learned some tips & tricks for making this recipe, I want to answer some questions you may have as well! If I do not answer your question, feel free to leave a comment in the section below or email us at [email protected]. 
How Do People Use Spiced Simple Syrup?
Most commonly, people use spiced simple syrup in cocktails. That being said, you can use it as a sweetener in a variety of ways: 
In cocktails
To sweeten and spice iced drinks such as teas or coffee
To sweeten and spice hot drinks such as teas or coffee
To poach fruit
To sweeten and moisten cakes
To use as homemade gifts; or
To Drizzle over foods such as pancakes, waffles, or yogurt
Does This Recipe Contain Major Allergens? (Gluten, Soy, Etc.)
Excitingly, this recipe does not contain any of the major allergens. It does not contain wheat, gluten, soy, peanuts, tree nuts, fish, shellfish, milk, or dairy. 
As usual, check all ingredients when using a new product if you have any allergies. While this recipe does not contain any major allergens, some products are processed on the same machinery as potential immune-triggering ingredients. 
Is This Recipe Vegetarian or Vegan?
Excitingly, this recipe is both vegetarian and vegan! For those who live a vegetarian and vegan lifestyle, this is safe for you to consume.
Where Do You Buy the Ingredients?
You can find all the necessary ingredients at your local well-stocked grocery store. If you cannot locate an item, you can also easily find the ingredients online!
How Should I Store the Leftovers?
To store the leftovers, place the spiced simple syrup in an airtight container (such as a jar). Then, store it in the refrigerator. I recommend using the flavored simple syrup within one to two weeks. 
I Hope You Enjoyed Learning How to Make This Spiced Simple Syrup Recipe!
In the end, I hope you enjoyed learning how to make this spiced simple syrup! If so, let me know in the comment section! 
If you would like to read more about cooking, you can find further recipes on this blog. I listed some of our favorite Carving A Journey recipes below! For reference, many recipes are influenced by my family's blended Korean and Southern heritage.
Further Carving A Journey Recipes:
If you have any questions or comments, you can also email me at [email protected].
And, finally, I would love to hear from you through our social media as well! You can follow me at @carvingajourney on Instagram, Facebook, and Pinterest. I also started a vlog Youtube channel! Or, if you would like more articles like these, you can subscribe to the blog by joining the mailing list. Let me know if you try making anything using this spiced simple syrup! Thank you so much for stopping by!
Carving A Journey is a participant in the Amazon Services LLC Associates Program, an affiliate advertising program designed to provide a means for sites to earn advertising fees by advertising and linking to Amazon.com. Although we may earn commissions for our endorsement, recommendation, testimonial, and/or link to any products or services from this website, these opinions are my own and I fully support these products.