This post may contain affiliate links. Please read my disclosure for details at the bottom of this page. As an Amazon Associate, I earn from qualifying purchases on this Korean plum tea article and recipe. We hope you enjoy learning how to make maesil cha!
Have you ever tried fruit-based tea? In South Korea, people not only make tea from cured or fresh leaves of Camellia sinensis, but also from flowers, fruits, vegetables, and more! They even make tea from corn husks!
One of the most popular types of tea in Korea is 'maesil cha,' otherwise known as Korean green plum tea! This fruity sweet and tangy tea is the perfect refreshing drink. It takes less than a minute to make. Learn how below!  
What Is Maesil Cha?
'Maesil Cha' (매실차), otherwise known as plum tea or Korean green plum tea, is a traditional type of tea made from green plums. People make different types of plum tea using fresh plums (maesil), smoked plums (omae), or plum syrup (maesil cheong). 
Most commonly, people make plum tea by mixing maesil-cheong with either hot or cold water. In this article, I use maesil cheong to make my tea! 
Korean Plum Tea Ingredients: 
Below, I list the ingredients used to make this dish, as well as link any informative articles connected to the ingredients:
Main Ingredients: 
Optional Ingredients: 
Ice
Honey
Lemon or Lime Slice
Note: If you cannot find 'maesil cheong' (매실청), you can also use 'maesil wonaek' ( 매실원액). Maesil wonaek is another type of Korean plum extract. Both work for this recipe! 
Korean Plum Tea Tips & Tricks:
Before we get to the recipe, I wanted to give some tips & tricks to help you make this delicious dish at home! Let me know if these tips help you prepare this recipe! If you have any questions, leave a comment below or email me at [email protected].
The sweetness and tanginess of maesil cheong differ from brand to brand. The recipe below is based on how I like my maesil cha. If too sweet or tangy, reduce the amount of maesil cheong. If you think there is not enough flavor, add more!
For those who desire more sweetness, you can also add honey to this drink!
For those who desire more tanginess, you can add a lemon or lime slice.
For those who love bubbly drinks, you can combine maesil cheong with sparkling water. 
Maesil Cha Frequently Asked Questions:
Now that we learned some tips & tricks for making this recipe, I want to answer some questions you may have as well! If I do not answer your question, feel free to leave a comment in the section below or email me at [email protected]. 
Do People Drink Maesil Cha Hot or Cold?
People in South Korea drink this tea both hot and cold! During the hot months, the ice version of the recipe is light and refreshing. When it cools down, the sweet, hot tea helps warm the belly.  
Does This Korean Plum Tea Recipe Contain Major Allergens? (Gluten, Soy, Etc.)
Excitingly, this recipe does not contain any of the major allergens. It does not contain wheat, gluten, soy, peanuts, tree nuts, fish, shellfish, milk, or dairy. 
As usual, check all ingredients when using a new product if you have any allergies. While most maesil cheong does not contain any major allergens, I cannot guarantee all do not. 
Is This Recipe Vegetarian or Vegan?
Usually, this recipe is both vegetarian and vegan. That being said, sometimes maesil cheong contains honey. If it contains honey, it is no longer vegan. Like I recommend for those with allergies, if you keep to a vegetarian or vegan diet, check the packaging when trying a new food product. 
Where Do You Buy the Ingredients?
Unfortunately, you cannot buy maesil cheong at most grocery stores. Instead, you need to shop at your local Asian market or online. 
You can easily find maesil cheong on Amazon or other online retailers. 
How Should I Store the Leftovers?
If you make a large batch of this tea, you can store the leftovers in a carafe in the refrigerator. Then, you can drink it cold throughout the week!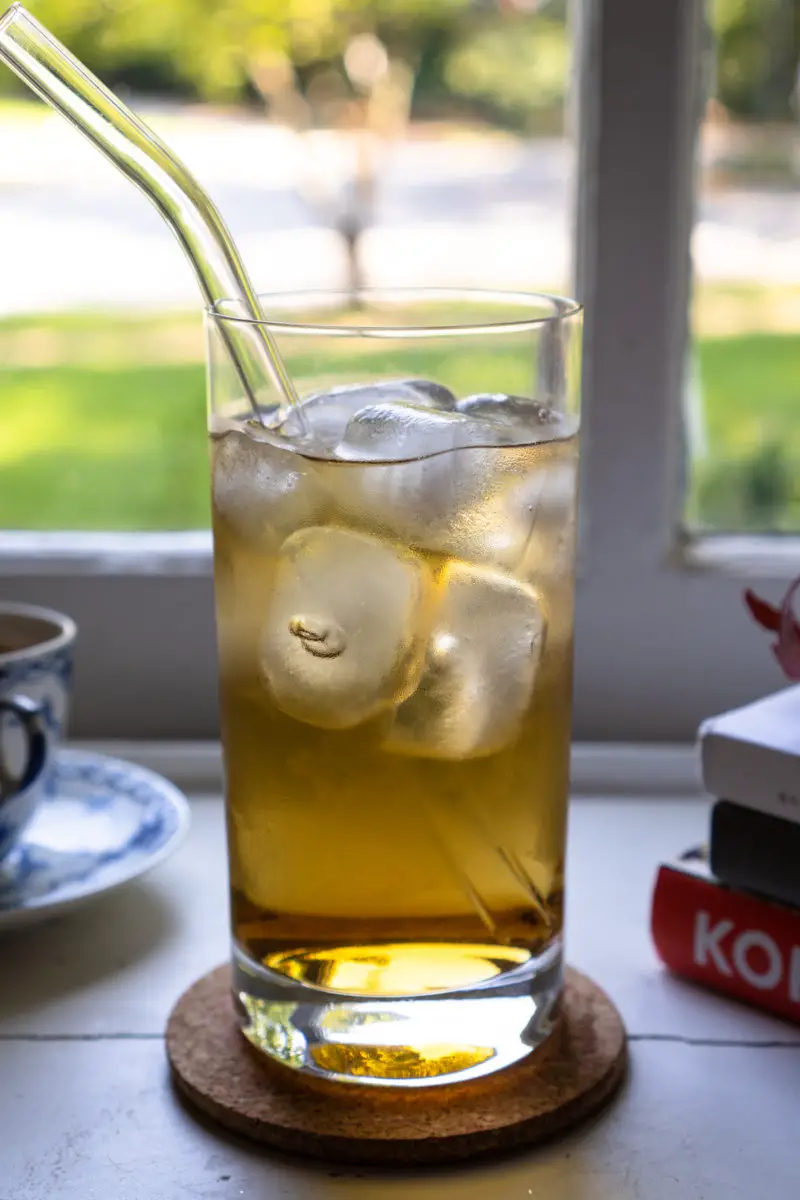 I Hope You Enjoyed Learning How to Make This Korean Plum Tea Recipe!
In the end, I hope you enjoyed learning about Korean plum tea (maesil cha)! If so, let me know in the comment section! 
If you would like to read more about cooking, you can find further recipes on this blog. I listed some of our favorite Carving A Journey recipes below! For reference, many recipes are influenced by my family's blended Korean and Southern heritage.
Further Carving A Journey Recipes:
If you have any questions or comments, you can also email me at [email protected].
And, finally, I would love to hear from you through our social media as well! You can follow me at @carvingajourney on Instagram, Facebook, and Pinterest. I also started a vlog Youtube channel! Or, if you would like more articles like these, you can subscribe to the blog by joining the mailing list. Let me know if you try making this well-loved Korean plum tea recipe (maesil cha)! Thank you so much for stopping by!
Carving A Journey is a participant in the Amazon Services LLC Associates Program, an affiliate advertising program designed to provide a means for sites to earn advertising fees by advertising and linking to Amazon.com. Although we may earn commissions for our endorsement, recommendation, testimonial, and/or link to any products or services from this website, these opinions are my own and I fully support these products.