This post may contain affiliate links. Please read my disclosure for details at the bottom of this page. As an Amazon Associate, I earn from qualifying purchases on this Korean banana milk recipe. I hope you enjoy learning how to make banana-flavored milk!
Published 05/04/2021 Updated 11/17/2022
In South Korea, flavored milk drinks are incredibly popular with all age groups. Of the different kinds of flavored milk, the most popular is definitely banana! Its popularity comes from being the original flavored milk introduced to the Korean population and its common use in Korean pop culture.
If you are interested in Korean pop culture, you may have noticed the banana milk in dramas (such as in Goblin (Dokkaebi)). Or, you may have noticed k-pop stars, such as Jungkook of BTS, enjoying a bottle. Eventually, if you consume enough content, you will notice it everywhere! Because of its immense popularity, we even listed banana milk on our list of favorite Korean snacks you can buy online or make at home!
Banana milk is a close cousin to the also highly popular Korean strawberry milk and melon milk! Actually, all three of these different kinds of flavored milk were made popular by the same company: Binggrae.
Note: Before making this recipe, it is important to note that homemade versions do not taste exactly like the store-bought Binggrae. Like most foods, homemade variations use more natural ingredients rather than artificial flavorings. As a result, your drink may taste different but it is definitely healthier! I hope you enjoy my homemade Korean banana-flavored milk recipe!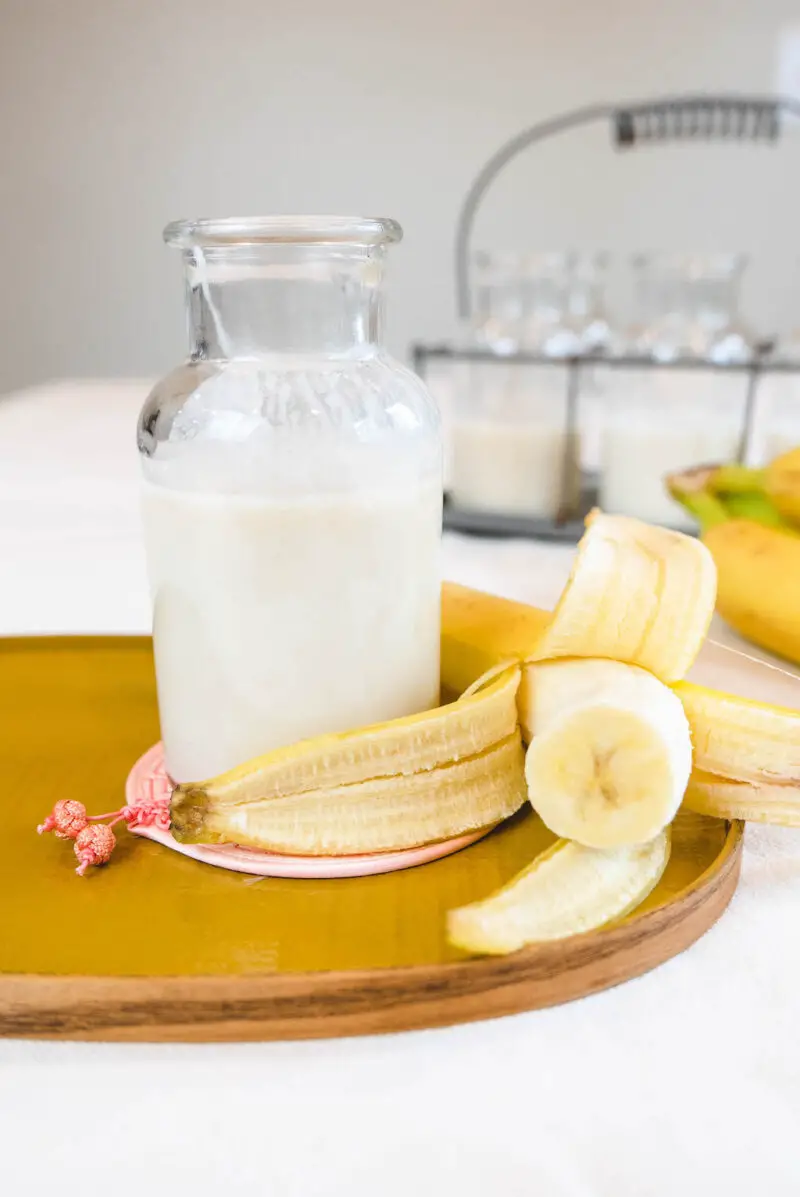 What Is Korean Banana Milk?
The name for the famous Binggrae banana milk is 'Banana Mat Milk' (바나나맛 우유). Literally, this translates to English as 'Banana Flavored Milk.' 
The History of Korean Banana Milk: 
In 1974, the fledgling Korean company Binggrae launched banana-flavored milk onto the market. Traditional Korean earthenware jars, known as an onggi (옹기), influenced the design of these iconic bottles. Now, you can find them in every convenience and grocery store in Korea. 
At the time, the Korean government wanted to encourage the Korean general population to drink more milk. In 1974, bananas were considered a luxury as they needed to be imported. So, Binggrae and the government thought people would be attracted to the banana-flavored milk to get a taste of the luxurious fruit. 
Right away, Binggrae banana milk was a hit. Since 1974, Binggrae continues to sell approximately 800,000 bottles a day. Obviously, people love their banana-flavored milk in Korea! 
Banana-Flavored Milk Ingredients:
The processed store-bought Binggrae version of Korean banana milk contains approximately 80% milk. Some other ingredients include water, sugar, banana juice concentrate, food coloring, and artificial flavors. Depending on your country's food regulations, ingredients in imported Binggrae banana-flavored milk may vary. 
Our homemade Korean banana milk contains fewer ingredients. It also does not contain any artificial banana flavorings. As such, there will be a bit of a flavor difference! 
Our Banana Flavored Milk Includes:
Banana
2% Milk (You can use milk alternatives such as oat, soy, and/or almond milk as well!)
Maple Syrup
Vanilla Extract
Salt; and
Water
Korean Banana Milk Frequently Asked Questions:
Below, I list some questions you may have about this Korean banana milk recipe. If I do not answer your question, feel free to leave a comment or email me at [email protected]!
Is This Korean Banana Milk Allergen-Free (Gluten-Free, Soy-Free, Nut-Free, Etc.)?
Yes! This Korean banana milk recipe is naturally free of any major allergen aside from milk. It does not include any eggs, fish, crustacean shellfish, tree nuts, peanuts, wheat, gluten, and/or soybeans. 
That being said, if you have a milk allergy, are lactose intolerant, or choose not to drink milk, you can use milk replacements. 
Some Replacements Include:
Soy Milk
Oat Milk
Almond Milk 
Cashew Milk; and
Rice Milk 
If you replace the regular milk with a milk alternative, just note that there will be a slight flavor and mouth-feel difference. I recommend getting unsweetened versions of the milk alternative without any added flavoring (such as vanilla). Also, choose a milk replacement with a naturally more neutral flavor. For example, I do not recommend coconut milk. It overpowers the drink!
How Can I Remove Excess Foam After Blending the Ingredients?
Sometimes, when blending, excess foam develops at the top of smoothies and other drinks containing fresh fruits and vegetables. This foam develops from insoluble fibers found in vegetables and fruits.
I personally do not enjoy drinking this scummy foam because of its texture and flavor. Thankfully, there are a few different ways to solve this issue:
If you blended your drink at a high speed (whether it be a smoothie, shake, or this delicious Korean banana milk) foam may have formed. If so, try blending the mixture at a very slow speed for approximately 20 to 30 seconds. This allows the foam to mix back into the drink instead of settling on the top.
Alternatively, you can try stirring the foam back into your drink with a long spoon.  
Finally, if both options mentioned above do not work, try straining the mixed drink through a fine-mesh sieve or cheesecloth. Once strained, some of the fibers remain in the sieve or cheesecloth thus removing the foam.
Excitingly, bananas are one of the best fruits to blend because they have easily soluble fibers. that being said, blending can still cause the foam to form. An easy trick to keep this from happening is freezing your banana first. 
How Long Does This Recipe Keep?
Like Korean strawberry milk, I recommend drinking this immediately. As the banana milk sits, it will start to discolor and separate. 
That being said, you can keep this banana-flavored milk in the refrigerator for 1 or 2 days. Make sure to store it in an airtight container. Then, when ready to drink, shake it well to recombine all the ingredients. 
Where Can I Buy the Original Binggrae Version?
You can buy banana milk, as well as other flavored milks, at most Asian grocery stores. If you have an H-Mart within driving distance, it will definitely be there.
You can also buy Binggrae Banana-flavored milk via Amazon. If you do, note that the ingredients are different than the ones sold in South Korea. Also, the company, unfortunately, packages the drinks differently. The international containers do not look like Korean jars!
Below we listed some of the Binggrae flavored types of milk products you can buy on Amazon. These are affiliated links! Also, we included some favorite Korean snacks!
Note: you may have heard of Binggrae from another one of their famous products! Have you heard of Melona Ice Cream Bars? We also mentioned them on our top Korean snack list! 
I Hope You Enjoyed Learning How to Make This Korean Banana Milk Recipe!
Have you ever tried the famous Binggrae Korean banana milk? If so, let me know in the comment section if you enjoyed it! In the end, I hope you enjoy our homemade, slightly healthier recipe for Korean banana milk. 
If you would like to read more about cooking, you can find further recipes on this blog. I listed some of our favorite Carving A Journey recipes below! For reference, many recipes are influenced by my family's blended Korean and Southern heritage.
Korean Food and Drink Recipes: 
If you have any questions or comments, you can also email me at [email protected]. And, finally, I would love to hear from you through our social media as well! You can follow me at @carvingajourney on Instagram, Twitter, Facebook, and Pinterest. Or, if you would like more articles like these, you can subscribe to the blog by joining the mailing list. Let me know if you try making Korean banana milk! Thank you so much for stopping by!
Carving A Journey is a participant in the Amazon Services LLC Associates Program, an affiliate advertising program designed to provide a means for sites to earn advertising fees by advertising and linking to Amazon.com. Although we may earn commissions for our endorsement, recommendation, testimonial, and/or link to any products or services from this website, these opinions are my own and I fully support these products.