South Korea is a snack junkie's heaven–they take their snacks very seriously. In South Korea, you can find snacks for every type of person. Do you like savory and fishy food? Korea has a snack for you. Do you like sweet flavored milk? Korea has that too. What about something mild to eat with a cup of tea? Yep, once again, you can find that in Korea. This week, we decided to jump into Korean snack culture. So, let's start our list of our top 10 best Korean snacks you can easily buy or make at home. 
10 Best Korean Snacks 
Below, we listed some of our favorite Korean snacks you can commonly buy online or in many grocery store chains in America. Also, we listed recipes along with the recommended treats in case you want to try making your own version of these convenience store snacks at home! 
The snacks we listed come from some of the most popular brands in Korea. You will note there are snacks from Orion, Lotte, Binggrae, Crown, Nongshim, and more!
So, let's list our top 10 best Korean snacks that you can buy online AND make at home! 
1. Orion Choco Pie
Choco Pies are probably one of the most famous South Korean snacks available on the market. Surprisingly, the Choco Pie is actually based on the Southern equivalent 'Moon Pie.' After trying a Moon Pie in a hotel in Georgia, USA, a team member of Tongyang Confectionery (now Orion) decided to make a similar product. They developed the recipe and started selling 'Choco Pies' in South Korea starting in 1974. 
The Choco Pie consists of two round cakes with a marshmallow filling and a chocolate covering. Since its inception, many companies have developed their own versions of Choco Pies. But, if you ask Koreans, the original is still the go-to and most popular option! 
Fun Fact: Choco Pies are a sign of status, wealth, and success in North Korea. People often sell this snack on the North Korean black market at a high price because of its popularity.  
You can easily find boxes of Choco Pies in grocery stores and online. But, if you want to make your own specialty version, we recommend checking out Michelle's recipe on her blog Sift & Simmer. She developed a delicious matcha green tea version of this Korean treat. 
If you want to buy it online, here is a link to the Amazon listing!
---
2. Samlip Yakgwa (Korean Sweet Cakes) 
Previously, I mentioned these cakes in my article listing Korean traditional and modern desserts. Koreans make these traditional sweet cakes by deep-frying dough made of wheat, honey, ginger juice, rice wine, and sesame oil.   
These cookies have a long history dating back to the Silla Dynasty when people made them for Buddhist burial rites. Now, people make these cookies during holidays and eat pre-made versions as a snack throughout the year. 
You can easily order these cookies online. But, if you would like to make your own, I recommend checking out Jinjoo's recipe available on her blog Kimchimari.
Note that Jinjoo chooses not use a classic yakgwa mold to make her treats. If you want to use a mold, you can buy one here. You can also use these molds to make Chinese Moon Cakes during the Autumn Festivals.
If you want to buy this online instead, here is a link to Amazon.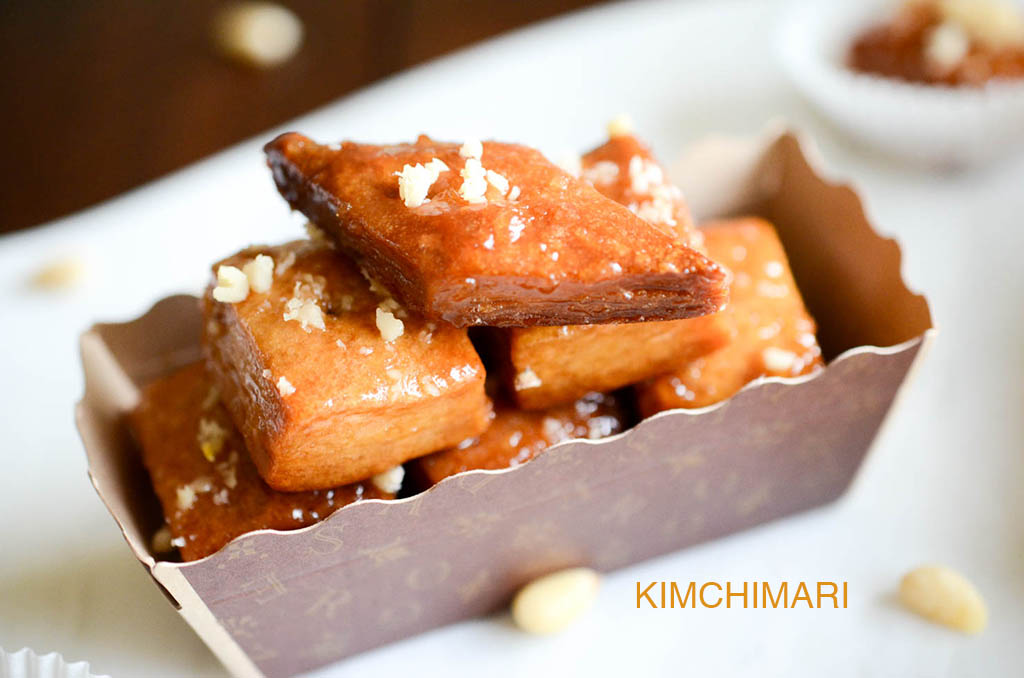 ---
3. Dried Squid
If you Korean dramas, you may have seen the main characters snacking on dried squid as they chat and drink soju. In South Korea, people enjoy dried squid as an anju (snack to eat while drinking). The savory fishiness pairs excellently with slightly sweet soju shots. For Koreans, they adore dried squid-like Americans do beef jerky. 
If you decide to try dried squid, and you are of drinking age, I recommend pairing it with soju to get the full cultural experience. If you cannot drink shots well, try making a soju cocktail such as soju and tonic! 
While you can easily buy plain dried squid to eat online, I wanted to also share a recipe for a spicy variation popular at Korean bars. For this spicy squid recipe, known as ojingeochae bokkeum in Korean, I recommend checking out Sue's recipe from her blog My Korean Kitchen.
Also, for an extra bonus, I consider this snack to be the most healthy out of all the other options here. Dried squid is packed full of protein and is an extremely low-calorie option–at least compared to the processed snack options. 
If you want to buy dried squid online, here is a link to Amazon!
---
4. Roasted Seaweed Strips 
Like dried squid, people often eat roasted seaweed strips drinking and is a little more healthy than the processed snack alternatives. On the other hand, unlike the dried squid, this healthy snack option is also vegan and vegetarian! In the past, you may have eaten seaweed in miso soup, or when it is rolled with kimbap or sushi (curious about the difference between kimbap and sushi? Check out my blog post on kimbap vs sushi!). But, have you ever eaten seaweed all on its own? 
In South Korea, besides selling large sheets to use when cooking, they sell small slices people often eat by itself or with plain white rice. The most popular versions of dried seaweed, known as 'kim' or 'gim' in Korean, are the plain style or a version coated with sesame oil. 
If you are a fan of Josh and Ollie from the Youtube channels Jolly and Korean Englishman, you will know even young kids will love these little snacks. Ollie's young daughter, Juno, is obsessed with this seaweed snack and prefers it over the other overly processed options. 
Once again, dried seaweed strips are readily available to buy online. If you want to try making the Korean sesame oil style on your own, try Future Dish's recipe from their Youtube channel or blog. 
If you want to purchase seaweed strips online, here is a link to Amazon.
---
5. Haitai Calbee Honey Butter Chips
The average young Korean loves a good trend. When first released in late 2014/early 2015, honey butter potato chips became the trendiest item in South Korea very quickly. Because of the viral marketing, the chips sold out across the country. Soon, people started stockpiling them to eat over time or to resell online. This period of Korean food history is known as the 'honey-butter craze.'
Even BTS members such as Jin and Jongkook have been photographed eating these potato chips during and after the 'honey-butter craze.' 
These potato chips taste sweet from the honey, salty, and, of course, buttery. Now that the viral celebrity-influenced trend has died down, you can find these chips online. But, if you want to try making chips at home, I recommend checking out Rachelle's recipe from her blog Bare Naked Food. 
Also, they officially made dried honey butter squid snacks based on these chips. Can you believe it? You can buy these honey butter squid snacks here.
If you want to purchase honey butter chips online instead, here is an Amazon link!
---
6. Binggrae Banana Milk
In South Korea, people often drink banana milk when eating snacks. As a result, we couldn't leave Binggrae's banana milk off our list of the best Korean snacks you can buy online or make at home. 
Binggrae first introduced banana milk in South Korea in 1974. At the time, bananas were incredibly expensive and were considered a luxury food. Because of the status of bananas, the company believed people would be enticed to buy their product. Binggrae wasn't wrong! Since then, it has become one of the most popular convenience store drinks to consume while snacking. They have sold over 6 billion bottles of the drink since 1974. Further, 800,000 of these drinks are sold daily across the country. That's a lot of banana milk! 
Binggrae has since branched out from just banana milk. You can also buy strawberry milk and melon milk! 
While you can readily buy banana milk online, we recommend checking out Sue's recipe from her blog My Korean Kitchen if you want to try making it at home!
---
7. Lotte Pepero 
Pepero, otherwise known as the Korean version of Japanese Pocky, is a popular treat for snacking. Lotte made Pepero by dipping long cookie sticks in chocolate. These sweet treats have been on the market in South Korea since 1983. 
While Lotte made the original version by simply dipping a cookie in milk chocolate, they have since branched out and continues to create aesthetically pleasing, cute, and trendy versions such as white chocolate cookie, almond chocolate, milk chocolate cookie, and more. 
In South Korea, November 11th is known as Pepero Day. 11/11 looks like multiple Peperos lined up. Typically, young students exchange Pepero with their classmates, teachers, and friends on this day. As of 2012, Lotte announced that they make 50% of their annual sales of Pepero on Pepero Day. Such a cute tradition! Who doesn't love food-based holidays, right?!
You can easily find the different Lotte Pepero versions online and in grocery stores. If you would like to make your own, we recommend Eugenie's version from her blog Eugenie Kitchen.
---
8. Seaweed Sweet Rice Crisps
Korean deep-fried seaweed rice crisps, otherwise known as gim-bugak, are a light, airy, and savory snack. Traditionally, Koreans coat the outside of the seaweed with a glutinous rice flour mixture before deep-frying them. 
These snacks are so easy to just throwback and eat while watching TV. Before you know it, the entire bowl will be gone. For flavor reference, the seaweed gives a hint of a seaside taste. Mixed with the glutinous rice flour, they puff up when fried into a crispy treat! 
There are many different versions available online. If you would like to make your own, try out Maangchi's version from her blog and Youtube channel!
If you want to purchase it on amazon, here is a link to it!
---
9. Orion Gosomi Crackers
Orion's Gosomi crackers are thin biscuits with a crunchy and crisp texture. Sesame seeds permeate throughout the cracker. Then, sugar, salt, and a bit of coconut are sprinkled on top. Between all these flavors, these crackers somehow manage to balance the sweet and savory notes perfectly. 
These crackers have a unique taste that goes perfectly with coffee, espresso, or tea while on a picnic. Soon, you will become addicted to the perfect snap of these crackers and won't be able to have a hot beverage without them. 
If you want to make these at home, we recommend Christine's recipe from her blog Dear Saturdays. Otherwise, you can easily find these crackers online: here is a link to its Amazon listing.
---
10. Binggrae Melona Bars Ice Cream
Binggrae, the company that famously made banana milk, also made one of the most popular ice creams available in South Korea. Melona bars are ice cream bars made to taste like melons. This bright green ice cream was first introduced to South Korea in 1992. In the first year of production, they made approximately 18 million US dollars in sales. Since then, Melona continues to dominate the ice cream scene in Korea. You can find these bars at every convenience and grocery store in South Korea. Once again, we wrote about Melona bars on our list of Korean traditional and modern desserts.
They also branched out to grocery stores across the globe. You can find these bars at Walmart, Wegmans, Kroger, and more in the United States.  
Like the banana milk, Binggrae expanded the flavors of their Melona bars. You can now try flavors such as mango, strawberry, coconut, and more! 
If you want to make your own gourmet ice cream version, we recommend checking out the blog Two Red Bowls!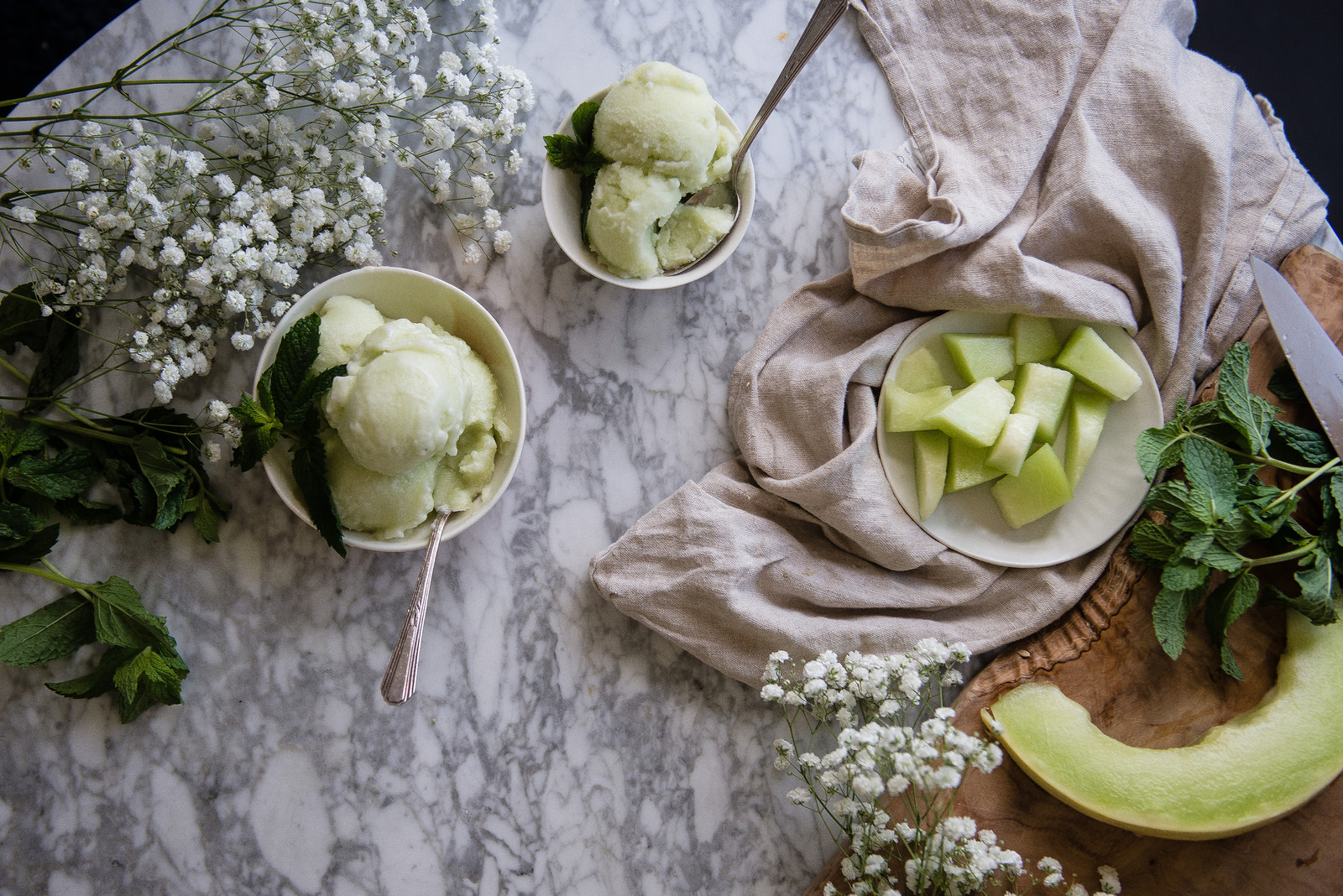 ---
Further Korean Snacks
We hope you enjoyed reading about some of our favorite Korean snacks that you can buy or make at home. For further bursts of Korean flavor, we also recommend trying snacks such as:
Do You Have a Favorite Korean Snack?
Did we list your favorite Korean snack? If so, we would love to hear about it in the comment section below! If not, we also want to hear all about different treats and brand recommendations as well!
In the end, if you have any questions or comments, you can also email us at [email protected].
And, finally, we would love to hear from you through our social media as well! You can follow us at @carvingajourney on Instagram, Twitter, Facebook, and Pinterest. Or, if you would like more articles like these, you can subscribe to our blog by joining our mailing list. We hope you enjoyed our list of our favorite Korean snacks! Thank you so much for stopping by!
Carving A Journey is a participant in the Amazon Services LLC Associates Program, an affiliate advertising program designed to provide a means for sites to earn advertising fees by advertising and linking to Amazon.com. Although we may earn commissions for our endorsement, recommendation, testimonial, and/or link to any products or services from this website, these opinions are my own and I fully support these products.