Korean street food is an important part of Korean cuisine–Korean food is so much more than traditional sit-down style meals!
What comes to your mind when you hear the phrase "Korean food"? Some people will think of the famous Korean-style barbecue. Korean barbecue places probably are the most common types of Korean restaurants outside of Korea. After all, who can really resist the appeal of K-BBQ, where various high-quality cuts of meat are cooked, sizzling right in front of you? And don't forget about the dipping sauces that compliment the meat!
Others might think of kimchi, the famous Korean-style pickle. While napa cabbage is the most popular ingredient for making kimchi, you can use other vegetables to make kimchi. Having distinct four seasons, Korea is a home to many varieties of greens–and Koreans have always been creative about their kimchi. For instance, look at this asparagus kimchi recipe in Korean! Who could have thought?! Koreans also enjoy making geotjeori, or quick kimchi without any fermentation process, which goes extremely well with Korean barbecue. While Romaine lettuce geotjeori is my favorite, I also wrote about other easy geotjeori recipes!
Korean Street Food Is Easy, Fun, and Delicious!
But, I am learning more and more recently that Korean food is so much more than the "traditional" menus like kimchi or Korean barbecue. When I was in Korea, I was so amazed by the variety, quality, and affordability of Korean street food!
My husband always talked about growing up in Korea and having so many street vendors selling Korean street food like tteokbokki (spicy rice cake), bungeoppang (fish-shape pastry filled with sweet red bean paste), and so on… A lot of these vendors were often not properly registered to sell food. So in the late 2000s, the Korean government tried to take many of these establishments down.
Apparently, many Koreans were not 100% happy about that decision. On the one hand, proper registration for food carriers is important to the safety and health of people. Moreover, in certain parts of Seoul, there were so many street vendors that it was almost impossible to walk on the sidewalk! On the other hand, however, many people worried about these vendors, who were often low-income "mom-and-pop" business owners struggling to make ends meet. And my husband always tells me that, for some reason, you simply cannot get the same flavor from indoor restaurants!
As a compromise, city governments in Korea are trying to install permanent street food stalls and lend it to the street vendors at a relatively low price. In this way, the authentic Korean street food culture could be preserved, while the government can make sure that the vendors make and serve food in safe and sanitary conditions. I think it is a pretty smart solution!
So in today's 'Emily Recommends' series, we decided to introduce 15 of my favorite Korean street food recipes! We really hope that you enjoy!
15 Korean Street Food Recipes I Love
Below, we listed 15 Korean street food recipes that you will definitely want to try in 2021. Let's get started!
1. Triangle Kimbap with Tuna Mayo Filling
Triangle kimbap is a popular Korean meal replacement found in convenience stores. When making triangle kimbap, you wrap seaweed around triangle-shaped rice that you fill with different types of ingredients. Originally, triangle kimbap comes from Japanese onigiri, so the concepts for these meals are very similar. It is important to note that the fillings tend to be very particular to each culture.
We wrote a blog post teaching you how to make "triangle kimbap" using a mold. You can follow the link below to the recipe and lesson!
---
2. Tuna Mayo Rice Bowl
Often, individuals in Korea rely on cheap, convenient, and tasty food for their lunch meals. In South Korea, a popular food amongst students and young professionals is tuna mayo rice!
First, place the tuna on top of a bed of white rice and egg strips. Then, add toppings such as green onions and seaweed strips. Finally, two sauces are added to the top: mayonnaise and a teriyaki style brown sauce. You can find a recipe for our tuna mayo rice bowl via the link below!
---
3. Roasted Chestnuts
In South Korea, people enjoy eating roasted chestnuts from vendors during the cold winter months. The vendors carry larger carts containing large wood-burning furnaces to heat and cook the chestnuts. At the same time, the furnaces have a spinning section to break up the shells as the nuts cook.
Once cooked, the vendors then transfer the nuts to paper baggies. I loved eating these while walking around the cities as it snowed! You can find out how to properly roast chestnuts in our blog post listed in the link below!
---
4. Dakkochi (Chicken Skewers)
In South Korea, people enjoy chicken skewers as another common street food! First, you prepare the chicken by cutting it into small cubes. At the same time, prepare the green onions by cutting the stock into 3 or 4 medium-sized slices. Once all the ingredients are cut and sliced, you add them onto a skewer.

As the skewer cooks over a warm flame, the chicken and green onions are brushed with a delicious Japanese influenced sauce. One of my favorite recipes comes from Seonkyoung Longest! You can find her recipe linked below!
---
5. Tteokbokki (Spicy Rice Cake)
Koreans often stop at tteokbokki shops to fill up when walking around town. The main ingredients of teokbokki include cylinder rice cakes and gochujang. When combined, the rice cakes become chewy as they swell from the spicy red sauce.You may recognize this Korean dish as it tends to be eaten often in Korean dramas as a comfort food!
If you would like a recipe from a cookbook, we cannot recommend Korean Home Cooking enough. This cookbook has my favorite tteokbokki recipe that I continue to cook over and over again.

Though we recommend the book above, because it contains my favorite tteokbokki recipe, we know some of you want a recipe on the internet. We love Korean Bapsang's recipe! You can find her recipe via the link below.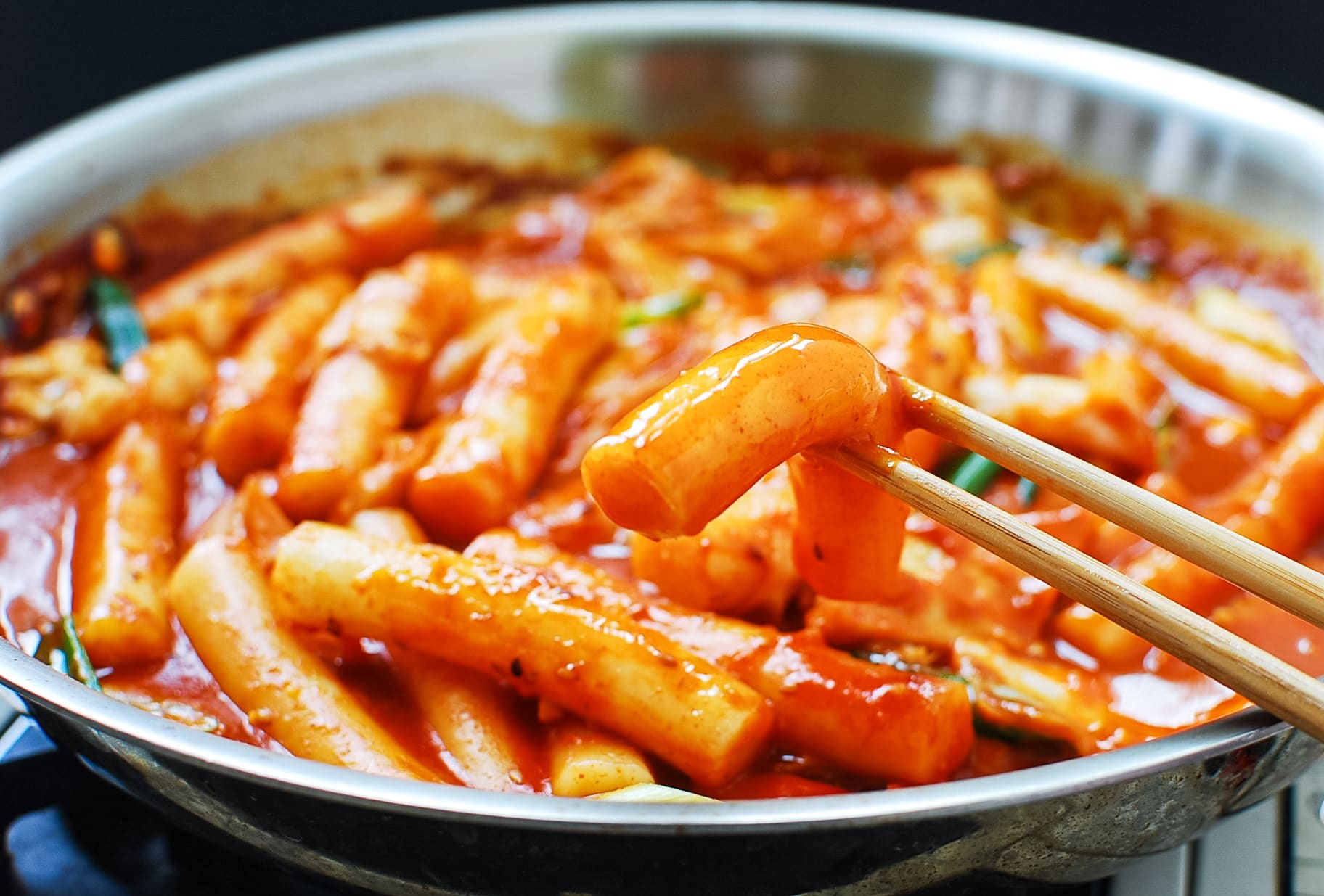 ---
6. Bungeobbang (Fish-Shaped Pastry with Sweet Red Bean Filling)
Similarly, another street food popularly used in Korean dramas is the fish-shaped pastry called bungeobbang!

Typically, the fish-shaped pastry contains a sweet red bean filling. Korean red beans taste differently than other types of beans–they taste both nutty and sweet! As a result, Koreans use red beans in many of their desserts. Very unique and different, right?

You can buy molds to make fish-shaped pastries at your local Asian market or via Amazon. Below, I listed some options of molds you can buy!
Personally, I love Maangchi's recipe available on her website! Below, you can follow the links to her blog and recipe.
---
7. Tornado Potato
Recently, tornado potatoes started trending in South Korea as a street food and theme park snack!

First, start by cutting your potatoes into a spiral using a spiralizer. Once you cut the potatoes, you then add them onto a skewer. Finally, the skewer then gets deep-fried in a large vat of oil.

If you would like to make tornado potatoes, I recommend getting a spiralizer. You can order these via Amazon!
Finally, we recommend checking out the recipe available on Tasty! You can find the recipe listed below.
---
8. So-Tteok So-Tteok (Sausage Rice Cake Skewers)
Like Dakkochi, so-tteok so-tteok involves food on a skewer! As I said above, skewer food makes it easy to walk around and eat at the same time. As a result, Koreans love this type of street food recipe!

So-tteok is a shortened name for sausage and tteok (rice cake). You make so-tteok using mini sausages and Korean rice cakes. First, you add the two ingredients onto the skewer. Then, the skewers are seared on top of a griddle and brushed with a sticky sauce.

We recommend checking out the recipe on Orange Cane. We promise you will like this tasty Korean street food!
---
9. Grilled Squid with Butter
Koreans commonly eat squid dried, in soups and stews, and mixed into stir-fries. For street and movie theater food, they enjoy eating squid grilled served with butter.
Grilled squid tastes succulent and fishy. At the same time, the texture is both chewy and moist! We recommend checking out the recipe from 10000recipes. At the same time, check out the rest of their Korean recipes available on their Youtube page!
---
10. Eomuk (Fish Cake) Soup
Eomuk fish cake soup helps fight the cold during the long winter months in South Korea. You make eomuk by first grinding together different types of white-fleshed fish until they make a paste. Then, you form the paste into flat or ball-like structures that you deep or pan fry. Finally, you can add the fish cakes to a brothy soup that heats your body from top to bottom.
We recommend checking out the recipe from My Korean Kitchen. If you read past blog posts, you will know I love this blog! Below, we listed their website and recipe!
---
11. Kkwabaegi (Twisted Donuts)
Korean twisted donuts probably taste the most similar to the Western equivalent out of all the street foods we decided to list! The twisted donuts taste sugary. At the same time, Kkwabaegi has a cake and dough-like texture!
For this recipe, we recommend checking out Future Dish. They go in-depth when explaining the steps for making these donuts!
---
12. Hotteok (Pancake with Honey Filling)
Another street food we recommend munching on during the winter is hotteok–Korean pancakes filled with honey. While the outside shell cools in the freezing temperatures, the gooey center remains hot. Be careful when eating these. If you aren't, you can severely burn your tongue!
We recommend checking out the blog Kimchimari for hotteok. You can find her blog and recipe listed below!
---
13. Kimbap
Above, we listed triangle kimbap. Here, we need to discuss the traditional rolled version which remains popular as well. You make kimbap by rolling fillings and rice into dried seaweed. Then, you slice the roll into bite-sized sections.
The fillings differ depending on the recipe. For example, you can eat bulgogi, tuna, and crab stick versions. Serious Eats has a crab stick version we enjoy eating at home!
---
14. Sundae (Korean Blood Sausage)
In Korea, sundae does not involve ice cream! Instead, Koreans know sundae as blood sausage made with intestines. Typically, sundae isn't made at home. Specific street vendors specialize in making their version of this favorite dish.

Almost always, tteokbokki is sold with sundae and they come as a pair. We recommend buying sundae from your local Asian grocery store at first. Then, when you are ready for something in advance, try making it at home. In the Youtube video below, you can learn how sundae is made from a street vendor!
---
15. Korean "Hot Dog" (Corndog)
When making Korean hotdogs, you start by placing cheese and a hotdog on a skewer. Then, you dip the hotdog in batter and roll it into breadcrumbs before deep frying.

You then have a crunchy and crispy snack, which oozes with cheese once you bite down. By now, if you haven't figured it out, Koreans love eating street food on skewers that burst with flavor. This is no exception!

We recommend checking out the blog Kirbie Cravings for a good Korean hotdog recipe!
---
Try Korean Street Food!
As I mentioned before, Korean food is so much more than kimchi! Korean street food brings a unique and modern take on Korean food to the table. Have you ever tried any Korean street food? Do you have any favorites? Let us know in the comments below or email us at [email protected]! 
Finally, we love hearing from you through our social media! You can follow us at @carvingajourney on Instagram, Twitter, Facebook, and Pinterest. Also, you can subscribe to our blog by joining our mailing list.
Carving A Journey is a participant in the Amazon Services LLC Associates Program, an affiliate advertising program designed to provide a means for sites to earn advertising fees by advertising and linking to Amazon.com. Although we may earn commissions for our endorsement, recommendation, testimonial, and/or link to any products or services from this website, these opinions are my own and I fully support these products.