This post may contain affiliate links. Please read my disclosure for details at the bottom of this page. As an Amazon Associate, I earn from qualifying purchases on this Korean egg soup recipe and article. I hope you enjoy learning how to make gyeran guk!
During the cold winter months do you have a favorite stomach-warming dish that just hits the spot? In my household, we make gyeran guk, a Korean egg-based soup. 
In this recipe article, I will tell you all about gyeran guk. First, I will list the ingredients necessary to make this soup. Then, I will give tips & tricks about how to cook it easily. Finally, I answer potential questions you may have about this dish. 
As always, if I do not answer your questions, feel free to leave a comment or email me at [email protected]! 
What Is Gyeran Guk?
Korean Egg Soup, known as 'gyeran guk' (계란국), is a delicious, stomach-warming dish made by mixing eggs into a seafood-based stock or broth. The resulting subtly savory dish tastes light and refreshing. 
To me, it is the perfect dish to make when feeling under the weather (whether from illness or a hangover!). Not only does it help to clear sinuses from the steam, but it is also light on the stomach.
Korean Egg Soup Ingredients: 
Below, I list the ingredients used to make this delicious Korean dish. I also linked any informative articles connected to the ingredients:
Gyeran Guk Ingredients: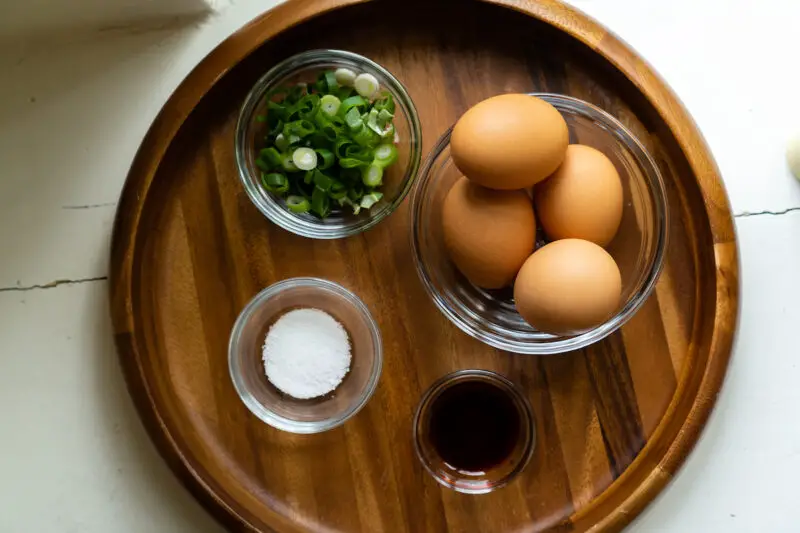 Korean Egg Soup Tips & Tricks:
Before we get to the recipe, I wanted to give some tips & tricks to help you make this delicious Korean egg soup recipe! Let me know if these tips help you prepare this dish! If you have any questions, leave a comment below or email me at [email protected].
Gyeran Guk Tips & Tricks:
Before making this soup, you need to prepare Korean anchovy broth (or stock) known as 'myeolchi yuksu' (멸치육수). Learn how to make this traditional Korean broth here! 
For those who do not desire to make anchovy broth from scratch. You can buy Korean anchovy broth cubes online!
To start, bring your anchovy broth to a roaring boil. While you heat the broth, prepare the rest of your ingredients by beating the eggs and thinly slicing your green onions.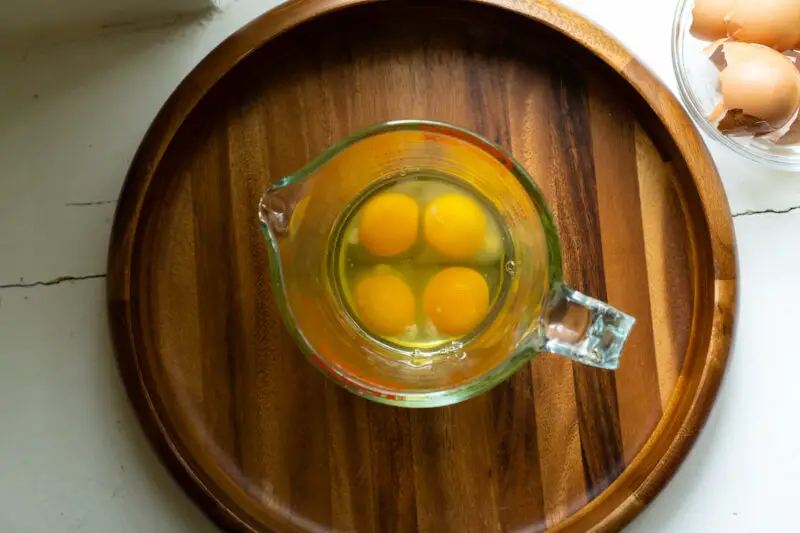 Once the water reaches a boil, reduce the temperature to medium. Then, slowly drizzle the beaten egg into the broth.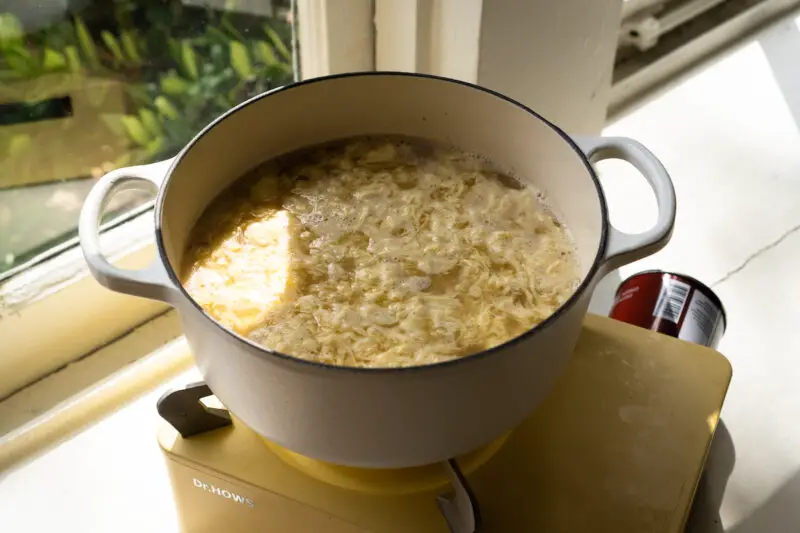 Once the eggs are in broth, let them sit for a few seconds before stirring and breaking the pieces up. Letting them sit allows them to cook slightly. If you don't, the eggs may just mix into the water without gaining the correct texture. Let them sit for longer than a few seconds and the eggs won't break apart correctly. 
Add the green onions to the pot after the eggs cook.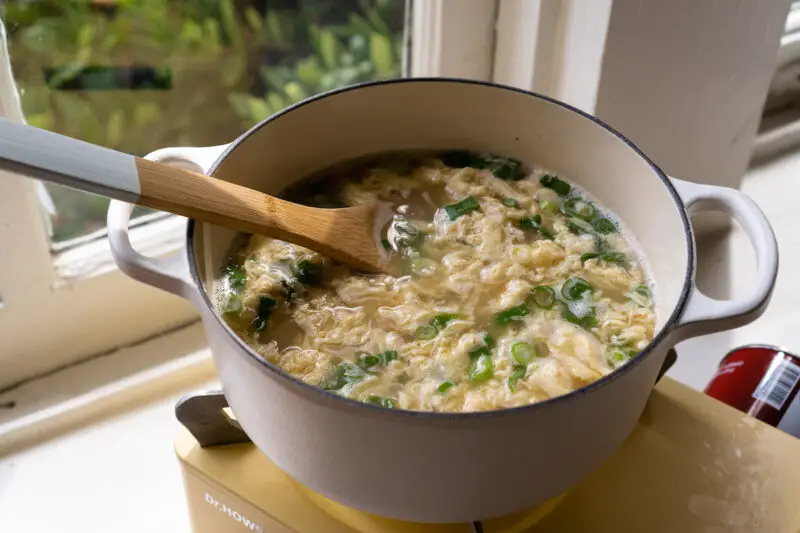 Finally, turn off the heat before adding sesame oil. When cooked for an extended time, sesame oil loses its flavor. You want to wait until the very end when the heat is off before adding this ingredient! I always add this ingredient to each individual bowl.
Serve hot with a delicious bowl of rice and some kimchi. 
When serving this dish, I recommend keeping a small bowl of salt on the table. That way, you and everyone at the table can salt the mild soup to taste!
Gyeran Guk Frequently Asked Questions:
Now that we learned some tips & tricks for making this recipe, I want to answer some questions you may have as well! If I do not answer your question, feel free to leave a comment in the section below or email us at [email protected].
What Does Korean Egg Soup Taste Like?
Korean egg soup tastes light and refreshing. This savory soup tastes mild with a nutty finish from the sesame oil. 
Many describe it as having a similar flavor to egg drop soup, a dish original to Chinese cuisine and sold throughout the United States at Chinese restaurants. The most notable difference in flavor between the two comes from the stock or broth used as a base for the soup. People usually make Chinese egg drop soup with chicken stock, while they use anchovy stock or broth when making Korean egg soup. 
Does This Recipe Contain Major Allergens? (Gluten, Soy, Etc.)
Excitingly, my recipe for Korean egg soup does not contain most of the major allergens. It does not contain wheat, gluten, peanuts, fish, tree nuts, shellfish, milk, or dairy. Unfortunately, for those with egg or soy allergies, you must avoid making this recipe.
My recipe does not use wheat or gluten because I use gluten-free soy sauce or tamari. Please note that soy sauce typically contains both gluten and soy. Below, I give some tips for those avoiding these ingredients when cooking.
For those like me who avoid gluten because of an intolerance or celiac disease, you can switch out the soy sauce with gluten-free tamari, soy sauce, or soup soy sauce. If you need recommendations, check out my article listing gluten-free soy sauce brands! 
For those with a soy allergy, you need to avoid soy sauce altogether. Instead, I recommend using coconut aminos. I also write about my favorite coconut aminos brand in my gluten-free soy sauce alternatives article. 
Both soy-free and gluten-free substitutions taste delicious. I wouldn't know the difference if I didn't know the ingredients were substituted!
Is This Recipe Vegetarian or Vegan?
Unfortunately, this recipe is neither vegetarian nor vegan because of the anchovies and eggs. 
If you would like to make gyeran guk vegetarian, you can replace the anchovy broth with vegetable broth. 
Currently, I have never attempted to make this recipe vegan using a vegan egg replacement. If I do, I will update this article! 
Where Do You Buy the Ingredients?
Excitingly, you can find almost every ingredient at your local well-stocked grocery store. There is no need to drive far to an Asian grocery store if there isn't one in your area!
The only item you may struggle to find is dried anchovies for the anchovy broth recipe. Thankfully, if you cannot find anchovies, you can switch the broth out for chicken broth or seafood stock/broth. 
How Should I Store the Leftovers?
To store the leftovers, place the gyeran guk into an airtight container. Then, store the container in the refrigerator. I recommend eating the soup within a few days. 
Note: You can also place the pot with the lid in the refrigerator. Then, when it is time to reheat the soup, pull out the pot and warm it on the stove! I do this regularly with my soups and stews if there is just enough for one more meal!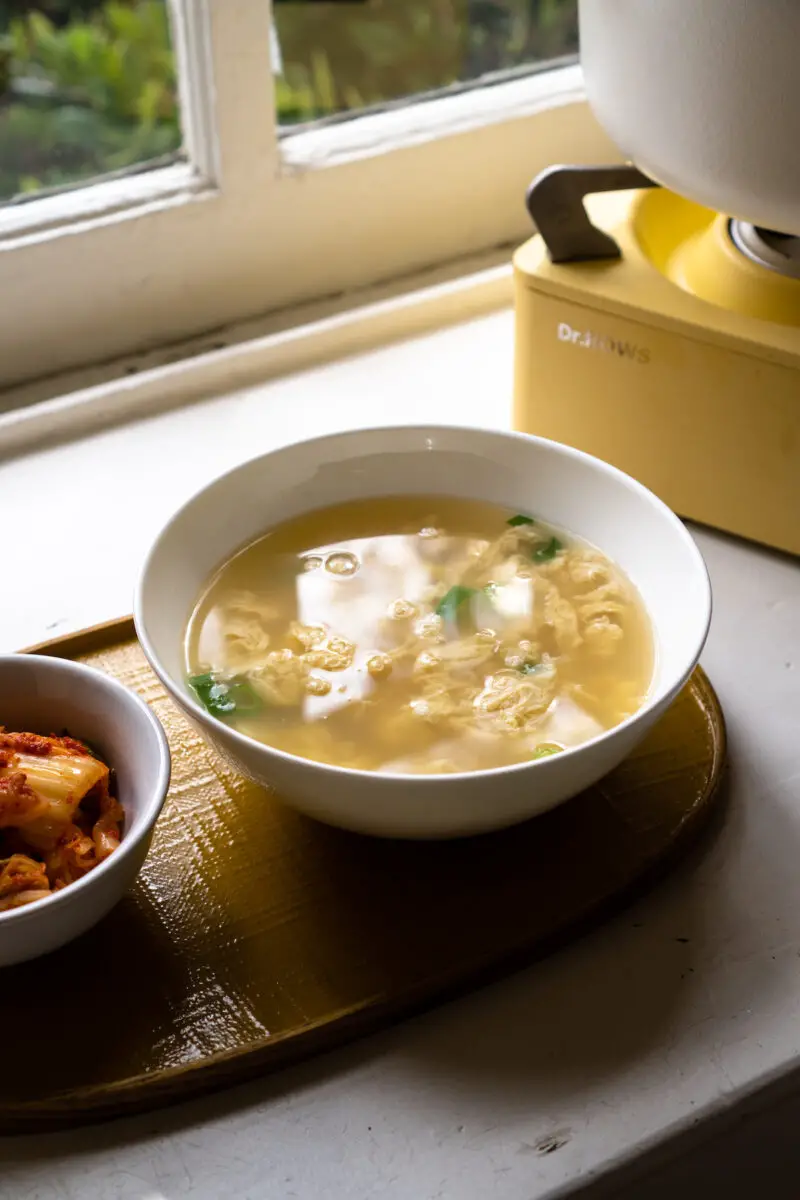 I Hope You Enjoyed Learning How to Make This Korean Egg Soup Recipe (Gyeran Guk)!
In the end, I hope you enjoyed learning how to make this Korean egg soup! If so, let me know in the comment section! 
If you would like to read more about cooking, you can find further recipes on this blog. I listed some of our favorite Carving A Journey recipes below! For reference, many recipes are influenced by my family's blended Korean and Southern heritage.
Further Carving A Journey Recipes:
If you have any questions or comments, you can also email me at [email protected]. And, finally, I would love to hear from you through our social media as well! You can follow me at @carvingajourney on Instagram, Facebook, and Pinterest. I also started a vlog Youtube channel! Or, if you would like more articles like these, you can subscribe to the blog by joining the mailing list. Let me know if you try making gyeran guk! Thank you so much for stopping by!
Carving A Journey is a participant in the Amazon Services LLC Associates Program, an affiliate advertising program designed to provide a means for sites to earn advertising fees by advertising and linking to Amazon.com. Although we may earn commissions for our endorsement, recommendation, testimonial, and/or link to any products or services from this website, these opinions are my own and I fully support these products.