This post may contain affiliate links. Please read my disclosure for details at the bottom of this page. As an Amazon Associate, I earn from qualifying purchases on this Korean acorn jelly recipe and article. We hope you enjoy learning how to make dotorimuk!
Autumn is here! Are you watching the leaves turn and acorns fall? If so, have you ever wondered if you can eat acorns? 
The short answer: Do not get acorns out of your backyard because of certain toxins. 
The longer answer: Yes, you can eat acorns if prepared properly! 
In South Korea, people have been preparing acorns into a specific dish known as 'dotorimuk' for generations. To make acorns safe, people in Korea crushed the acorns before passing water through the pieces. During this process, the water leaches out the toxins found in the acorns. Then, once dried, the crushed pieces are ground into a fine powder. From this powder, people in Korea make 'dotorimuk,' otherwise known as Korean acorn jelly. 
Below, I will teach you everything you need to know to make this dish! 
What Is Dotorimuk?
Acorn jelly, known as 'dotorimuk' (도토리묵), is a Korean traditional Korean side dish made by boiling acorn starch powder and water before pouring it into a mold and letting it cool. As it cools, the mixture hardens until it gains a similar texture to jello. 
Traditionally people made dotorimuk during the fall season after the oak trees dropped their nuts. Once made, people slice and serve it in a multitude of ways, some of which I list below in the 'frequently asked questions' section of this post. 
I always recommend making acorn jelly from scratch rather than buying it pre-made from Asian grocery stores. The flavor tastes much better and does not contain any filler ingredients (such as corn starch) typically used for commercially made dotorimuk. 
Famously, during the first Japanese invasion of Korea during the Joseon Dynasty, King Seonjo fled and took refuge in the northern parts of the country. Because of the food shortages, the villagers resorted to making the king humble food. Dotorimuk was one of the dishes included. After that period, King Seonjo continued to eat acorn jelly as a reminder of the hardships caused by the war. 
Korean Acorn Jelly Ingredients: 
Below, I list the ingredients used to make this delicious Korean dish. I also linked any informative articles connected to the ingredients: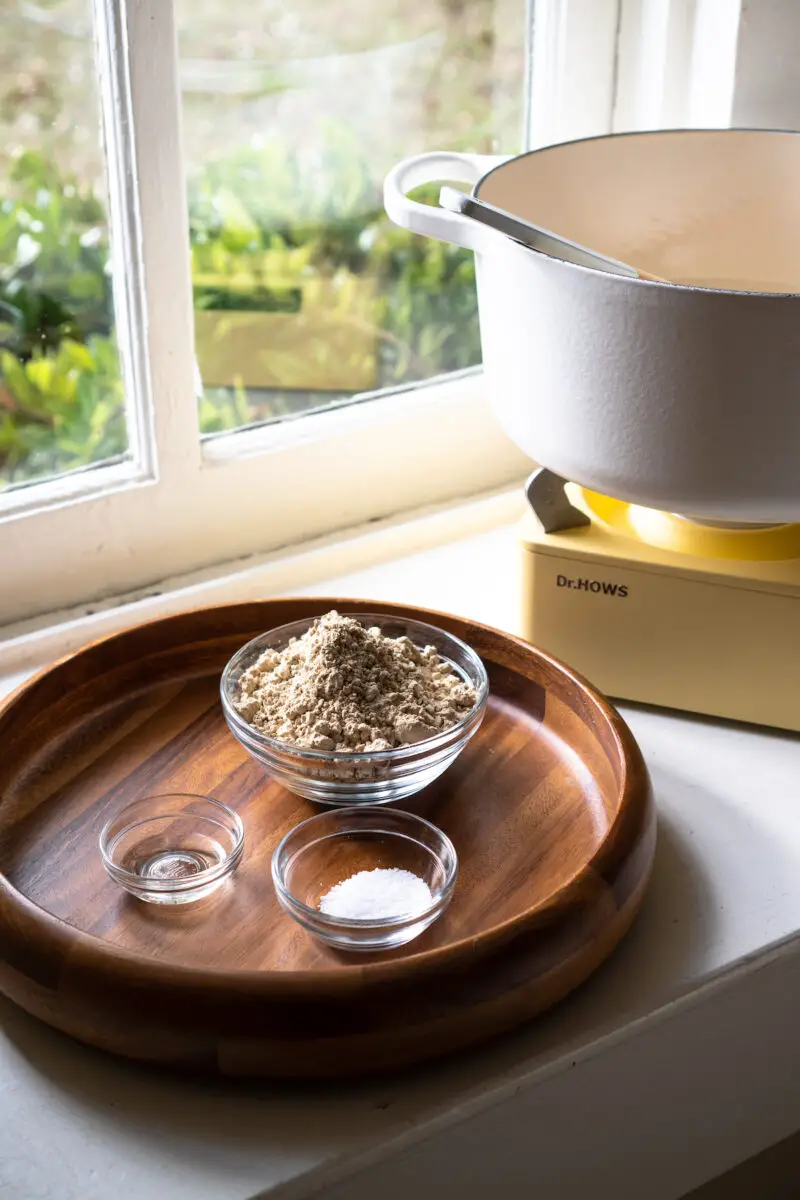 Korean Acorn Jelly Tips & Tricks:
Before we get to the recipe, I wanted to give some tips & tricks to help you make this delicious Korean acorn jelly! Let me know if these tips help you prepare this recipe! If you have any questions, leave a comment below or email me at [email protected].
Dotorimuk Tips & Tricks:
When making this dish, you cannot walk away from the pot. This jelly takes very little time to come together. You can burn on the bottom of your pot if you do not pay attention. 
When preparing the acorn jelly, always check the ratio of acorn starch powder to water listed on the powder packaging. Each powder has its own ratio recommendation. If there isn't a ratio on the packaging, just follow my recipe below. 
To make the jelly, mix the acorn starch powder with cold water in a pot or saucepan. Then, add the salt and stir. 
Once well combined, put the pot on the stove over medium-low heat. Stir as the mixture thickens. As it thickens you will notice chunks of something that looks like gelatin. At this point, lower the heat and continuously stir as the mixture thickens. This takes about 30 minutes at a low temperature.
Once thick, add the sesame oil to the mixture. You know it is ready to add the oil once the mixture is difficult to stir. It should be like a thick caramel. When you lift the spoon, the mixture should plop back into the pot rather than drip or drizzle. When you add the oil, mix until it fully combines and the mixture forms thick, stiff peaks. 
While cooking the acorn jelly, prepare a glass container. Once you finish cooking the jelly, pour it into your container. Then, jiggle the container to spread the mixture out evenly. 
Loosely cover the jelly while it cools. Typically, it takes approximately 5 hours to completely harden. You know it's done if it bounces back after you touch it. 
If the temperature is hot in your house, you may need to let it cool in the refrigerator, but this is not the preferred method. Cooling at room temperature is best! 
You can serve this with a simple soy sauce-based dressing or make other traditional Korean dishes that use acorn jelly as an ingredient. I listed a few below. 
Korean Acorn Jelly Frequently Asked Questions:
Now that we learned some tips & tricks for making this recipe, I want to answer some questions you may have as well! If I do not answer your question, feel free to leave a comment in the section below or email us at [email protected]. 
What Does Dotorimuk Taste Like?
Dotorimuk tastes mildly nutty and earthy. The flavor is so subtle you almost wouldn't know that it is there. 
To add more flavor, people often combine different seasonings and ingredients with dotorimuk to make a variety of dishes. Examples include making a dotorimuk salad with a dressing or adding it to a delicious broth. I list some dishes below that use dotorimuk as an ingredient. 
What Recipes Do You Make With Dotorimuk?
Most commonly, people in South Korea serve dotorimuk in a salad known as 'dotorimuk muchim' (도토리묵 무침). Other than that, people use Korean acorn jelly in a variety of ways. 
Dotorimuk-Bap (도토리묵밥): In English, this translates to 'acorn jelly rice.' People make this dish by serving acorn jelly over rice. Typically, the rice and dotorimuk sit in a broth. This dish can be served either hot or cold. People also refer to this dish as 'mukbap' (묵밥).
Dotorimuk-sabal (도토리묵사발): In English, this translates to 'acorn jelly bowl.' This dish is very similar to dotorimuk-bap. The main difference relates to the rice–this dish does not contain rice in the broth. People also call this dish 'dotorimuk-guksu (도토리묵국수).
Does This Recipe Contain Major Allergens? (Gluten, Soy, Etc.)
Excitingly, this recipe does not contain any of the major allergens. It does not contain wheat, gluten, soy, peanuts, fish, shellfish, milk, or dairy. 
That being said, acorns are technically tree nuts. Thankfully, there is little correlation between the typical tree nut allergy and reactions to acorns. If you have a tree nut allergy, I recommend asking your doctor before making this recipe as I am not a medical professional. 
Is This Recipe Vegetarian or Vegan?
Excitingly, this recipe is both vegetarian and vegan! For those who live a vegetarian and vegan lifestyle, this is safe for you to consume.
Where Do You Buy the Ingredients?
You can find every ingredient, except for the acorn starch powder, at your local well-stocked grocery store. I then recommend shopping for starch powder at an Asian grocery store or online!
How Should I Store the Leftovers?
To store the leftovers, place the dotorimuk into an airtight container. Then, store the container in the refrigerator. I recommend eating the acorn jelly within a few days. 
I Hope You Enjoyed Learning How to Make This Korean Acorn Jelly Recipe!
In the end, I hope you enjoyed learning how to make this Korean acorn jelly recipe! If so, let me know in the comment section! 
If you would like to read more about cooking, you can find further recipes on this blog. I listed some of our favorite Carving A Journey recipes below! For reference, many recipes are influenced by my family's blended Korean and Southern heritage.
Further Carving A Journey Recipes:
If you have any questions or comments, you can also email me at [email protected]. And, finally, I would love to hear from you through our social media as well! You can follow me at @carvingajourney on Instagram, Facebook, and Pinterest. I also started a vlog Youtube channel! Or, if you would like more articles like these, you can subscribe to the blog by joining the mailing list. Let me know if you try making dotorimuk! Thank you so much for stopping by!
Carving A Journey is a participant in the Amazon Services LLC Associates Program, an affiliate advertising program designed to provide a means for sites to earn advertising fees by advertising and linking to Amazon.com. Although we may earn commissions for our endorsement, recommendation, testimonial, and/or link to any products or services from this website, these opinions are my own and I fully support these products.