This post may contain affiliate links. Please read my disclosure for details at the bottom of this page. As an Amazon Associate, I earn from qualifying purchases on this Korean watercress salad article and recipe. We hope you enjoy learning about the minari muchim.
Previously, I wrote an ingredient article about 'minari,' a leafy vegetable commonly used in South Korea for cooking. In that ingredient article, I also wrote about the famous 2020 movie of the same name! Once again, if you haven't seen Minari, the Korean-American film written and directed by Lee Isaac Chung, I recommend doing so. 
Here, I will teach you how to make Korean watercress salad, otherwise known as minari muchim. This dish, much like the movie, has deep roots in Korea's cooking culture! 
What Is Minari Muchim? 
Below, I translate the two terms used in Korean to describe the dish! 
What is Minari? 
Minari (미나리) is the Korean word for a variety of water dropwort. Also known as Korean watercress, water celery, water parsley, or Java water dropwort, you can find this leafy green natively growing along banks of streams, creeks, and rivers of the temperate and tropical countries in Asia as well as Australia. 
This fragrant vegetable tastes similar to a cross between celery and parsley, with some people describing it as also having a peppery taste. 
Note: To learn even more about water dropwort (minari), I recommend checking out our ingredient article on the subject.
What Is Muchim?
'Muchim' (무침) is a Korean term used to describe a variety of side dishes made by mixing fresh vegetables with different seasoning ingredients. Examples of such ingredients include gochugaru (red pepper powder), garlic, sesame oil, and more. 
Now that we learned all about Korean water dropwort, let's learn how to make this minari muchim recipe! Below, I list the main ingredients necessary for the recipe as well as give some tips & tricks, and answer some frequently asked questions. 
Minari Muchim Ingredients: 
As stated in the previous section, I list the ingredients we use to make this dish below. I also list the ingredient article from our website connected with each item listed below:
Korean Watercress Salad Tips & Tricks:
Before we get to the recipe, I wanted to give some tips & tricks to help you make this delicious Korean side dish! Let us know if these tips help you prepare this recipe at home! If you have any questions, leave a comment below or email me at [email protected].
Prior to preparing the salad, if the roots of the minari greens are still attached, chop them off and dispose of them. While the stems and leaves of this plant are perfectly safe (and extremely healthy) to eat, the roots can contain toxins that are not safe to consume. 
Prepare and consume this dish quickly after buying the minari. This leafy green plant wilts quickly (within a few days). You do not want to reach into your refrigerator and find wilted, ugly greens! 
Once you mix all the ingredients, serve immediately. Once again, the leaves of minari wilt quickly. As soon as you add the other ingredients the leaves start wilting.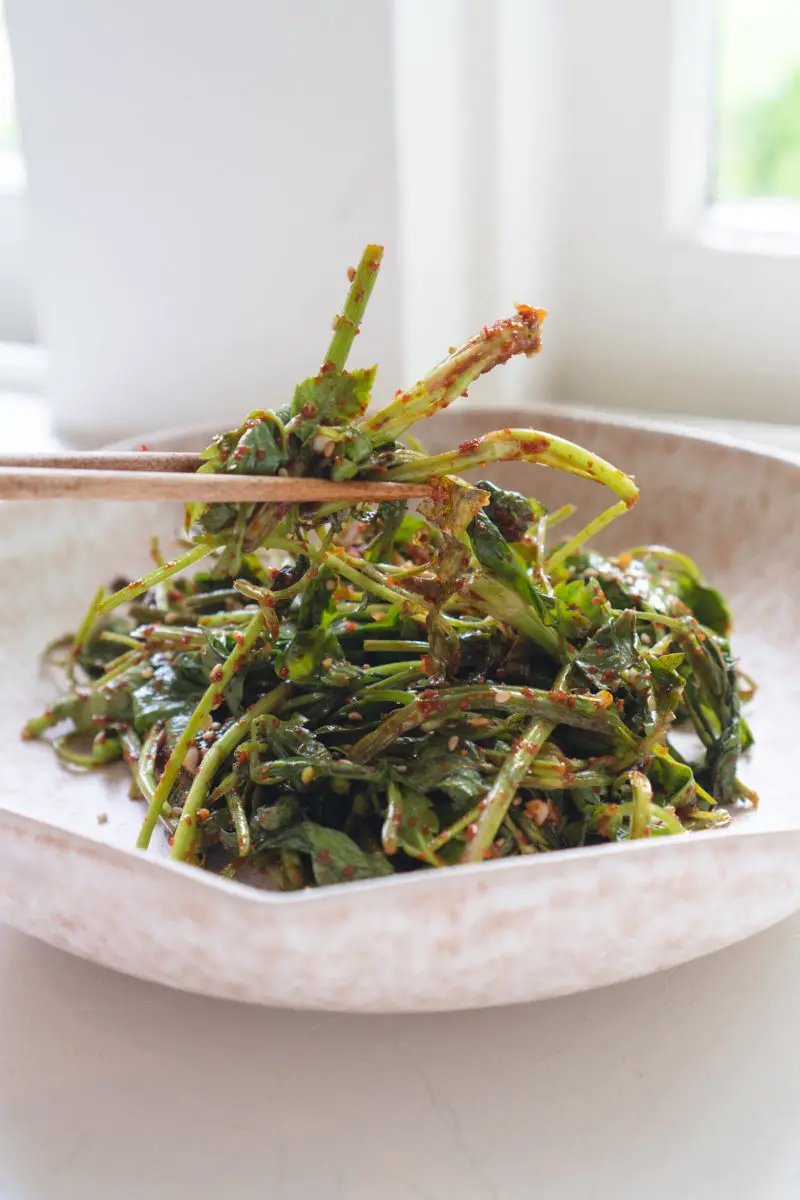 Minari Muchim Frequently Asked Questions:
Now that we learned some tips & tricks for making this recipe, I want to answer some questions you may have as well! If I do not answer your question, feel free to leave a comment in the section below or email us at [email protected]. 
Does This Recipe Contain Major Allergens? (Gluten, Soy, Etc.)
This recipe naturally does not contain 4 of the major 8 allergens. It does not contain milk, eggs, tree nuts, or peanuts.
As I stated above in the ingredient section of this post, this recipe contains 'aekjeot' (액젓). In English, this translates to Korean fish sauce. For those with a shellfish or fish allergy, I do not recommend using this ingredient. While these two allergies are different, people in South Korea have many different types of 'fish sauce,' some of which use shellfish as well as fish. I think it is better safe than sorry when it comes to allergies! Thankfully, there are shellfish and fish-free alternatives these days! 
Next, this recipe also contains 'Gukganjang' (국간장). In English, this translated to Korean soup soy sauce. Soy sauce typically contains two major allergens: wheat (gluten) and soy. 
As someone with celiac disease, I must avoid gluten altogether. As a result, I only cook with gluten-free soy sauce. I list some of my favorite gluten-free soy sauce brands in an article on the subject. You can also find a select number of Korean soup soy sauces that do not contain any added wheat or gluten. 
Unfortunately, soy sauce always contains soy. As a result, soy sauce can never be made soy-free. Thankfully, for those with a soy allergy, you can substitute the soup soy sauce with coconut aminos! This product tastes eerily similar to soy sauce but is made from coconut! I also list a few brands in my favorite gluten-free soy sauce alternatives article because coconut aminos also contains no gluten!
Is This Recipe Vegetarian or Vegan?
Unfortunately, this recipe is neither vegetarian nor vegan because it contains the 'aekjeot' (액젓), otherwise known as 'Korean fish sauce.' 
Thankfully, these days, you can find vegan fish sauce recipes and products!
Where Do You Buy the Ingredients?
I recommend shopping for almost all the ingredients at your local Asian grocery store. While you can find ingredients such as salt and garlic at your well-stocked western-style grocery, items such as soup soy sauce, Korean fish sauce, Korean red pepper flakes, and minari are difficult to find. 
If you do not live near an Asian grocery store, you can buy all the pantry ingredients online as well as the seeds to grow minari at home! 
Note: When planning to make this recipe, make sure to remember that minari is a seasonal ingredient. Typically, you can only find it in Asian grocery stores during the spring and parts of the summer. 
How Should I Store the Leftovers?
To store the leftovers, I recommend placing them in an airtight container. Then, store the container in the refrigerator. 
You should eat the leftovers within 1-2 days. As the ingredients continue to marinate, they begin to wilt. 
I Hope You Enjoyed Learning How to Make This Minari Muchim Recipe!
In the end, I hope you enjoyed learning about this minari muchim recipe! If so, let me know in the comment section! 
If you would like to read more about cooking, you can find further recipes on this blog. I listed some of our favorite Carving A Journey Korean recipes below! For reference, many recipes are influenced by my family's blended Korean and Southern heritage.
Further Carving A Journey Recipes:
If you have any questions or comments, you can also email me at [email protected]. And, finally, I would love to hear from you through our social media as well! You can follow me at @carvingajourney on Instagram, Facebook, and Pinterest. I also started a vlog Youtube channel! Or, if you would like more articles like these, you can subscribe to the blog by joining the mailing list. Let me know if you try making this Korean watercress salad! Thank you so much for stopping by!
Carving A Journey is a participant in the Amazon Services LLC Associates Program, an affiliate advertising program designed to provide a means for sites to earn advertising fees by advertising and linking to Amazon.com. Although we may earn commissions for our endorsement, recommendation, testimonial, and/or link to any products or services from this website, these opinions are my own and I fully support these products.