This post may contain affiliate links. Please read my disclosure for details at the bottom of this page. As an Amazon Associate, I earn from qualifying purchases on this article about yuzu in Korean cooking. We hope you enjoy learning about the yuja fruit!
Of all the citrus fruits in the world, yuzu probably has the strongest, most intoxicating fragrance making it coveted in the culinary world, even more so because it is banned to import into the United States. While chefs in the Western countries increasingly use this ingredient in their kitchens, this East Asian fruit has been an important part of China's, Japan's, and South Korea's culinary culture for generations. 
Because of its importance in Korean cuisine, I previously listed the yuzu fruit when discussing the most commonly eaten fruits in South Korea. Now, in this post, I will discuss this popular Korean ingredient in-depth!
What Is Yuzu?
Yuzu is a winter citrus fruit of the Rutaceae family. Researchers believe that the fruit originated and grew wild in central China, potentially as a hybrid of the mandarin orange and the ichang papeda. 
The fruit grows on small trees that often look like larger upright shrubs. If you ever go to pick these fruits know that these shrubby trees have large thorns. When ripe, this citrus fruit looks like a small, yellow grapefruit with uneven and wrinkled skin. People describe the flavor as a mix between lemon, grapefruit, and lime.
These fruit trees were introduced to Japan and the Korean peninsula during the Tang Dynasty (618 AD to 907 AD).
Korean Foods That Include Yuzu:
People refer to yuzu as 'yuja' (유자) in the Korean language. In South Korea, people do not use this fruit in many recipes. Rather, they use this potent, flavor-packed ingredient in specific dessert-like beverages with lots of health benefits! We list the most famous uses of yuzu in Korean cuisine below!
Examples of Yuzu (Yuja) in Korean Cuisine:  
Yuja-Cheong (유자청): In English, 'yuja-cheong' translates to 'yuja marmalade.' In South Korea, people make this marmalade using the yuzu fruit and sugar (or honey). Then, people mix this marmalade with hot water to make yuja tea. Often, people consume this drink when sick.
Yuja-Hwachae (유자화채): 'Yuja hwachae' translates from Korean to English as 'yuja punch.' People make this fruit punch to serve as a dessert. 
Beyond using this ingredient in the two drinks listed above, people in Korea use yuzu to make western-influenced dishes. An example includes yuzu vinaigrette for salads. 
Korean Yuja Frequently Asked Questions:
Now that we learned about the Korean yuja fruit, we want to answer some questions you may have about this ingredient! If we do not answer your question, feel free to leave a comment in the section below or email us at [email protected]. 
Where Can I Buy Yuja?
Unfortunately, in the United States, you cannot find fresh yuzu from abroad. You will also not be able to buy the fruit trees. At this time, the Department of Agriculture has a ban on imports of these fruits and trees because they carry diseases that easily kill certain native trees in North America. 
While illegal to import, some trees were introduced to the United States in the 1800s. As such, farmers can grow and cultivate the fruit of these priorly introduced trees. If you manage to find a fresh yuzu fruit, you may be surprised by the cost–they can be very expensive because of the scarcity! 
What if a Recipe Calls for Yuzu Juice?
While fresh yuzu is hard to find, you can easily find bottled yuzu juice at Asian grocery stores and online!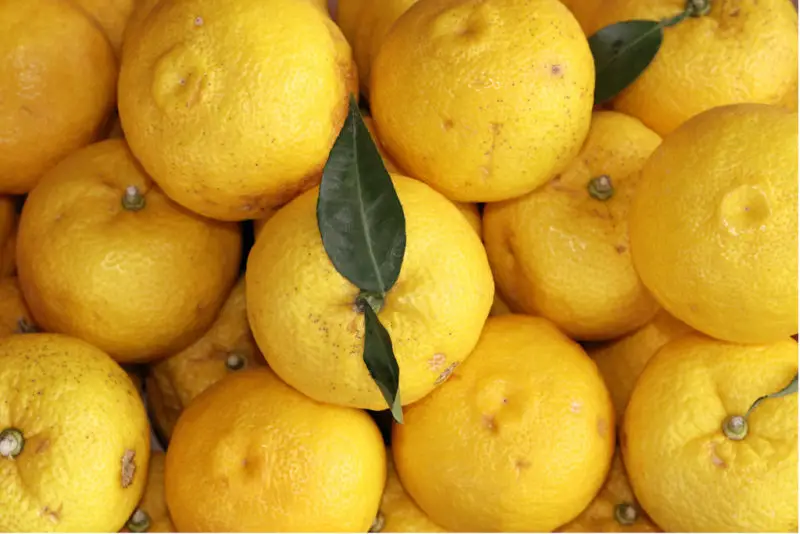 How Do I Properly Store This Ingredient?
You can store yuzu fruits at room temperature in a cool place away from direct sunlight. If you do not plan to use them right away, I recommend storing them in the refrigerator so they stay fresh longer.
You can also freeze the whole yuzu to further extend its life. While they last a few weeks in the refrigerator, the flavor can diminish the longer it remains unused. Freezing this ingredient allows you to keep that punch of flavor intact.
How Can You Tell When a Yuja Is Ripe?
When ripe, the yuja fruit has a deep golden color with bits of green remaining on the skin. When smelling the fruit it should smell potently sweet and citrusy. 
We Hope You Enjoyed Learning About the Yuzu Fruit (Yuja)!
In the end, we hope you enjoyed learning about the yuzu fruit (yuja)! If so, let us know in the comment section! 
If you would like to read more about cooking, you can find further recipes on our blog. We listed some of our favorite Carving A Journey Korean recipes below! For reference, many recipes are influenced by our blended Korean and Southern heritage.
Korean Ingredient Articles: 
If you have any questions or comments, you can also email us at [email protected].
And, finally, we would love to hear from you through our social media as well! You can follow us at @carvingajourney on Instagram, Facebook, and Pinterest. I also started a vlog Youtube channel! Or, if you would like more articles like these, you can subscribe to our blog by joining our mailing list. Let us know if you try this fruit! Thank you so much for stopping by!
Carving A Journey is a participant in the Amazon Services LLC Associates Program, an affiliate advertising program designed to provide a means for sites to earn advertising fees by advertising and linking to Amazon.com. Although we may earn commissions for our endorsement, recommendation, testimonial, and/or link to any products or services from this website, these opinions are my own and I fully support these products.