This post may contain affiliate links. Please read my disclosure for details at the bottom of this page. As an Amazon Associate, I earn from qualifying purchases on this Korean abalone porridge recipe. I hope you enjoy learning about jeonbokjuk, otherwise known as Korean abalone porridge!
Is someone in your household feeling under the weather? If so, try making this Korean abalone porridge dish! In South Korea, people prepare this dish for those who need a little extra strength, whether from old age or illness. Not only is it light on the tummy but it is also easy to digest. Learn all about this dish and how to cook it below! 
Note: Before we get started, if you are looking for more sick food ideas, check out my article listing foods people eat in Korea when sick!
What Is Jeonbokjuk?
'Jeonbokjuk' (전복죽) is a traditional Korean abalone-based, rice porridge dish. In English, 'jeonbok' (전복) translates directly to 'abalone,' while 'juk' (죽) translates to 'porridge.'
In South Korea, people covet abalone as a high-quality ingredient. Throughout the Joseon Dynasty, individuals would often present this ingredient to the King. Nowadays, people consider jeonbokjuk to be a delicacy of Jeju Island as the majority of abalone domestically harvested come from there. 
Historically, people believed jeonbokjuk acted as a nutritional supplement and digestive aid. Even now, people continue the tradition and still give this dish to the ill and/or elderly. 
Traditionally, you can make abalone porridge in two ways:
Jeonbokjuk with the abalone's internal organs 
Jeonbokjuk without the abalone's internal organs
You can distinguish between the two because the former typically has a greenish coloring while the latter looks more ivory. If working with whole, fresh abalone, I recommend using the inners. I personally believe in eating an animal in its entirety if you are able. If working with already cleaned abalone, do not worry about this! 
Note: To learn more about abalone, you can read about the Korean ingredient via my article on the subject.
Korean Abalone Porridge Ingredients:
Below, I list the ingredients used to make this traditional Korean abalone porridge. I also linked any informative articles on my site connected to these Korean ingredients:
Jeonbokjuk Ingredients:
Korean Abalone Porridge Tips & Tricks: 
Here, I list some helpful tips & tricks to help you make this Korean abalone porridge recipe. I hope these tips help! If you have any questions, leave a comment below or email me at [email protected]!
How to Pick Your Abalone:
If you are buying fresh, alive abalone look for ones that do not have an intense fishy smell. 
The flesh should be springy when you press down. If it collapses after you press on the flesh, do not buy them. 
OR
If you cannot find fresh abalone, look for some in your grocery store freezer section. Often, when frozen, they will already be removed from their shells and cleaned. I do not recommend buying the canned varieties for this particular recipe. 
How to Clean The Abalone (If Necessary):
To clean the abalone, scrub the dark edges with a kitchen brush or toothbrush. 
Remove the abalone from the shell by using a spoon or spatula. Run your tool underneath the flesh right up against the inside of the shell. By doing so, you can dislodge the muscle from the shell.
Carefully remove the viscera (guts) from the flesh using a knife. Set aside to use in the porridge. 
At one end, you will have a tough pointed section. You will want to cut that off with your knife. This part is too tough to chew. 
Note: If you bought frozen abalone, your ingredient may or may not already be cleaned and prepared. If your frozen abalones are still in their shells, then complete the steps above. If they are already cleaned and cut up, move on to the tips and tricks for cooking the porridge below. 
How to Cook the Korean Abalone Porridge: 
Before making this dish, you need to soak the rice for at least 30 minutes. You can soak the rice for up to an hour. This removes some of the starch and softens the grains.
If using the guts, blend them in a blender. This helps you easily incorporate them into the porridge. If not using the guts, skip this step.
In a heated pot with oil, add the diced onions. Cook them until they become translucent. Then, add the diced mushrooms and carrots. Cook for a minute before adding the chopped abalone. 
Once you cook those ingredients for one more minute, add in the rice and guts. Mix everything before finally adding in the water. 
Once you add the water, also add the soup soy sauce. 
Place the lid onto your pot and bring the mixture up to a boil. Then, reduce the heat to medium and cook for 20 minutes. I recommend occasionally lifting the lead and stirring the mixture around. 
Salt to taste when the porridge is done. Just note, it is not supposed to be salty at all.
After 20 minutes, if your rice is still soupy rather than thick and porridge-like (think of the consistency of oatmeal), let it continue to reduce for a few minutes. 
Garnish with sesame oil and sesame seeds. You can also add optional ingredients such as an egg or dried seaweed strips.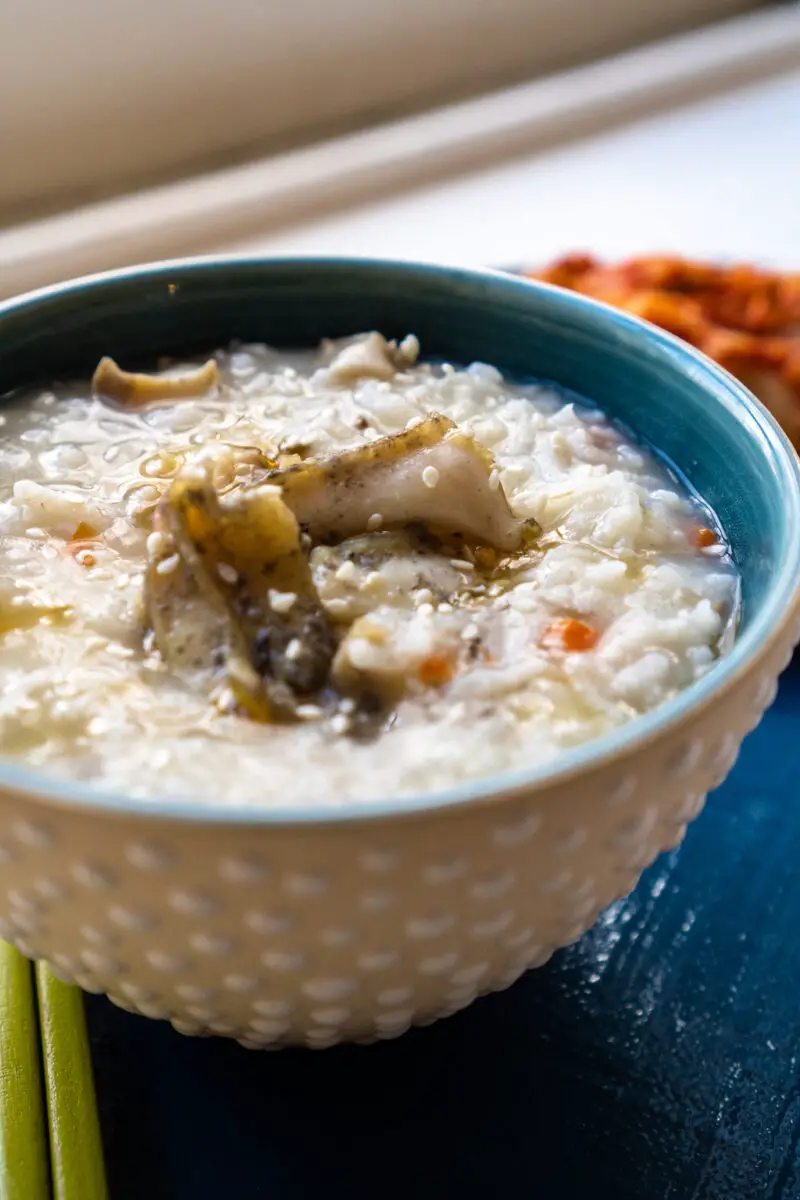 Jeonbokjuk Frequently Asked Questions: 
Now that we learned some tips & tricks for making this recipe, I want to answer some questions you may have as well! If I do not answer your question, feel free to leave a comment in the section below or email me at [email protected]. 
What Does Korean Abalone Porridge Taste Like?
Abalone porridge tastes deliciously creamy and mild. This dish isn't supposed to have a super big punch of flavor. Instead, it tastes clean and healing. In other words, it is perfect for those dealing with illness. 
The abalone gives some flavor of the sea to the dish. Do not be surprised by the texture of this ingredient. When cooked, it becomes chewy. Make sure to cut the pieces into small bites if you have problems chewing. 
Finally, the sesame oil added at the end adds some nuttiness. 
Does This Recipe Contain Major Allergens? (Gluten, Soy, Etc.)
This recipe does not contain 5 of the 9 major allergens. It does not contain: 
Milk
Tree nuts
Peanuts
Fish
Eggs
This recipe does contain 4 of the 9 major allergens. It contains: 
Crustacean shellfish
Wheat (Gluten)
Soybeans
Sesame
For those with crustacean shellfish allergies, I recommend avoiding this recipe completely. If you are uncertain and have a fish allergy, I recommend avoiding this as well (I want to reiterate that I am not a medical professional). 
Allergy Substitutions: 
For those with celiac disease, gluten allergy, and/or wheat allergy: To make this recipe gluten and wheat-free, switch out the soup soy sauce for gluten-free tamari. You can find my list of gluten-free tamari brands in my article on the subject.  
For those with a soy allergy: Like those with a gluten allergy, you need to avoid soy sauce if you have a soy allergy. Instead of using soy sauce, I recommend using coconut aminos. It is an excellent soy sauce alternative and is naturally soy and gluten-free!
For those with a sesame allergy: If you have a sesame allergy, you need to omit the toasted sesame oil. This dish tastes delicious without those ingredients, though you will miss the nutty flavor. I recommend using Korean perilla oil instead to add that delicious flavor at the end.
Is This Recipe Vegetarian or Vegan?
Unfortunately, this recipe is neither vegetarian nor vegan as it contains abalone shellfish as the main ingredient. 
If you follow a pescetarian diet, you can enjoy this seafood-based porridge recipe! 
Where Do I Buy the Ingredients?
For the most part, you can buy the ingredients (such as soy sauce, rice, and sesame oil) at your local well-stocked grocery store. 
That being said, it may be difficult to find the abalone. Instead, you may need to shop at your local Asian market, Korean grocery store, or fish market for this ingredient. In larger Asian grocery stores (such as H-Mart) you can buy frozen or fresh imported abalone. 
Note: Abalone is a specialty seafood rarely permitted to be harvested off the coast of the United States (because of overfishing and climate change). Most, if not all, abalone you find will be imported from other areas of the world.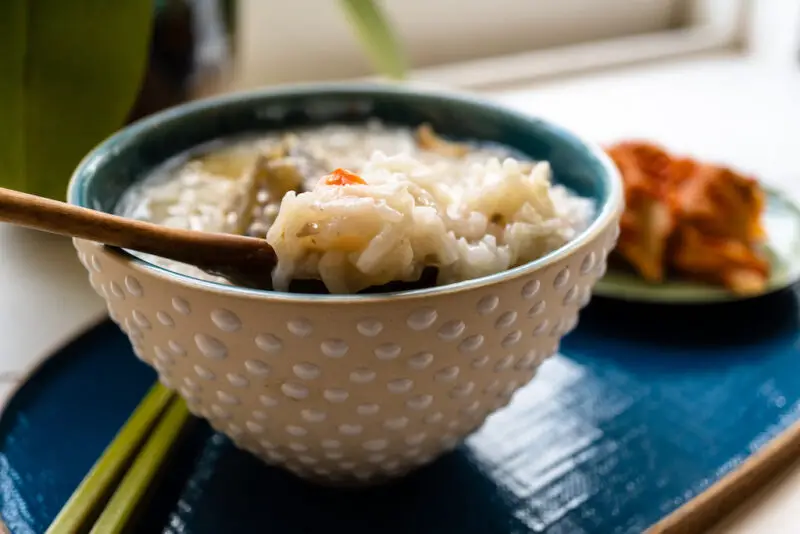 How Do I Store Leftover Abalone Porridge?
To store leftover jeonbokjuk, let the porridge cool to room temperature first. Then, place it in an airtight container and store it in the refrigerator. 
I recommend eating this porridge within a few days (1-3 days) as it contains seafood. 
I Hope You Enjoyed Learning How to Make This Korean Abalone Porridge Recipe (Jeonbokjuk)!
In the end, I hope you enjoyed learning how to make this Korean abalone porridge recipe! If so, let me know in the comment section! 
If you would like to read more about cooking, you can find further recipes on this blog. I listed some of my favorite Carving A Journey recipes below! For reference, many recipes are influenced by my family's blended Korean and Southern heritage.
Further Carving A Journey Recipes:
If you have any questions or comments, you can also email me at [email protected].
And, finally, I would love to hear from you through our social media as well! You can follow me at @carvingajourney on Instagram, Facebook, and Pinterest. I also started a vlog Youtube channel with my husband! Or, if you would like more articles like these, you can subscribe to the blog by joining the mailing list. Let me know if you try making jeonbokjuk! Thank you so much for stopping by!
Carving A Journey is a participant in the Amazon Services LLC Associates Program, an affiliate advertising program designed to provide a means for sites to earn advertising fees by advertising and linking to Amazon.com. Although we may earn commissions for our endorsement, recommendation, testimonial, and/or link to any products or services from this website, these opinions are my own and I fully support these products.