This post may contain affiliate links. Please read my disclosure for details at the bottom of this page. As an Amazon Associate, I earn from qualifying purchases on this Korean anchovy broth recipe and article. I hope you enjoy learning how to make myeolchi yuksu!
Have you noticed that every Korean table seems to include a soup or stew? Even in my household, when making a Korean meal, we never forget to include one. That is because, traditionally, these belly-warming dishes are an integral part of Korean meals. Typically, Korean soups and stews have a broth base. While some start with bone or meat broth, others start with fish or vegetable broth. One of the most common types of broth in Korean cuisine is made out of anchovies. In this article, we will learn how to make this traditional soup and stew starter!  
Do you also enjoy making soups and stews and are interested in learning how to make them? If so, learn how to make this traditional Korean anchovy broth base below! 
What Is Myeolchi Yuksu?
Korean anchovy broth (stock), known as 'myeolchi yuksu' (멸치육수), is an essential staple in Korean cuisine. The term 'myeolchi' (멸치) means 'anchovy,' while the term 'yuksu' (육수) means 'broth,' 'stock,' or 'gravy.' In Korea, people use this broth as a base to make many soups, stews, and many other dishes. 
Traditionally, you make this stock from scratch by boiling dried anchovies in water over a relatively short period until the water is infused with the umami flavor of the sea. 
While the most basic form of this broth solely uses anchovies, you can enhance the flavor by adding further ingredients such as dried kelp, green onion, garlic, dried mushroom, radish, and more! 
Korean Anchovy Broth Ingredients: 
As I stated above, while you can simply use dried anchovies to make this broth, many people enhance it using different ingredients. 
Below, I list the most basic ingredients used to make this traditional Korean broth as well as further ingredients you can include which add more flavor. Finally, I also linked any informative articles on my site connected to these Korean ingredients:
Basic Myeolchi Yuksu Ingredients:
Further Myeolchi Yuksu Ingredients:
Excitingly, unlike meat-based stocks or broths, anchovy broth takes very little time to make. Below, I give some tips & tricks to help make this recipe! 
Korean Anchovy Broth Tips & Tricks:
Before we get to the recipe, I wanted to give some tips & tricks to help you make this versatile Korean anchovy broth! Let me know if these tips help you prepare this dish! If you have any questions, leave a comment below or email me at [email protected].
Picking Your Dried Anchovies:
I detailed how to pick dried anchovies in my article about the ingredient but will also list what to look out for below:
Dried anchovies come in a variety of qualities and sizes. In South Korea, people use different-sized anchovies for different types of dishes. For this recipe, I recommend buying medium to large anchovies. (Learn further about the different sizes in my ingredient article) 
Look for anchovies that are clean with silvery-blue skin. If they have dull and yellow-looking scales, look for another bag. 
Preparing the Anchovies:
If you buy large anchovies, I recommend removing the guts by cutting open the underbelly. Then, pull the guts out. While it is not necessary to remove them, the stock can get bitter if they remain in the larger anchovies. 
With small to medium anchovies, you do not need to remove the guts. 
How to Make Anchovy Broth:
If you think the anchovies taste or smell overly fishy, you can stir-fry this ingredient in a pan without oil for a few minutes. While often recommended by manufacturers, I have never found this step necessary. 
I prefer to let the anchovies (and dried kelp if you have it) soak in the water for approximately 30 minutes before bringing the water to a boil. This adds more depth of flavor because it lets the seafood partially rehydrate. 
Do not boil the anchovies too long. If you do, the broth can develop an unpleasant flavor and murky, cloudy color. 
Once you finish boiling the anchovies, strain the broth through a cheesecloth or fine mesh sieve. This helps to remove any tiny pieces that fell or broke apart. 
What to Do With Remaining Anchovies: 
Usually, anchovies come dried in a large bag. You will use a handful for the broth. Then, you will have a large amount remaining for future recipes. To store the leftover anchovies, I recommend placing them in the freeze. This way, the anchovies will remain good for a few months. If you don't, the fish will start to mold after a week or so.
If you plan on using the anchovies quickly, you can place them into the refrigerator. 
Adding Further Ingredients:
If you add dried kelp, do not rinse or scrub off the white layer. While this looks like mold or mildew, it is not. Rather, this white layer is mannitol, a type of sugar alcohol that adds to the sweet, umami flavor. 
Like the anchovies, do not boil the dried kelp for too long. If you do, the dashima develops a slimy texture that can make the broth bitter and cloudy. 
If you add mushrooms, I recommend using the dried variety. Dried mushrooms add more flavor to the broth.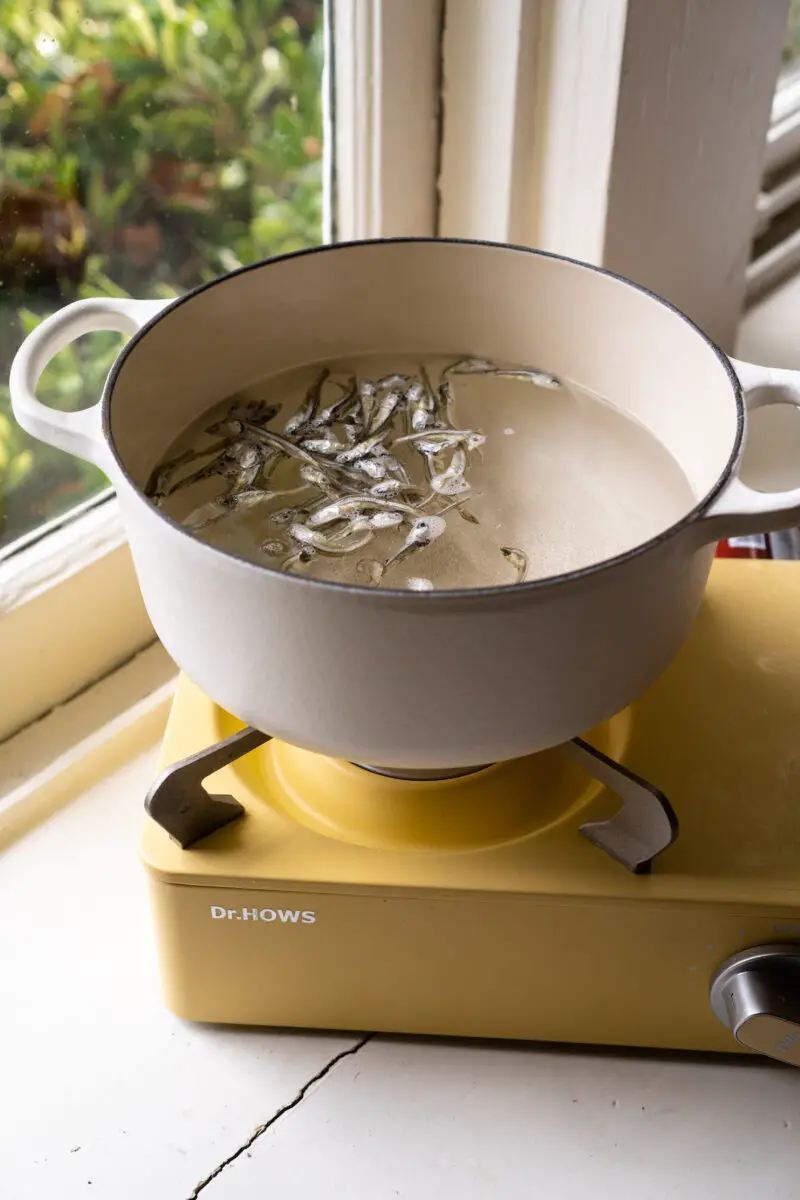 Myeolchi Yuksu Frequently Asked Questions:
Now that we learned some tips & tricks for making this recipe, I want to answer some questions you may have as well! If I do not answer your question, feel free to leave a comment in the section below or email me at [email protected]. 
What Does Korean Anchovy Broth Taste Like?
Myeolchi yuksu tastes very clean with a mild umami flavor. The light savory and umami flavors are present without tasting unpleasantly fishy. 
While this incredibly mild broth seems to have almost no flavor, it adds a lot of depth to dishes.
Does This Recipe Contain Major Allergens? (Gluten, Soy, Etc.)
Unfortunately, Korean anchovy broth contains fish which is a major allergen. Other than that, it does not contain any of the other major allergens. It does not contain wheat, gluten, peanuts, tree nuts, shellfish, milk, soy, or dairy. 
For those with a crustacean fish allergy, you can replace the anchovies with dried kelp and make a dashi stock instead. While it doesn't taste exactly alike, it still has that umami flavoring! If you also avoid dashi because it triggers a reaction, you can use vegetable stock as a replacement!  
Note: Some anchovy broths and stocks also include dried shrimp. For this reason, always be careful in Korea with fish-based stocks and broths if you have a shellfish allergy.
Is This Recipe Vegetarian or Vegan?
Unfortunately, this recipe is neither vegetarian nor vegan because of the anchovies. As I recommend above, for those with a seafood allergy, you can make dashi stock using only the dried kelp. This will fit your vegetarian and vegan needs!
Similarly, you can make a stock using vegetables instead.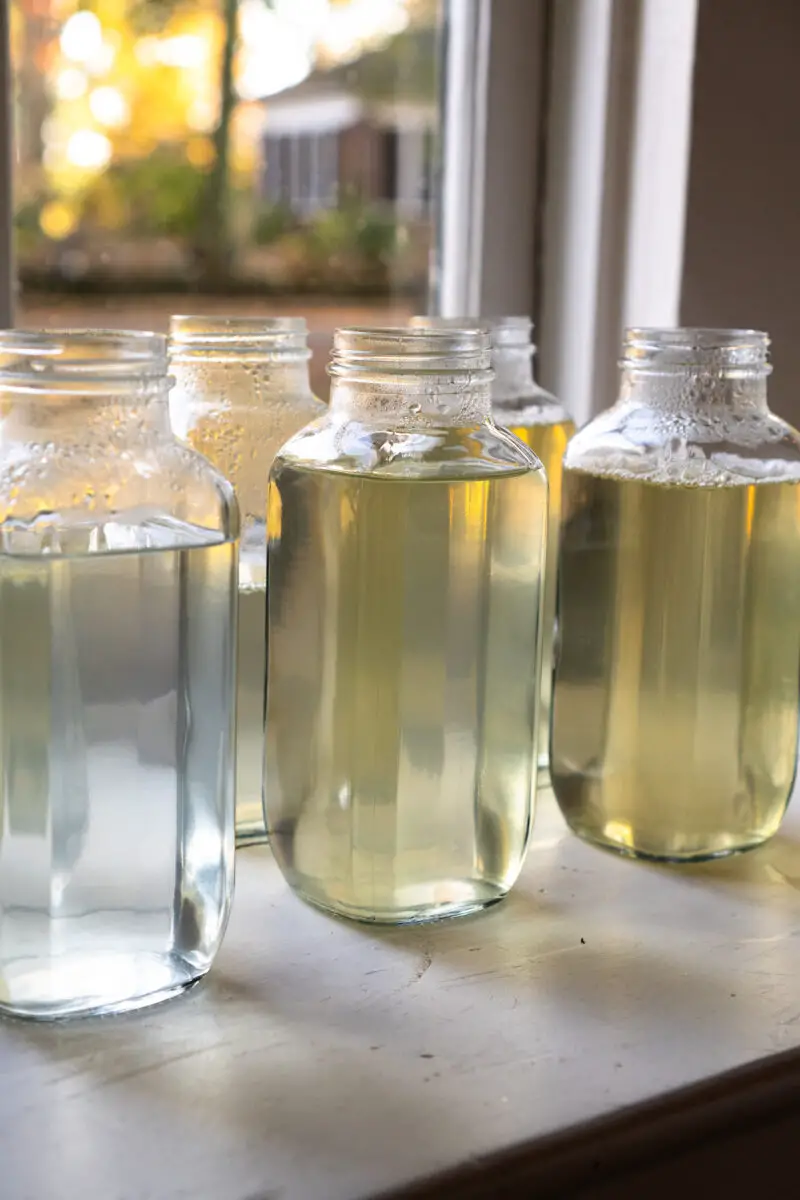 How Should I Store the Leftovers?
To store the leftovers, place the anchovy broth into an airtight container. Then, store the container in the refrigerator for 3 to 4 days.
For an extended period, I recommend placing the myeolchi yuksu in the freezer. You can either place the broth in a plastic bag or divide it into smaller containers before freezing. Sometimes, I even place a small amount in ice cube trays because I like to use a bit of broth to add some flavor to dishes. If you freeze the broth, it can last for months! 
Where Do You Buy the Ingredients?
Unfortunately, dried anchovies are not usually available at western grocery stores. Instead, you will need to buy the anchovies either in an Asian grocery store or online. 
Where to Buy Korean Ingredients Online? 
Nowadays, there are many online options to choose from to order Korean food online. These websites are not limited to but include:
Amazon
H-mart
Hanpoom
Wooltari 
Easy Anchovy Broth Alternative: 
For those who need help, Korean companies have started selling pre-prepared anchovy broth packets. So, instead of having to buy all the ingredients separately, you can buy these packets with cooking instructions. Then, when you need broth, you can just throw a packet in water for a few minutes and make anchovy broth without having to think about it! 
Also, Korean companies have started making anchovy broth cubes similar to bouillon cubes sold in American grocery stores. Instead of making a broth from scratch, you can add the cubes to water as an easy alternative!
I Hope You Enjoyed Learning How to Make This Korean Anchovy Broth Recipe (Myeolchi Yuksu)!
In the end, I hope you enjoyed learning how to make this Korean anchovy broth recipe! If so, let me know in the comment section! 
If you would like to read more about cooking, you can find further recipes on this blog. I listed some of our favorite Carving A Journey recipes below! For reference, many recipes are influenced by my family's blended Korean and Southern heritage.
Further Carving A Journey Recipes:
If you have any questions or comments, you can also email me at [email protected].
And, finally, I would love to hear from you through our social media as well! You can follow me at @carvingajourney on Instagram, Facebook, and Pinterest. I also started a vlog Youtube channel! Or, if you would like more articles like these, you can subscribe to the blog by joining the mailing list. Let me know if you try making myeolchi yuksu! Thank you so much for stopping by!
Carving A Journey is a participant in the Amazon Services LLC Associates Program, an affiliate advertising program designed to provide a means for sites to earn advertising fees by advertising and linking to Amazon.com. Although we may earn commissions for our endorsement, recommendation, testimonial, and/or link to any products or services from this website, these opinions are my own and I fully support these products.