This post may contain affiliate links. Please read my disclosure for details at the bottom of this page. As an Amazon Associate, I earn from qualifying purchases on this rolled Korean-style inari sushi recipe, otherwise known as rolled yubuchobap or yubu chobap (롤유부초밥). I hope you enjoy learning about this Korean picnic food!
Are you looking for a new and easy Korean recipe to make for your outdoor picnic? If so, try making this Korean rolled yubuchobap (or yubu chobap) recipe! This sweet and savory recipe is easy to pack up in a to-go box. I recommend eating this alongside a variety of fruit and rice balls for the perfect picnic. Learn all about this dish below!
What Is Rolled Yubuchobap?
'Yubuchobap' or 'yubu chobap' (유부초밥) is the Korean-take on traditional Japanese inarizushi/inari sushi. In English, we can translate 'yubu' (유부) to 'fried bean curd' and 'chobap' (초밥) to 'sushi rice.' 
'Yubu' (유부), the Korean term for inari age (稲荷揚げ, いなりあげ), are Japanese deep-fried tofu pockets called 'aburaage.' To make this ingredient, you cook the deep-fried tofu pockets in a dashi-based broth, sugar, mirin, and soy sauce. 
From these pouches, people in Japan make inari sushi (稲荷寿司, いなり寿司). They do so by stuffing sushi rice inside the seasoned deep-fried tofu pockets/pouches. In Korea, people make 'yubuchobap' (유부초밥), which is their take on this traditional Japanese dish. Often, they replace the Japanese ingredients with more traditional Korean flavors.
Nowadays, people in Korea have started making rolled yubuchobap (롤유부초밥). Instead of stuffing the yubu with rice and other ingredients, they are buying either flat pre-cut yubu or cutting them at home. Then, they are rolling all the ingredients together like kimbap!
In this recipe, I am showing you how to make the newer rolled version! Right now, this is a popular picnic-friendly treat. 
Note: If you do not want to make this recipe fully from scratch, you can always buy yubuchobap kits at your local Korean grocery store. You can also always make this dish the more traditional way, by stuffing the yubu with your rice and other ingredients.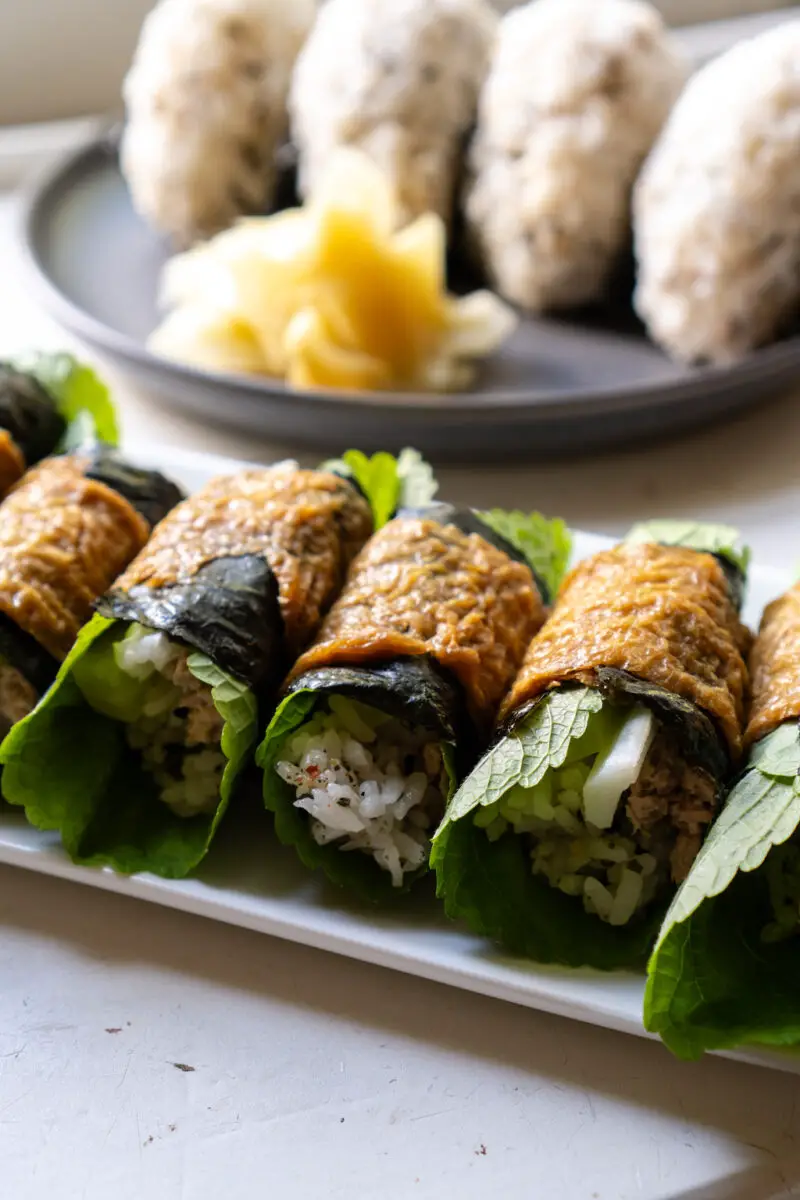 Korean Yubuchobap Ingredients:
Below, I list the ingredients used to make this delicious carrot side dish. I also linked any informative articles on my site connected to these ingredients:
Korean Style Inari Sushi Ingredients:
Yubuchobap Tips & Tricks: 
Here, I list some helpful tips & tricks to help you make this quick and easy Korean picnic snack. If you have any questions, leave a comment below or email me at [email protected]!
These days, you can buy flat yubu for the sole purpose of making rolled yubuchobap. However, it may be difficult to find outside of Korea. For that reason, I chose to make this recipe with uncut fried bean pockets and will teach you how to cut them. 
To prepare the yubu, cut down one short side and then the long backside using either kitchen scissors or a knife. Then, lay it out flat. 
Once you prepare the yubu, start layering the ingredients. I start with the dried seaweed strips. Then, I add perilla leaves, sushi rice, pickled radish, crab stick, and tuna. 
Finally, roll it all up! Enjoy with a side of wasabi or spicy mayo. 
If you have leftover rice, I recommend making rice balls to enjoy with your rolled yubuchobap! 
Korean Rolled Yubuchobap Frequently Asked Questions: 
Now that we learned some tips & tricks for making this yubuchobap recipe, I want to answer some questions you may have as well! If I do not answer your question, feel free to leave a comment in the section below or email me at [email protected]. 
Does This Recipe Contain Major Allergens? (Gluten, Soy, Etc.)
Before listing all of the major allergens, I want to state that all of my recipes are naturally gluten-free. On this blog, I only use and recommend gluten-free ingredients and brands. That being said, I list gluten as a potential allergen when necessary– this is because many Korean ingredients (such as soy sauce, gochujang, and doenjang) contain gluten unless you specifically buy gluten-free versions. Not only is this true for gluten, but it is true for other major allergens as well. As such, I always list allergy substitutions in the next section of my post. 
This recipe does not contain 3 of the 9 major allergens. It does not contain: 
Tree nuts
Peanuts
Milk (Dairy)
This recipe does contain 6 of the 9 major allergens. It can contain: 
Sesame
Wheat (Gluten)
Soybeans
Fish
Crustacean Shellfish
Eggs
Allergy Substitutions or Omissions: 
For those with a sesame allergy:
This recipe contains furikake which often contains sesame seeds. If you have a sesame allergy, look for a furikake without sesame seeds. If you cannot find one, you can crunch up dried seaweed strips and add them to your rice instead. Or, you can omit the furikake completely.
For those with celiac disease, gluten allergy, and/or wheat allergy: 
Look for a yubu brand that is naturally gluten-free. The sauce used to marinate yubu contains soy sauce, which usually contains wheat. Thankfully, there is a popular brand that makes gluten-free yubu known as My Do! Brand Ajitsuke Inari!    
When buying imitation crab (crab sticks), look for gluten-free brands. 
For those with a soy allergy: 
Unfortunately, for those with a soy allergy, you need to avoid this recipe completely. As I stated above, yubu is the Korean term for Japanese fried and seasoned tofu pockets. In Japanese, this ingredient is known as inari. Tofu is made from soybean. As such, those with soy allergies can not eat this dish as yubu is the main ingredient. 
For those with a fish and/or crustacean shellfish allergy: 
You can easily make this dish safe to consume by replacing the seafood with other ingredients! I list a few examples below:
Spam
Marinated meat such as bulgogi
Vegetables such as thinly sliced peppers
For those with an egg allergy: 
Mayonnaise is made by emulsifying eggs, oil, and some type of acid (such as vinegar or lemon juice.) Replace regular mayonnaise with egg-free versions to make this safe for people with an egg allergy.  
Is This Recipe Vegetarian or Vegan?
Unfortunately, this recipe is neither vegetarian nor vegan! Thankfully, it is easy to switch out the canned tuna and imitation crab for vegetarian and vegan options! 
Other Options Can Include:
Thinly Sliced and Pan-Fried Tofu
Julienned Vegetables such as Carrots, Cucumbers, and Bell Peppers
Vegetarian and Vegan Meat Replacements
Where Do I Buy the Ingredients?
I recommend shopping for your ingredients at your local Korean or Asian grocery store (such as H-Mart or a family-run business). Yubu and Korean-style pickled radishes can be difficult to find in most local Western-style grocery stores. 
If you do not live near an Asian grocery store, many online Korean groceries now ship! 
Where to Buy Korean Ingredients Online? 
Nowadays, there are many online options to choose from to order Korean food online. These websites are not limited to but include:
Amazon
H-mart
Hanpoom
Wooltari 
How Do I Store Leftovers?
To store your leftovers, place them in an airtight container in the refrigerator. I recommend eating them within 3 days as this recipe contains fish.  
I Hope You Enjoyed Learning How to Make This Korean Rolled Yubuchobap Recipe!!
In the end, I hope you enjoyed learning how to make this delicious Korean rolled yubuchobap recipe! If so, let me know in the comment section! Also, let me know if you have a favorite picnic recipe you cook and eat at home! 
If you would like to read more about cooking, you can find further recipes on this blog. I listed some of my favorite Carving A Journey recipes below! For reference, many recipes are influenced by my family's blended Korean and Southern heritage.
Further Carving A Journey Recipes:
If you have any questions or comments, you can also email me at [email protected].
And, finally, I would love to hear from you through our social media as well! You can follow me at @carvingajourney on Instagram, Facebook, and Pinterest. I also started a vlog Youtube channel with my husband! Or, if you would like more articles like these, you can subscribe to the blog by joining the mailing list. Let me know if you try making this Korean rolled yubuchobap recipe! Thank you so much for stopping by!
Carving A Journey is a participant in the Amazon Services LLC Associates Program, an affiliate advertising program designed to provide a means for sites to earn advertising fees by advertising and linking to Amazon.com. Although we may earn commissions for our endorsement, recommendation, testimonial, and/or link to any products or services from this website, these opinions are my own and I fully support these products.