This post may contain affiliate links. Please read my disclosure for details at the bottom of this page. As an Amazon Associate, I earn from qualifying purchases on this Korean clam soup recipe. I hope you enjoy learning about jogaetang, otherwise known as Korean clam soup!
Do you ever get a craving for food that just tastes purely like the sea? Korean clam soup hits the nail on the head. This dish isn't fancy, nor is it complicated (it only contains six ingredients). Rather, this incredibly simple Korean dish takes clams and somehow enhances them to taste even more clam-like. It is pure seafood perfection.
In this article, learn all about this delicious seafood soup!
What Is Jogaetang?
'Jogaetang' (조개탕) is a traditional Korean clam-based, clear-broth soup. In English, 'Jogae' (조개) translates directly to 'clams,' while 'tang' (탕) translates to 'soup.'
In South Korea, people often consume this soup as an 'anju' (안주).  The Korean term 'anju' (안주) is used when referring to foods eaten as a drinking snack. In other words, anju is any food consumed to pair with your alcohol. This soup is typically paired with soju because of its umami-rich, salty, belly-warming, and refreshing flavor. It pairs perfectly with this clear traditional Korean liquor!
Korean Clam Soup Ingredients:
Below, I list the ingredients used to make this traditional Korean clam soup. I also linked any informative articles on my site connected to these Korean ingredients:
Jogaetang Ingredients: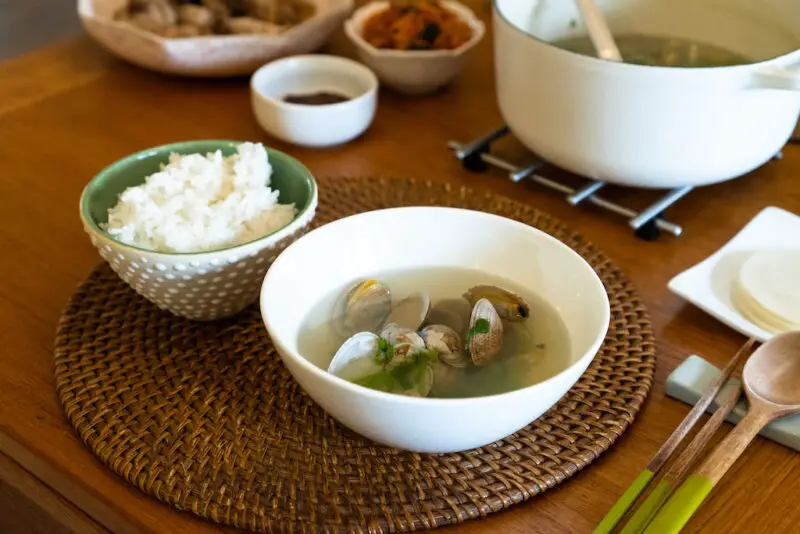 Korean Clam Soup Tips & Tricks: 
Here, I list some helpful tips & tricks to help you make this Korean clam soup recipe. I hope these tips help! If you have any questions, leave a comment below or email me at [email protected]!
How to Pick Clams:
When shopping for this shellfish, look for clams that are fully closed. If the clams are opened before being cooked, they have gone bad and shouldn't be consumed. 
You should also avoid any clams with cracked or broken shells. If you end up with any, toss them rather than cook with them.
Clams should smell clean like the sea. If they smell overly fishy, that indicates that the clams are not fresh. 
How to Clean Clams:
First, you need to remove the sand from the inside of the clam shells. To do so, prepare a large bowl of filtered, cold water. Then, add sea salt to the water. You want to match the salinity of seawater. To do so, mix ⅓ cup of salt with one gallon of water.
Soak the clams in this salt water mixture for 30 minutes to an hour. As they soak, place the bowl into the refrigerator.
After you let the clams soak, remove them from the water by hand. You will see some sand at the bottom of the bowl. Pour out the sandy water away from the clams and rinse out the bowl. 
Next, you need to clean the outside of the shells by scrubbing them clean. To clean the shells from dirt, sand, and barnacles, use a stiff bristle brush. 
Once you scrub the clams, rinse them for a second time to remove any debris. 
Learn How to Cook the Korean Clam Soup: 
To cook the Korean clams soup, start by bringing a pot of water to boil with the dried kelp. 
After the pot comes to a boil, remove the dried kelp (if you keep the dried kelp boiling for too long it becomes bitter). Add in the garlic and clams.
Finally, add in the salt to taste, Korean peppers, and green onions! 
I enjoy eating this as a basic drinking meal with soju, rice, and kimchi! 
Jogaetang Frequently Asked Questions: 
Now that we learned some tips & tricks for making this recipe, I want to answer some questions you may have as well! If I do not answer your question, feel free to leave a comment in the section below or email me at [email protected]. 
What Does Korean Clam Soup Taste Like?
Korean clam soup is a light, refreshing, salty, umami-rich soup. 
As I stated above, in South Korea, people typically consume this soup as an 'anju' (안주) while drinking soju because of the rich but clean seafood flavor. In English, you can translate  'anju' (안주) as 'drinking snack/food consumed with alcohol.'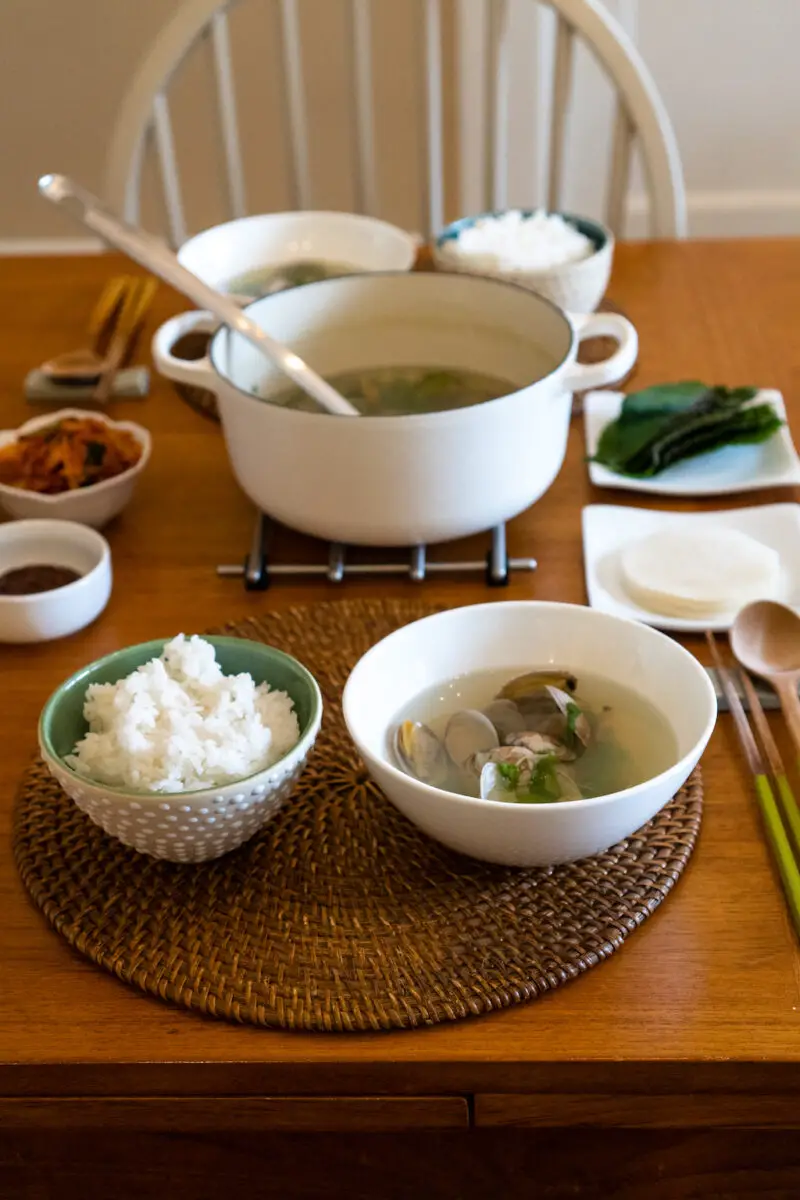 Does This Recipe Contain Major Allergens? (Gluten, Soy, Etc.)
This recipe does not contain 8 of the 9 major allergens. It does not contain: 
Milk
Eggs
Fish
Tree nuts
Peanuts
Wheat (Gluten)
Soybeans
Sesame
This recipe does contain 1 of the 9 major allergens. It contains: 
For those with crustacean shellfish allergies, I recommend avoiding this recipe completely.
Is This Recipe Vegetarian or Vegan?
Unfortunately, this recipe is neither vegetarian nor vegan as it contains shellfish. 
If you follow a pescetarian diet, you can enjoy this clear broth soup! 
Where Do I Buy the Ingredients?
Excitingly, you can buy most ingredients (such as garlic, green onions, and clams) at your well-stocked grocery store. 
That being said, it will probably be difficult to find Korean chili peppers. For that ingredient, you may need to shop at your local Asian market or Korean grocery store. 
How Do I Store Leftover Clam Soup?
To store leftover jogaetang, I recommend first letting the soup cool to room temperature. Then, place it in an airtight container and store it in the refrigerator. 
I recommend eating this soup within a few days (1-3 days) as it contains seafood. 
I Hope You Enjoyed Learning How to Make This Korean Clam Soup Recipe (Jogaetang)!
In the end, I hope you enjoyed learning how to make this Korean clam soup recipe! If so, let me know in the comment section! 
If you would like to read more about cooking, you can find further recipes on this blog. I listed some of my favorite Carving A Journey recipes below! For reference, many recipes are influenced by my family's blended Korean and Southern heritage.
Further Carving A Journey Recipes:
If you have any questions or comments, you can also email me at [email protected].
And, finally, I would love to hear from you through our social media as well! You can follow me at @carvingajourney on Instagram, Facebook, and Pinterest.  I also started a vlog Youtube channel with my husband! Or, if you would like more articles like these, you can subscribe to the blog by joining the mailing list. Let me know if you try making jogaetang! Thank you so much for stopping by!
Carving A Journey is a participant in the Amazon Services LLC Associates Program, an affiliate advertising program designed to provide a means for sites to earn advertising fees by advertising and linking to Amazon.com. Although we may earn commissions for our endorsement, recommendation, testimonial, and/or link to any products or services from this website, these opinions are my own and I fully support these products.