This post may contain affiliate links. Please read my disclosure for details at the bottom of this page. As an Amazon Associate, I earn from qualifying purchases on this Korean spinach side dish recipe. We hope you enjoy learning how to make sigeumchi namul!
In South Korea, one of the most popular side dishes is the bright green sigeumchi namul. People serve this healthy Korean spinach side dish at home for everyday meals, when gathering with family for holidays, and in restaurants. Often, you will rarely see a table without this traditional dish!
Some of the most popular Korean dishes internationally are those bursting with intense flavors, such as tteokbokki. While those are insanely delicious, it's just a part of Korean cuisine. This mild dish is often served with rice, other banchan, stew, soup, and/or protein. Try making this as a banchan next time you cook Korean food–the mild flavor makes this dish the perfect light and refreshing side to your meal! 
What Is Sigeumchi Namul?
'Sigeumchi namul' (시금치 나물) is a Korean side dish made by blanching spinach before tossing it with a delicious flavorful soy-based sauce. People make this sauce using a combination of traditional Korean spices and sauces. Typically, people combine the flavors of sesame oil, soy sauce, garlic, salt, sugar, gochujang, and/or gochugaru.  
The name of this dish, 'sigeumchi namul,' is a combination of two words:
In the Korean language, 'sigeumchi' (시금치) translates to 'spinach.' 
Then, as I mentioned in my sukju namul muchim, miyeok namul, and kongnamul muchim recipe posts, namul (나물) translates to 'root' or 'vegetable.' Beyond the literal translation, this word acts as a generic term for a specific style of fresh vegetable-based side dish aka 'banchan' (반찬).
While you typically serve this dish as a banchan in a Korean meal, my husband and I also enjoy using this as an ingredient in our Korean-Southern fusion grits bowls.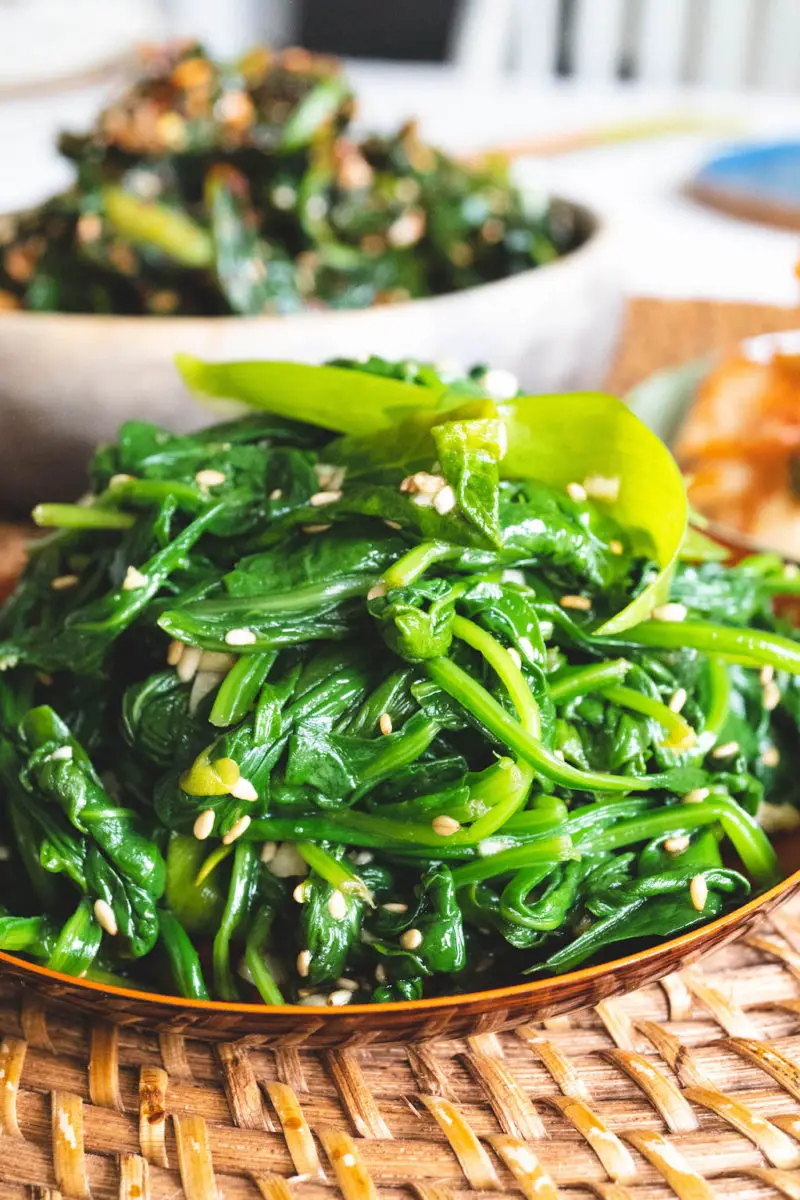 Korean Spinach Side Dish Tips & Tricks:
Before we get to the recipe, we wanted to give some tips & tricks to help you make this Korean spinach side dish! Let us know if these tips help you prepare this recipe at home! If you have any questions, leave a comment below or email us at [email protected].
Tips & Tricks:
When shopping in Asian grocery stores or farmers' markets, you may find that they often sell spinach with the roots still attached. Once in a while, you might even find spinach completely unwashed! When buying spinach this way, trim off the tough roots and wash the leaves until there is no sand or dirt in the water. Do not remove the long stems! In South Korea, people eat them.
If you do not live near an Asian grocery store or farmers market, you can use pre-trimmed or baby spinach typically found at your local western-style grocery. Because most people buy spinach this way, I used baby spinach in my photographs. 
When blanching the spinach, add some salt to the water. This helps the spinach keep its beautiful dark green color. 
Once blanched (at most 30 seconds), drain it right away. Once drained, sock the spinach in cold water to stop the cooking process. No one wants overcooked, muggy spinach! 
Once cold, drain the spinach. Gather a small handful of spinach in your hand. Gently squeeze out excess water. Once most of the excess water is removed, place the spinach in a clean, dry bowl. Continue to do this small handful by small handful until you squeeze out all the spinach. 
If you used spinach bought in Asian markets with its entire stem still intact, you may need to cut the bunches into smaller bite-sized pieces. With baby spinach, I recommend skipping this step. 
Then, combine the spinach with the seasoning ingredients. Once combined, serve it at room temperature or cold as a side dish! 
Korean Spinach Side Dish Frequently Asked Questions:
Now that we learned some tips & tricks for making this recipe, we want to answer some questions you may have as well! If we do not answer your question, feel free to leave a comment in the section below or email us at [email protected]. 
Does This Recipe Contain Major Allergens? (Gluten, Soy, Etc.)
This recipe does not contain 6 of the 8 major allergens. It does not contain milk, eggs, fish, crustacean shellfish, tree nuts, or peanuts. 
Because this recipe contains soy sauce, this recipe contains gluten and soybeans. Thankfully, we always cater to allergies and food intolerances! As someone with celiac disease, I always use gluten-free tamari. If you need recommendations, check out our list of gluten-free soy sauces. In that article, we also list some soy-free alternatives such as coconut aminos!   
Is This Recipe Vegetarian or Vegan?
Exciting, this recipe is naturally vegetarian and vegan! 
That being said, if you visit South Korea, always ask before eating a dish. Sometimes, family recipes may include ingredients such as fish or anchovy sauce. If you are interested in the subject, you can read about being vegetarian or vegan in South Korea on our blog!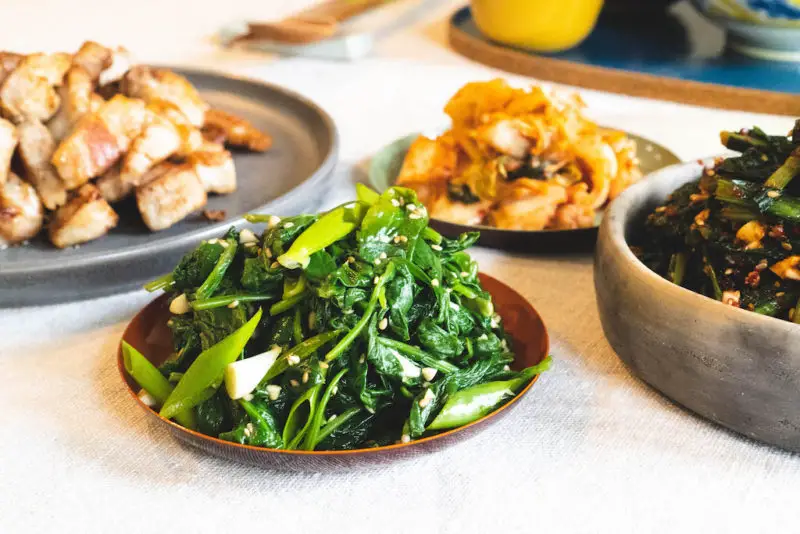 How Should I Store the Leftovers?
To store the leftovers, place the spinach in an airtight container. Then, place it into the refrigerator.
How Long Does This Korean Spinach Side Dish Last?
I recommend eating this dish within 3-4 days. Any longer, the spinach starts to become mushy and gross in texture. 
Where Do You Buy The Ingredients?
Typically, you can find all the ingredients for this dish in any well-stock grocery store! Unlike many of our Korean dishes, this doesn't contain a specialty ingredient that can be difficult to find. You can also shop for these ingredients in an Asian market.
Finally, you can buy the pantry ingredients via online marketplaces. 
We Hope You Enjoyed Learning How to Make This Korean Spinach Side Dish!
In the end, we hope you enjoyed learning about how to make this Korean spinach side dish! If so, let us know in the comment section! 
If you would like to read more about cooking, you can find further recipes on our blog. We listed some of our favorite Carving A Journey Korean recipes below! For reference, many recipes are influenced by our blended Korean and Southern heritage.
Korean Ingredient Articles: 
Further Carving A Journey Recipes:
If you have any questions or comments, you can also email us at [email protected]. And, finally, we would love to hear from you through our social media as well! You can follow us at @carvingajourney on Instagram, Facebook, and Pinterest. I also started a vlog Youtube channel! Or, if you would like more articles like these, you can subscribe to our blog by joining our mailing list. Let us know if you make this Korean spinach side dish (sigeumchi namul)! Thank you so much for stopping by!
Carving A Journey is a participant in the Amazon Services LLC Associates Program, an affiliate advertising program designed to provide a means for sites to earn advertising fees by advertising and linking to Amazon.com. Although we may earn commissions for our endorsement, recommendation, testimonial, and/or link to any products or services from this website, these opinions are my own and I fully support these products.