This post may contain affiliate links. Please read my disclosure for details at the bottom of this page. As an Amazon Associate, I earn from qualifying purchases on this article about dandelion greens in Korean cooking. We hope you enjoy learning about mindeulle.
As soon as spring arrives, dandelions pop up overnight on your beautifully mowed front lawn. While kids love to make wishes over these little herb plants, you may find them to be an annoyance. Instead of spraying these plants to kill them off, why not eat them? 
In many food cultures, people use this abundant herb in their cooking. Here, we discuss dandelion greens and how they are used in Korean cooking! Then, we answer some questions you may have about this ingredient. 
What Are Dandelion Greens?
Taraxacum is a large genus of flowering plants in the Asteraceae family. It consists of a group of species commonly known as dandelions. This genus is native to Eurasia and North America. The two most common types of dandelion, T. officinale (the common dandelion) and T. erythrospermum (the red-seeded dandelion), were introduced into North America from Europe. Since its introduction, dandelions have spread throughout the globe!
While most people either make wishes by blowing out the seedhead or consider it an annoying weed, the entirety of both varieties of dandelion are completely edible. When an individual refers to the 'greens' of a dandelion, they are discussing the stems and leaves of the herbal plant. These leaves, packed full of folate, calcium, potassium, and vitamins A, C, and K, are more nutritionally rich than the kale and spinach superfood alternatives. Who knew we had such healthy edible foliage in our backyards, right? 
Dandelion Greens in Korean Cuisine:
In the Korean language, dandelion is known as 'Mindeulle' (민들레). While less popular than other vegetables, people use this wild spring ingredient to make various types of traditional dishes. Below, we list three common dishes that use this ingredient. 
Mindeulle Muchim (민들레 무침): In English, muchim 'seasoning' or 'to season'. 'Mindeulle muchim' refers to a type of Korean dandelion greens salad made by tossing the fresh greens with a soy-based dressing. 
Mindeulle Namul (민들레 나물): While the last recipe uses fresh dandelion greens, you make this side dish by blanching the dandelions greens first. Then, you combine the dandelion greens with seasoning ingredients. 
Mindeulle Kimchi (민들레 김치): Kimchi is a well-known traditional Korean side dish made of a variety of salted and fermented vegetables. This kimchi recipe uses dandelion greens!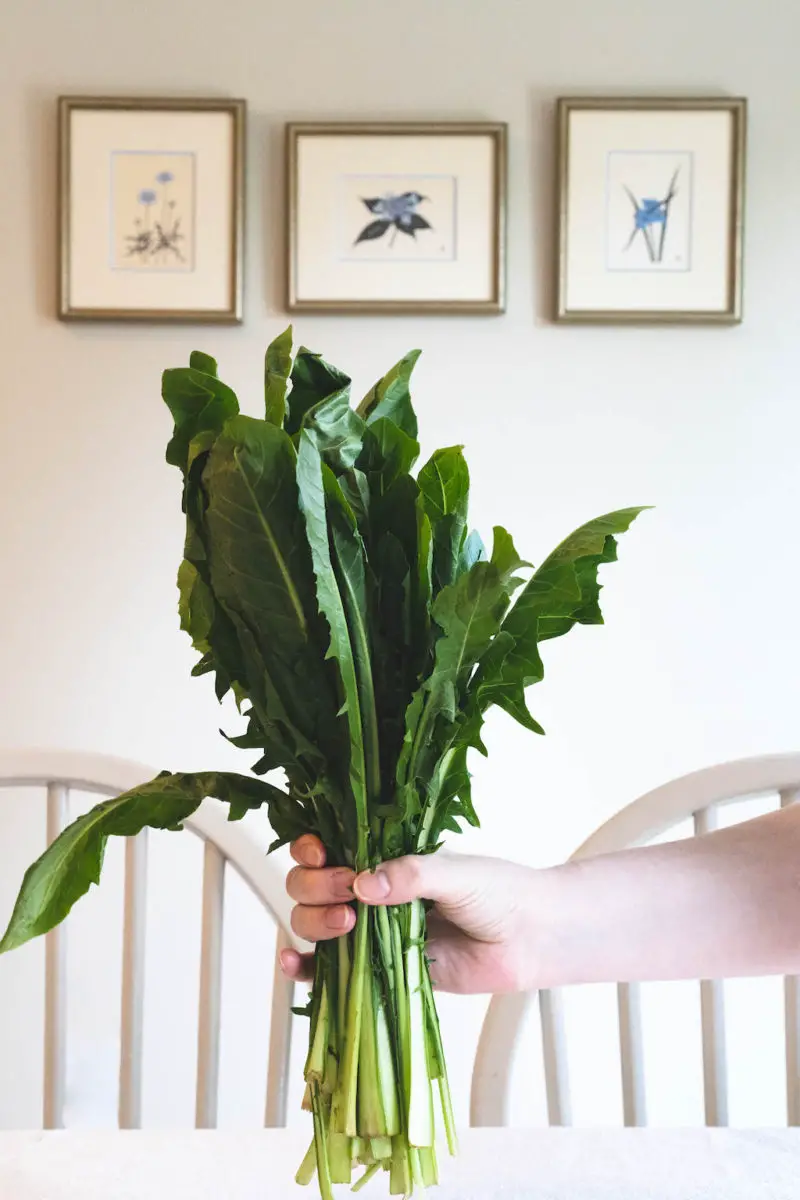 Dandelion Greens Frequently Asked Questions:
Now that we learned about dandelion greens, we want to answer some questions you may have about this ingredient! If we do not answer your question, feel free to leave a comment in the section below or email us at [email protected]. 
What Do Dandelion Greens Taste Like?
Dandelion greens taste peppery, bitter, and bright. 
To eliminate some of the bitterness, you can cook this ingredient. Do so by first soaking them in cold water. Then, blanch them in salted boiling water for a few minutes. Not only does it take care of the strong bitter flavor, but it also helps to tenderize the plant. 
Where to Buy Dandelion Greens?
Unfortunately, you cannot find this ingredient throughout the year in your typical grocery store. First, dandelion greens are only sold when in season during spring and early summer. Second, you often need to buy this ingredient in specialty stores.
When shopping for dandelion greens, I recommend going to your local Asian grocery store, farmers' market, or specialty market during the spring. I do not recommend collecting and eating this ingredient off the side of the road unless you know what you are doing. If you do pick them yourself, make sure to only pick from areas that do not use unknown pesticides or other chemicals.
How Do I Properly Store This Ingredient?
To store this ingredient, wrap the stems in a wet paper towel and place the bunch of greens into the refrigerator. Try not to let the wet paper towels touch the actual leaves of the greens. 
I recommend checking on the wet paper towels every once in a while. Resoak the paper towels once they start to dry.
How Long Does This Ingredient Last?
After buying dandelion greens, I recommend cooking with or eating them within two or three days. These greens wilt quickly.
What Other Parts of the Plant Can I Eat?
As I stated above, the entire dandelion plant is edible. You can eat the greens, flowers, and roots!
We Hope You Enjoyed Learning About Dandelion Greens!
In the end, we hope you enjoyed learning about dandelion greens (mindeulle)! If so, let us know in the comment section! 
If you would like to read more about cooking, you can find further recipes on our blog. We listed some of our favorite Carving A Journey Korean recipes below! For reference, many recipes are influenced by our blended Korean and Southern heritage.
Korean Ingredient Articles: 
Further Carving A Journey Recipes:
If you have any questions or comments, you can also email us at [email protected].
And, finally, we would love to hear from you through our social media as well! You can follow us at @carvingajourney on Instagram, Facebook, and Pinterest. I also started a vlog Youtube channel! Or, if you would like more articles like these, you can subscribe to our blog by joining our mailing list. Let us know if you try using this ingredient when cooking! Thank you so much for stopping by!
Carving A Journey is a participant in the Amazon Services LLC Associates Program, an affiliate advertising program designed to provide a means for sites to earn advertising fees by advertising and linking to Amazon.com. Although we may earn commissions for our endorsement, recommendation, testimonial, and/or link to any products or services from this website, these opinions are my own and I fully support these products.