This post may contain affiliate links. Please read my disclosure for details at the bottom of this page. As an Amazon Associate, I earn from qualifying purchases on this black sesame milk recipe. We hope you enjoy learning about this black sesame drink here!
In many East Asian countries, black sesame plays an important part in their food cultures. If you travel to Korea, you may notice people use it to make porridge as well as a nutty flavor enhancer for traditional rice cakes. In Japan, people often add it to a popular style of dry condiment known as furikake. Then, in China, people famously use black sesame to make soup. 
These days, black sesame has become a more popular ingredient in the west as the world gets smaller and people try other cultural foods. One way people use black sesame is to make a nutty milk substitute. People drink black sesame milk because it is packed full of nutrients and gives a new and unique flavor to boring coffee drinks. Let's learn how to make black sesame milk below! 
Note: Before diving into this recipe we wanted to give you a chance to learn more about black sesame seeds. To learn in-depth about these seeds, go to our article about the ingredient. There, we give tips on where to buy these seeds, and how to properly store them, as well as give a list of Korean dishes that use the ingredient. You can also learn more about sesame in our articles about raw white sesame seeds and toasted sesame oil. Then, you can also check out our step-by-step instructions on how to toast sesame seeds in the microwave, oven, as well as on the stovetop.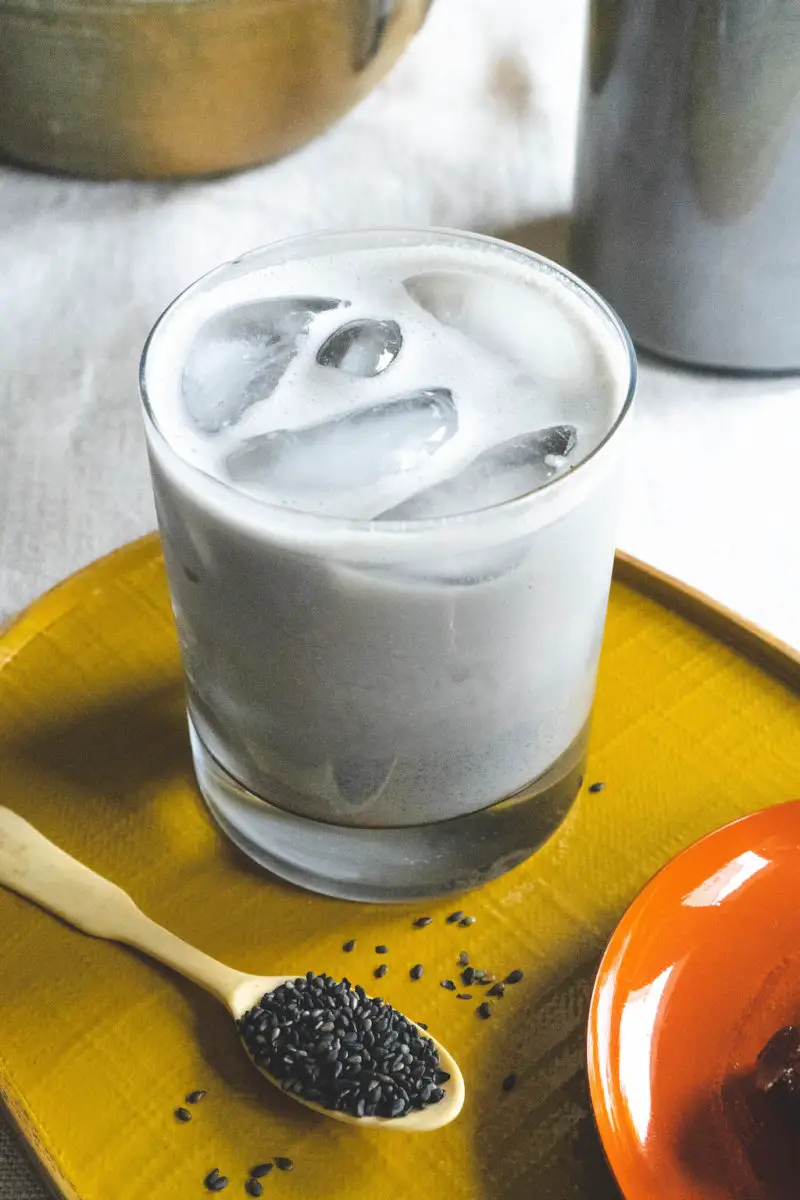 Black Sesame Milk Tips & Tricks:
Before we get to the recipe, we wanted to give some tips & tricks to help you make black sesame milk! Let us know if these tips help you prepare this recipe at home! If you have any questions, leave a comment below or email us at [email protected].
When shopping for black sesame seeds, I recommend buying the unhulled variety. Hulled black sesame seeds tend to taste more bitter when making this drink. Also, a lot of the healthy nutrients are in the hull. Why remove all the good healthy stuff, right?
To prepare this dish, start by toasting the sesame seeds for 5-7 minutes on the stovetop on medium-low heat or in the oven. This brings out the nutty flavor and cuts back on the bitter taste. Let the sesame seeds cool. 
Then, add sesame seeds to your blender with water. This particular variation of black sesame milk is vegan.
As I briefly mentioned above, not only does black sesame taste incredibly nutty, but it can also taste bitter. To further offset this bitter flavor, I recommend adding a sweetener to this beverage. When blending the sesame seeds in water, I also add dates. This adds a slight caramel-like sweetness.
Adding a bit of salt also helps to bring the nutty flavors forward in this beverage. 
For further flavor enhancers, you can also add vanilla extract as well as maple syrup, corn syrup, or any other sweetener.
Once blended on high until smooth, squeeze the mixture through a nut bag. Straining the sesame pulp allows the milk to have a smooth and consistent texture. No one wants lumps!
Black Sesame Milk Frequently Asked Questions:  
Now that we learned some tips & tricks for making this recipe, we want to answer some questions you may have about black sesame milk! If we do not answer your question, feel free to leave a comment in the section below or email us at [email protected]. 
How Does This Recipe Differ From the Popular Versions in South Korea?
Since 2020, black sesame milk has risen in popularity across South Korea. Unlike this vegan recipe, Korean black sesame milk contains real dairy milk because people in Korea do not consider black sesame milk to be a 'milk alternative.' Instead, it is a way of enhancing and changing the flavor of milk for specialty drinks. So, when at a cafe in South Korea, do not assume a black sesame milk latte is dairy-free! 
Can I Make This Recipe in Advance?
Yes! You can easily make this recipe 1 or 2 days in advance. If you do, make sure to shake the milk before use. 
How Do I Store the Leftovers?
To store the leftovers, place the black sesame milk in an airtight container. Then, place the milk into the refrigerator. 
How Long Does This Black Sesame Milk Last? 
Once made, I recommend consuming this drink within 3 to 5 days. If you cannot finish the milk in that time frame, you can store it in the freezer for up to a month. 
Is This Recipe Vegetarian and Vegan?
This recipe is naturally vegetarian and vegan depending on any sweeteners you also include! If you need sweeter black sesame milk, you can always add ingredients such as maple syrup, corn syrup, or honey. If you add honey, this recipe is no longer vegan.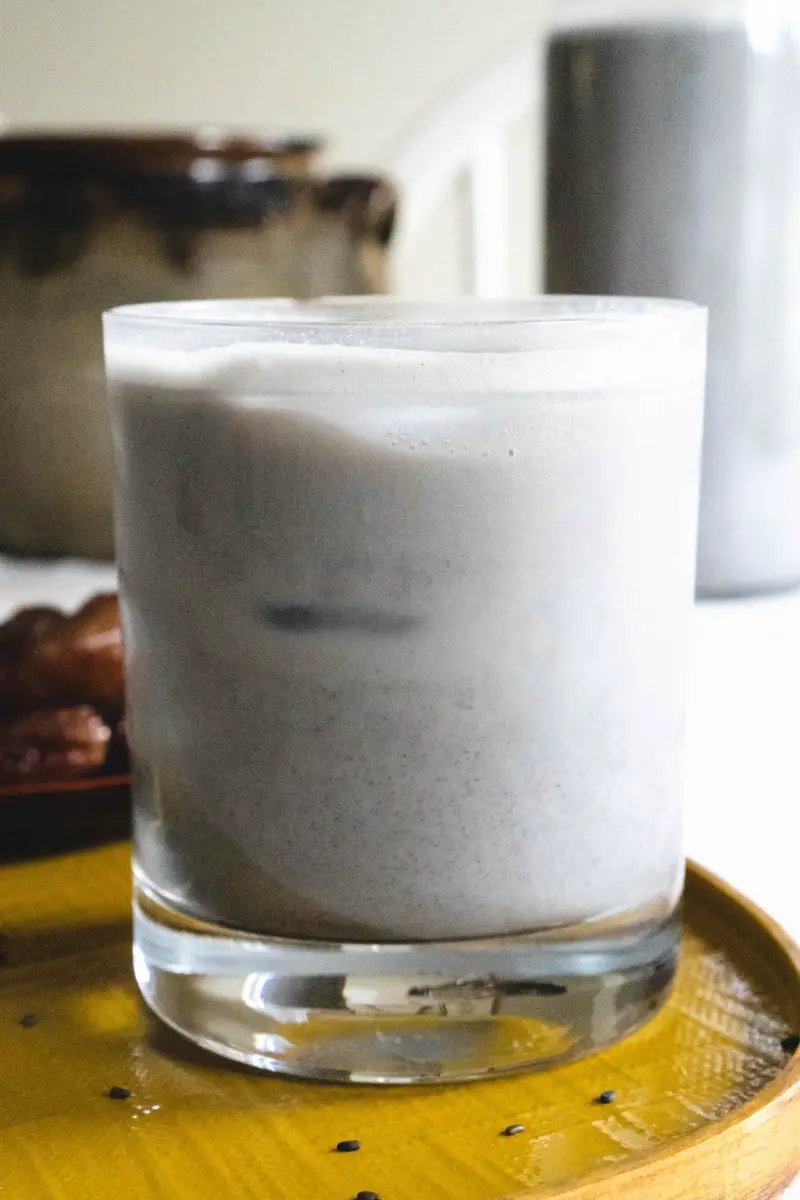 Does This Recipe Contain Major Allergens? (Gluten, Soy, Etc.)
Excitingly, this black sesame milk recipe does not contain any major allergens. This recipe is free of milk, eggs, fish, shellfish, tree nuts, peanuts, wheat, gluten, and soybeans. 
That being said, some people have allergies to certain types of seeds, including sesame seeds. Always check when serving sesame to guests.
Where Can I Buy the Ingredients? 
You can buy small quantities of black sesame at any well-stocked grocery store. For this recipe, I recommend buying black sesame in bulk online. It will save you a lot of money.  
What Can I Do With the Leftover Pulp?
After making this recipe, you may have a lot of leftover sesame pulp. If you do not want to throw it away, I listed a few ideas of how to use it below:  
Bake this the pulp by adding into cake and cupcake batter
Make Korean or Chinese black sesame porridge
Use as a topping for yogurt with granola
Mix it into icing, frosting, or glazes to top cookies, donuts, cakes, and cupcakes
Make energy bites with other superfoods
Combine with smoothies
If you have other ideas, list them below in the comment section! 
We Hope You Enjoyed Learning How to Make Black Sesame Milk!
In the end, we hope you enjoyed learning about how to make black sesame milk! If so, let us know in the comment section! 
If you would like to read more about cooking, you can find further recipes on our blog. We listed some of our favorite Carving A Journey Korean recipes below! For reference, many recipes are influenced by our blended Korean and Southern heritage.
Further Carving A Journey Drink Recipes:
If you have any questions or comments, you can also email us at [email protected].
And, finally, we would love to hear from you through our social media as well! You can follow us at @carvingajourney on Instagram, Facebook, and Pinterest. I also started a vlog Youtube channel! Or, if you would like more articles like these, you can subscribe to our blog by joining our mailing list. Let us know if you make anything using this black sesame milk! Thank you so much for stopping by!
Carving A Journey is a participant in the Amazon Services LLC Associates Program, an affiliate advertising program designed to provide a means for sites to earn advertising fees by advertising and linking to Amazon.com. Although we may earn commissions for our endorsement, recommendation, testimonial, and/or link to any products or services from this website, these opinions are my own and I fully support these products.