This post may contain affiliate links. Please read my disclosure for details at the bottom of this page. As an Amazon Associate, I earn from qualifying purchases on this Korean sausage stir fry article and recipe. We hope you enjoy learning how to make sausage yachae bokkeum!
Are you a parent looking for delicious kid-friendly Korean foods for lunchboxes or dinner? If so, try making the sausage yachae bokkeum recipe, otherwise known as Korean sausage stir fry. 
In South Korea, parents love making this dish for homemade packed lunches or as a special tasty meal for two reasons: First, this dish takes almost no time to make (approximately 10 minutes). Second, parents can combine the sausage and sauce with vegetables kids normally refuse to eat. I would go as far as to say kids in South Korea love this dish like kids in America love macaroni and cheese! I know my husband loved it when growing up!
In the recipe post, I will list the ingredients, give tips & tricks to help you make this recipe, as well as answer any questions you may have. Enjoy! 
What Is Sausage Yachae Bokkeum?
'Sausage yachae bokkeum' (소세지 야채볶음), otherwise known as 'sso-ya' (쏘야), Korean Vienna sausage stir fry, or Korean sausage stir fry, is a popular main dish for families in South Korea. 
To make this recipe, you combine Korean mini Vienna sausages, with a kid-friendly ketchup-based sauce, and vegetables. You stir fry this dish until hot and well combined! As I stated above, this recipe takes approximately 10 minutes to make. The perfect dish for those in a rush! 
Korean Sausage Stir Fry Ingredients: 
Below, I list the ingredients used to make this dish, as well as link any informative articles connected to the ingredients:
Sausage Yachae Bokkeum Tips & Tricks:
Before we get to the recipe, I wanted to give some tips & tricks to help you make this delicious dish at home! Let me know if these tips help you prepare this recipe! If you have any questions, leave a comment below or email me at [email protected].
Korean Sausage Stir Fry Tips & Tricks:
When shopping for Korean-style Vienna sausage, look in the refrigerator section of your local Asian grocery store. Sometimes they are also in the freezer section. Replace the Korean miniature sausages with other miniature sausages or Vienna sausages if you cannot find any of the Korean variety. 
If the sausages are frozen, take out the amount needed, separate them, and soak them in water for approximately 5 minutes. Before cooking, pat them dry with a paper towel. That way, the sausages won't pop when cooked in oil. 
Sometimes, these mini Korean sausages come with diagonal slices pre-sliced. This allows the sausages to curl up instead of splitting down the sides as they cook. If you buy sausages without the cuts, slice a few diagonals into your sausages. Just make sure that you do not cut completely through the sausage. 
While you can use any brand of ketchup, I believe Heinz tastes the most delicious. To me, it tastes the best because of the sugar content and familiarity.
When stir-frying, do not overcook the vegetables. You do not want soft or mushy vegetables. Instead, you want them to still have a crunchy and crispy texture. Cook the vegetables until they are no longer raw, but still have a crunch. 
This is a versatile dish–you can change out the vegetables for anything you are trying to clean out of the refrigerator. If you have zucchini, broccoli, or any other vegetables that are about to go bad, feel free to throw them into this dish as well! There are no set rules!
If you are meal-prepping and plan to reheat this recipe throughout the week, I recommend slightly undercooking the vegetables. That way, when you reheat them, the vegetables will come out perfect instead of mushy. 
Korean Sausage Stir Fry Frequently Asked Questions:
Now that we learned some tips & tricks for making this recipe, I want to answer some questions you may have as well! If I do not answer your question, feel free to leave a comment in the section below or email me at [email protected]. 
What Do People Serve With This Recipe?
At home, when served simply, people typically eat this Korean sausage stir fry with rice and dried seaweed sheets. They may also serve this dish with some vegetable-based side dishes and kimchi.
Adults also enjoy this dish as a drinking snack. At many drinking bars, you can order it as an 'anju' (안주), otherwise known as 'food consumed with alcohol.'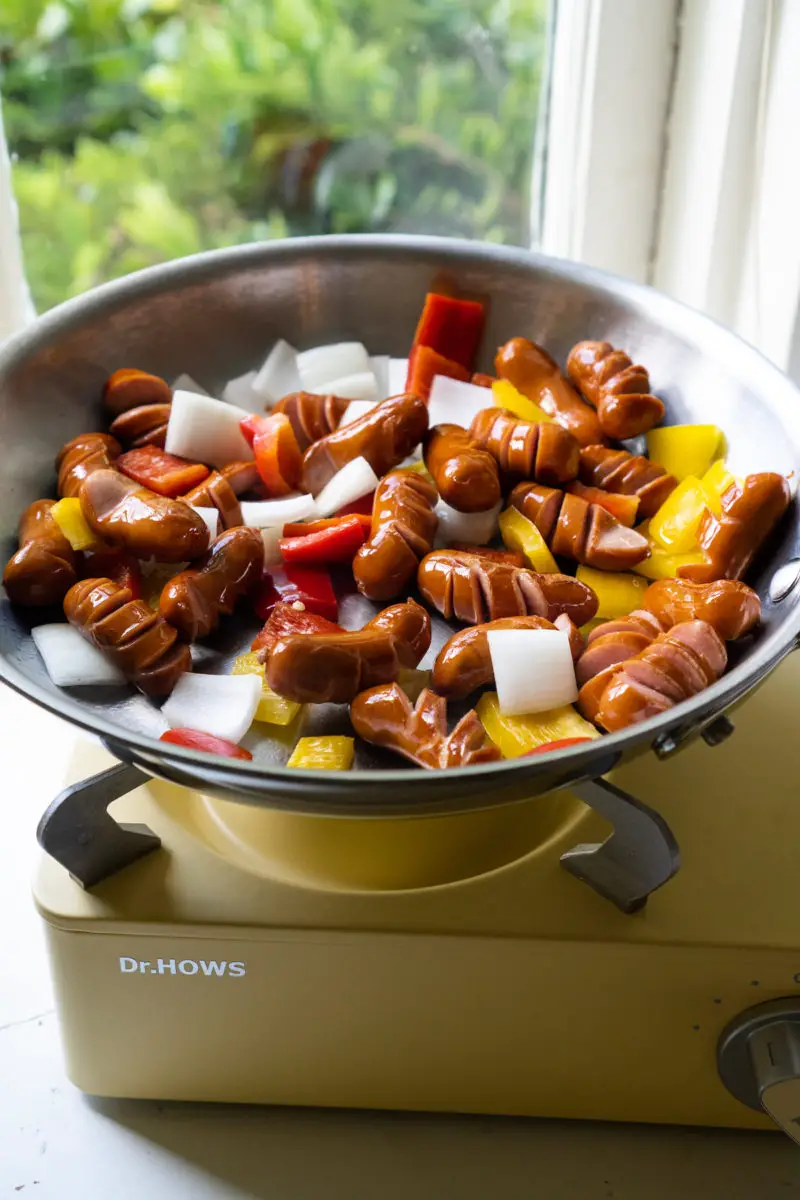 Does This Recipe Contain Major Allergens? (Gluten, Soy, Etc.)
Unfortunately, the original version of this recipe does contain a few of the major allergens. It may contain fish, shellfish, wheat, gluten, and soy. 
Korean Sausage: 
First, many Korean sausages may contain fish, shellfish, wheat, and gluten. 
Sometimes, surprisingly, Korean Vienna-style sausages contain shellfish or fish, making it taste like a mixture between a sausage and fish cake. This ingredient is brand specific so check the ingredients before buying them.
If, like me, you have a gluten intolerance, wheat allergy, or celiac disease, and cannot consume wheat or gluten, be careful when shopping for Korean Vienna sausages. If you cannot find miniature gluten-free Korean sausages, look for a sausage that is safe to consume. Just note that changing the style of sausage can alter the original flavor.
Soy Sauce:
Soy sauce contains two major allergens: wheat (gluten) and soy. Thankfully, there are many gluten-free and soy-free alternatives on the market. 
If you live a gluten-free lifestyle, shop for gluten-free tamari. First, you can learn about the difference between soy sauce and tamari via our article on the subject. Then, you can find many options via our gluten-free soy sauce alternatives article. 
For those living a soy-free lifestyle, you cannot use soy sauce or tamari. Instead, use coconut aminos! This ingredient tastes very similar to soy sauce and is naturally soy and gluten-free. Look for our favorite coconut aminos brand in our article about gluten-free soy sauce alternatives. 
Is Korean Sausage Stir Fry Vegetarian or Vegan?
Unfortunately, this recipe is neither vegetarian nor vegan because it contains sausage. If you can find mini vegan sausages and wish to make this recipe, you can substitute them! 
Where Do You Buy the Ingredients?
You can buy almost all of the ingredients year-round at your local well-stocked grocery store. The exception to this rule is the Korean Vienna sausage, which is different from the mini western 'American' sausages you typically find at the grocery store. You can find these Korean sausages at your local Asian grocery.
If you do not live near an Asian grocery store, feel free to replace the sausages with mini sausages found at your local grocery, just know that this will slightly change the flavor profile. While different, these sausages taste just as delicious! 
How Should I Store the Leftovers?
To store the leftovers, place them in an airtight container. Then, store the sausage stir fry mixture in the refrigerator. 
While people eat sausage yachae bokkeum both hot and cold, I prefer it hot. To reheat, take the leftovers out of the refrigerator and cook on the stove. 
I recommend eating it within a week because it contains meat! 
I Hope You Enjoyed Learning How to Make This Sausage Yachae Bokkeum Recipe!
In the end, I hope you enjoyed learning about this sausage yachae bokkeum recipe! If so, let me know in the comment section! 
If you would like to read more about cooking, you can find further recipes on this blog. I listed some of our favorite Carving A Journey recipes below! For reference, many recipes are influenced by my family's blended Korean and Southern heritage.
Further Carving A Journey Recipes:
If you have any questions or comments, you can also email me at [email protected].
And, finally, I would love to hear from you through our social media as well! You can follow me at @carvingajourney on Instagram, Facebook, and Pinterest. I also started a vlog Youtube channel! Or, if you would like more articles like these, you can subscribe to the blog by joining the mailing list. Let me know if you try making this well-loved Korean sausage stir fry recipe! Thank you so much for stopping by!
Carving A Journey is a participant in the Amazon Services LLC Associates Program, an affiliate advertising program designed to provide a means for sites to earn advertising fees by advertising and linking to Amazon.com. Although we may earn commissions for our endorsement, recommendation, testimonial, and/or link to any products or services from this website, these opinions are my own and I fully support these products.