This post may contain affiliate links. Please read my disclosure for details at the bottom of this page. As an Amazon Associate, I earn from qualifying purchases on this Yakult soju popsicle recipe.
Recently, on Carving A Journey, I published a recipe for the popular Korean Yakult soju cocktail. While delicious as a cooling spring and summer cocktail, you can also transform it into the perfect boozy popsicle!
This popsicle has a light and refreshing milky citrus flavor. The Yakult gives the popsicle a slightly sweet and fruity taste, while the Sprite adds the extra sweetness needed in the popsicle. Then, the final flavor is the boozy soju! Why drink a cocktail if you can eat it as a popsicle instead?!
In this post, I detail how to make this popsicle as well as answer some potential questions you have about the recipe. Let's get started! 
Yakult Soju Popsicle Ingredients:
Below, we list the three ingredients necessary to make this Yakult soju popsicle:
Yakult: As I stated in the Yakult soju cocktail recipe, Yakult is a Japanese sweet probiotic beverage popular across the globe. Since gaining popularity in South Korea, people created multiple recipes, such as the Yakult soju cocktail, using this favorite children's drink. 
Soju: For this boozy popsicle, we use soju as the alcoholic portion of the recipe. This South Korean distilled liquor is made using rice, sweet potato, tapioca, etc. While definitely weaker than other distilled liquors, soju is stronger than beer or wine. If you want to learn more about soju and its history, check out our soju and tonic recipe! 
Sprite or 7up: In South Korea, people refer to lemon-lime sodas such as Sprite or 7up as 'cider' (사이다). Unlike in the United States, cider does not refer to the alcoholic beverage made from apples.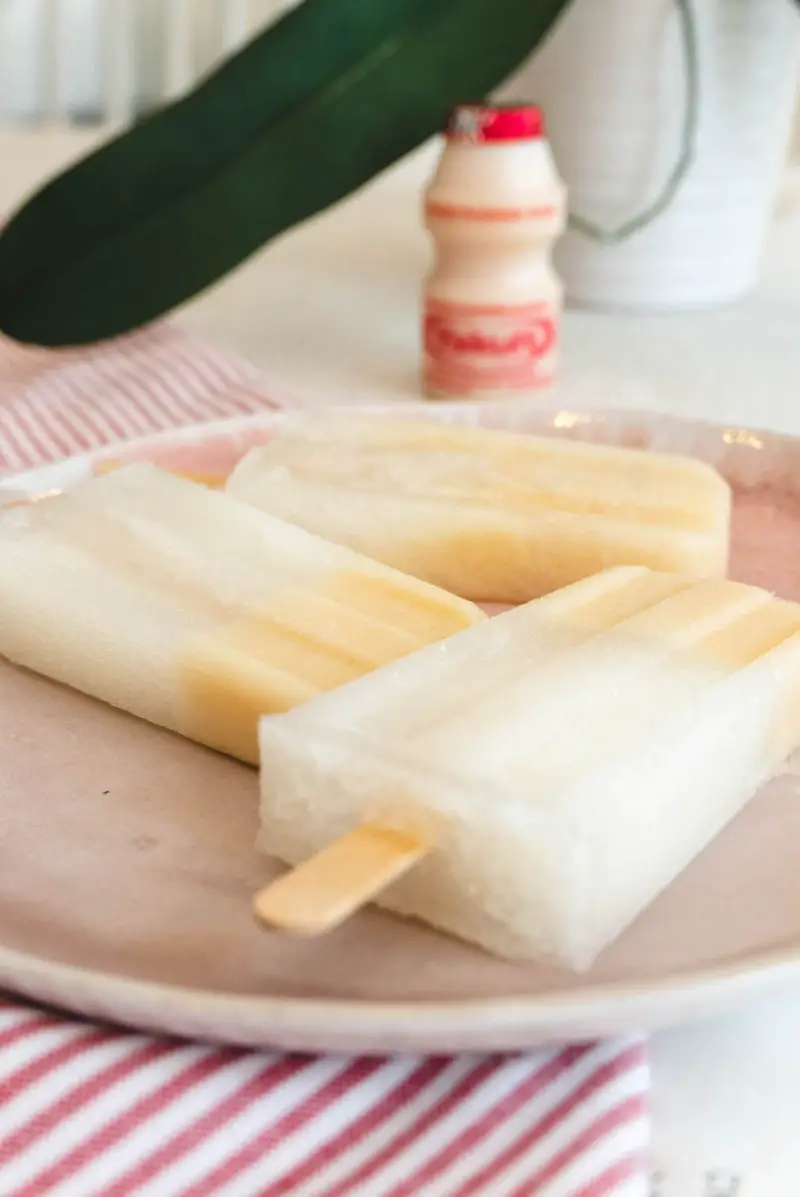 Yakult Soju Popsicle Tips & Tricks:
Here we list some helpful tips & tricks to help you make this Yakult soju popsicle recipe. We hope these tips help you make these at home! If you have any questions, leave a comment below or email us at [email protected].
I recommend measuring out the ingredients on a scale. That way, you have a perfect 1:1:1 ratio. 
Further, I recommend mixing the ingredients in a container with a lip such as a pitcher or a Pyrex liquid measuring cup. That way, it is easier to pour into molds. 
Once you place the ingredients in the popsicle mold, cover with the lid. Then, place the popsicle sticks into the slots on the cover. 
Then, place the popsicles into the freezer. After a few hours, when the popsicles start turning into slushies (before they fully harden), you can adjust the popsicle sticks so that they don't sit at an angle.
As these chill, the mixture separates partially creating a beautiful ombre effect. This is normal! Each of the liquids has a different density. You will see the majority of the Yakult at the bottom. Do not worry about the flavor though, you will taste the soju, Yakult, and sprite through the entire popsicle! 
If you want a popsicle that tastes less boozy, reduce the amount of soju. If you do, replace the alcohol with a bit more soju and sprite. You can also remove the alcohol altogether. It will still taste delicious! 
Make these a day in advance. That way, they will be frozen in time for your party or event!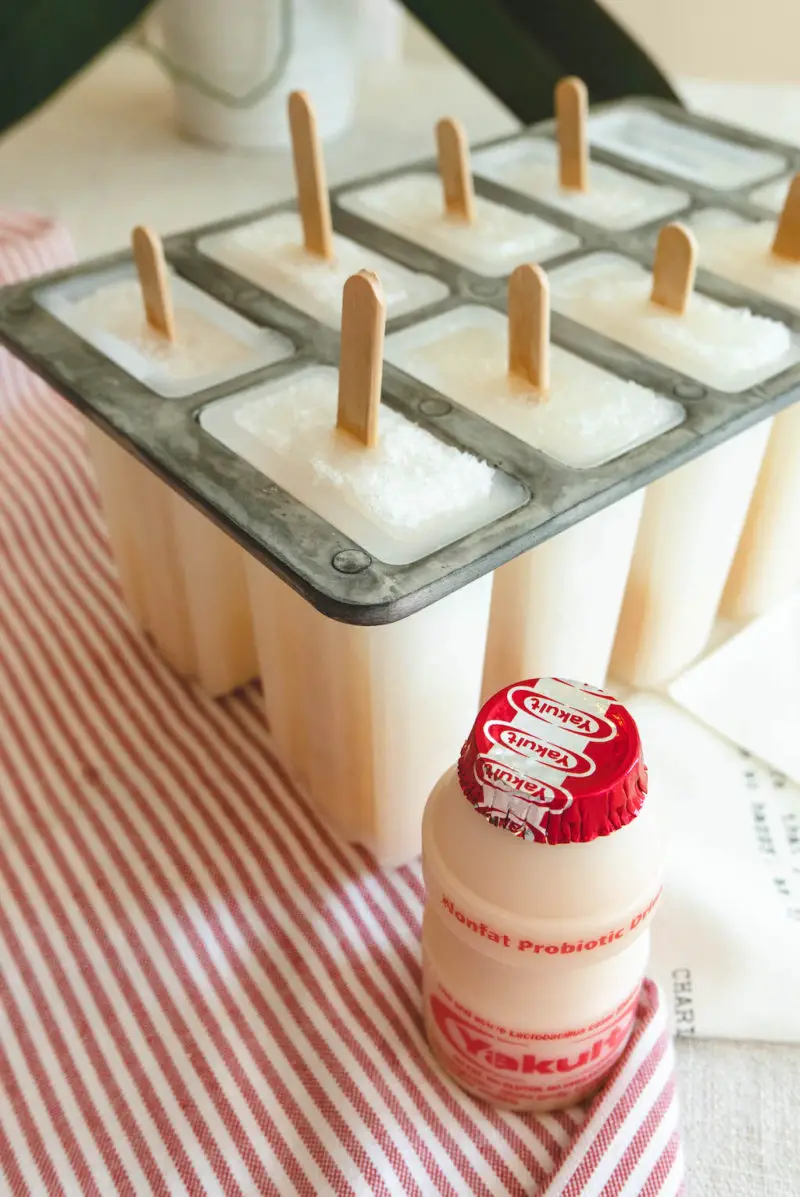 Yakult Soju Popsicle Frequently Asked Questions:
Now that we learned how to make this Yakult soju popsicle, we want to answer some questions you may potentially have as well! If we do not answer your question, feel free to leave a comment in the section below or email us at [email protected] 
How Long Does the Popsicle Take to Freeze?
Popsicles typically take 4 to 8 hours to freeze. For that reason, I always recommend making them a day in advance of your party, event, or cheat night! 
Where Can I Find the Ingredients?
I am excited to say that all the ingredients needed for this recipe are easy to find! Below, we list each ingredient and where to find them.
Yakult: These days, you can find Yakult in many well-stocked grocery stores. If you cannot find it there, check for them in your local Asian market. H-mart always carries Yakult! 
Soju: You can find Korean soju in many major liquor stores, especially those located near Asian grocery stores. Depending on your state, you can even find soju inside Asian groceries. 
Sprite or 7up: You can find Sprite or 7up in any convenience store, gas station, or grocery store chain.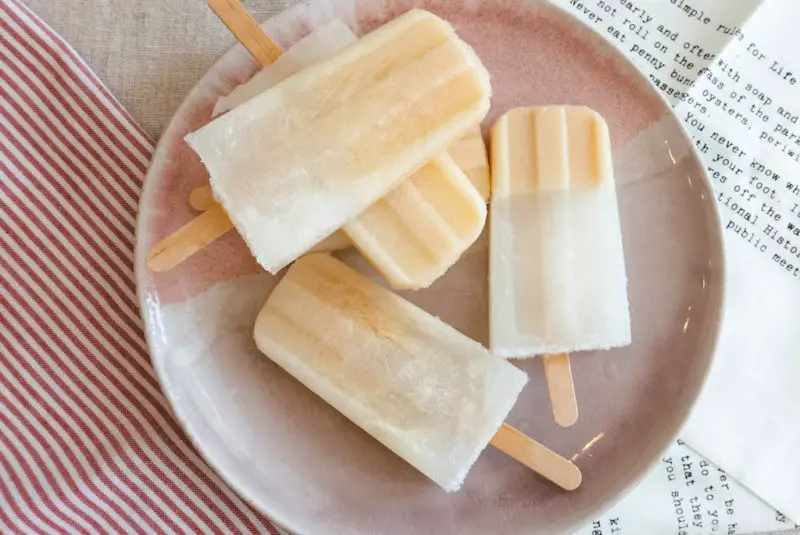 Can You Make This Without Alcohol?
Yes! You can make this recipe alcohol-free! Like I stated above, to make the same amount of popsicles, replace the amount of soju with more Yakult and Sprite. 
Does This Recipe Contain Major Allergens? (Gluten, Soy, Etc.)
For the most part, this recipe does not contain major allergens such as tree nuts, peanuts, fish, shellfish, gluten, wheat, soy, and/or eggs. That being said, it does contain one major allergen: milk. For those with milk allergies or lactose intolerance, this recipe is not for you.
Further, avoid this recipe if you have an allergy to alcohol. If you do have an allergy, try making this popsicle alcohol-free! 
What Are Other Soju Recipes?
Below, we list our other soju based recipes on Carving A Journey. Let is know if you try any!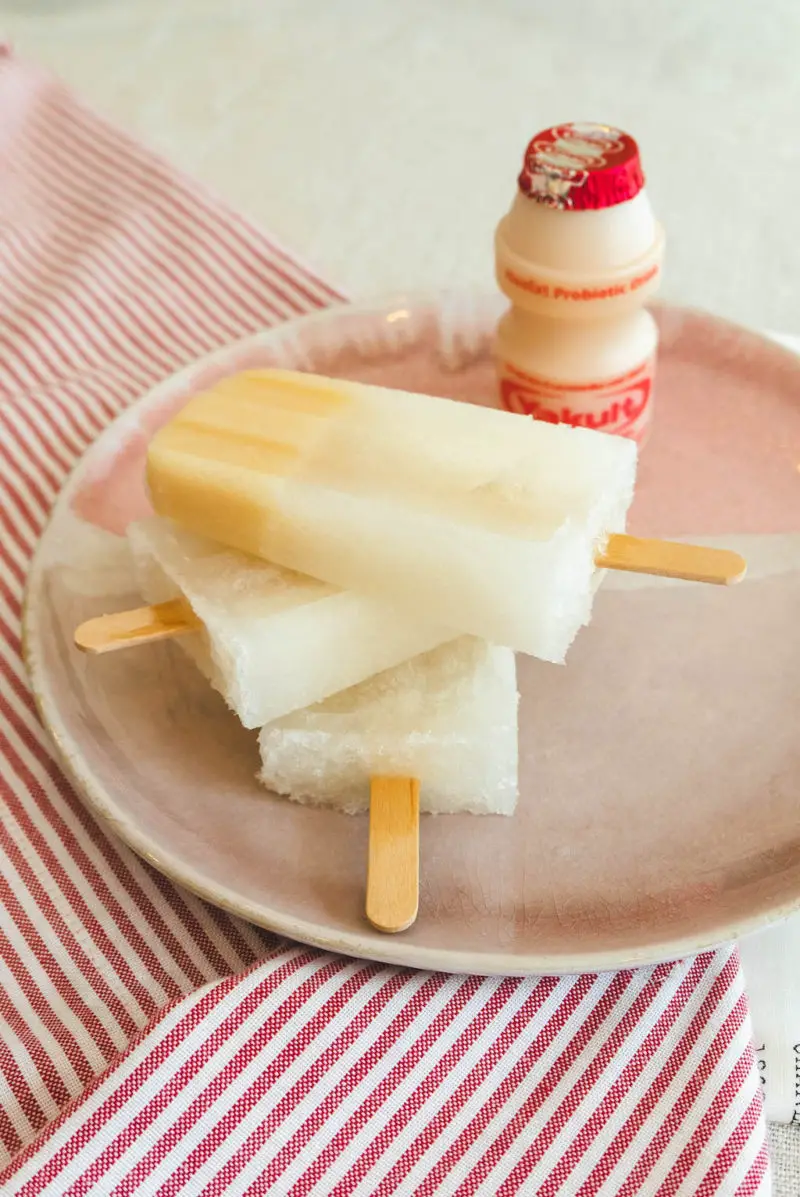 We Hope You Enjoyed Learning How to Make This Yakult Soju Popsicle!
In the end, we hope you enjoyed learning how to make this Yakult soju popsicle! If so, let us know in the comment section! 
If you would like to read more about cooking, you can find further recipes on our blog. We listed some of our favorite Carving A Journey Korean recipes below! For reference, many recipes are influenced by our blended Korean and Southern heritage.
Carving A Journey Drink Recipes: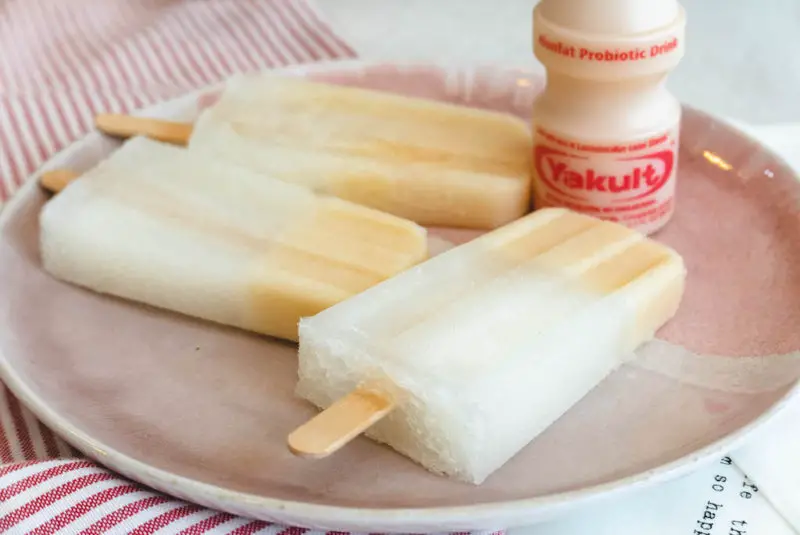 If you have any questions or comments, you can also email us at [email protected].
And, finally, we would love to hear from you through our social media as well! You can follow us at @carvingajourney on Instagram, Facebook, and Pinterest. I also started a vlog Youtube channel! Or, if you would like more articles like these, you can subscribe to our blog by joining our mailing list. Let us know if you made this Yakult soju popsicle recipe! Thank you so much for stopping by!
Carving A Journey is a participant in the Amazon Services LLC Associates Program, an affiliate advertising program designed to provide a means for sites to earn advertising fees by advertising and linking to Amazon.com. Although we may earn commissions for our endorsement, recommendation, testimonial, and/or link to any products or services from this website, these opinions are my own and I fully support these products.