Our 'Emily Recommends Series' will be a constant and consistent part of our blog moving forward. Check out all of our recommendations for cooking techniques, tricks, writers, bloggers, YouTubers, ingredients, etc. every Thursday! To start the series, we wanted to introduce our all-time favorite Korean food bloggers! With Chuseok, otherwise known as Korean Thanksgiving, just around the corner (October 1st for the year 2020), what better time for this introduction?
Carving A Journey is heavily influenced by Korean food. Not only did I live in South Korea, but I also married someone from Seoul. Before living overseas and dating J, I knew NOTHING about Korean food. Yeah, I had seen images of food on youtube, Korean dramas, etc, but had I tried it? No. Did I know what gochujang tastes like? No. Did I fall in love as soon as I tried it? Heck yeah! 
In College, I finally got my introduction to Korean food through Korean barbecue. After that experience, I craved learning more about the food and culture. I relied heavily on Korean food bloggers to learn how to make J's favorite meals. Soon we were holding Korean cooking parties in our dorm for our friends missing home or wanting an introduction to the cuisine. 
We wanted to give a shout out to all of those amazing bloggers and thank them for the wonderful introductions to their culture and recipes! They made our college years a blast, made navigating my new life in Korea easier, and early marriage joyful as we cooked together in the kitchen. All of my favorite Korean food bloggers are champs!! 
If you are a Korean food lover, I highly recommend checking ALL of these bloggers out. You won't be disappointed. 
Our Favorite Korean Food Bloggers
---
1. Korean Bapsang
"Korean Bapsang" is run by Hyosun Ro. She started the blog in 2009 to teach her children how to cook their childhood meals. Since then, her blog has grown enormously! I check out her recipes every Korean holiday (especially during Chuseok) to help plan out my menus.
Under her recipe index, check out her Chuseok section to learn all about traditional Korean recipes for the holidays. It will help you if you decide to celebrate as well! 
My Current Favorite "Korean Bapsang" Post: I have cooked a lot of Hyosun's recipes. My current obsession is her traditional seolleongtang (Beef Bone Soup). Seolleongtang brings back memories of my winter months in Korea. It is important to follow EVERY SINGLE STEP of this recipe. The dish will not turn out correctly if you do not follow all the steps and think you can skip a few.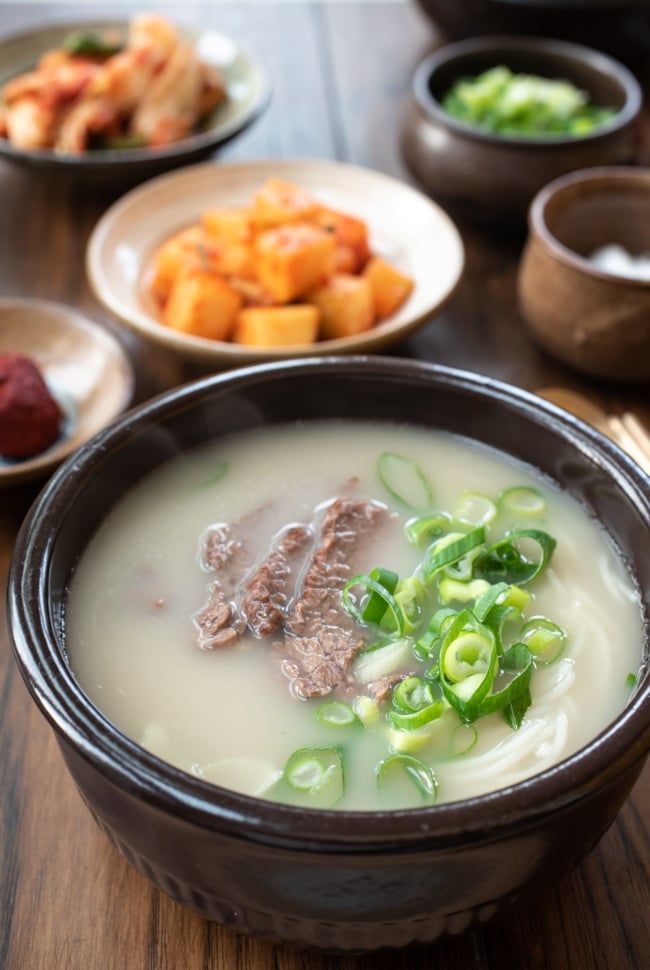 ---
2. My Korean Kitchen
Sue started "My Korean Kitchen" over ten years ago. Over time, her blog has grown to be huge! She has written multiple ebooks, such as The Banchan Cookbook and How to Enjoy Korean BBQ At Home, that are available on her website.
"My Korean Kitchen" has been featured in various publications such as NPR, Huffington Post, Serious Eats, BuzzFeed, and was listed by Saveur magazine as one of the 55 Great Global Food Blogs. Sue is known for her step-by-step instructions with photos for those who are learning to cook through her blog. 
Personally, I love her blog because she has a dedicated section for vegetarian recipes. Many think Korean food is all meat-based, but that is not true! For those vegetarians out there, definitely check out her blog. 
My Favorite "My Korean Kitchen" Recipe:  My Korean Kitchen's candied Korean sweet potatoes is AMAZING! Korean sweet potatoes are very different from the yam orangish variety we have in the U.S. You can find these purple-skinned (with a creamy white center) potatoes conveniently and consistently at Asian grocery stores, global markets, and Whole Foods. In Korea, the potatoes are a bit sweet and nutty. I ate so many of these potatoes while living in Daejeon. This recipe was one of the first I made in Korea when learning to cook with Korean ingredients. I remember comparing my potatoes to the photos provided by Sue to make sure I correctly made them! I still come back to this recipe over and over, even after moving back to the States. 
---
3. Kimchimari
JinJoo feels like my internet-Korean mother guiding me through my cooking and learning process. As someone with Celiac disease, it was a gift to find her blog. "Kimchimari" cares a lot about health and allergen-friendly cooking. Every time I felt deterred by the lack of gluten-free options, I turned to JinJoo for help. She has SO MANY OPTIONS! 
When looking at her recipes, look on the right-hand side to find the "browse by type" section on the sidebar. You can look up recipes by gluten-free, dairy-free, vegan, 30 minutes or less, etc. For those under time constraints, need kid-friendly meals, have dietary restrictions, etc, "Kimchimari" is the blog for you. It is user friendly and follower friendly. JinJoo truly feels like that mom taking care of your needs as the reader. 
My Favorite Kimchimari Recipe: My husband's grandmother made me Korean Sweet Rice Cakes (Injeolmi) the first time we met. I fell IN LOVE. They are my favorite Korean dessert, and there is honestly nothing like it in the U.S.A. Chewy, nutty, and sweet, Korean sweet rice cakes will blow you away. "Kimchimari" makes an amazing version that I love! I learned how to make Injeolmi through her blog post (Also, I love the word. It literally sounds similar to "Enjoy Me!" A bit like "Alice in Wonderland," no?)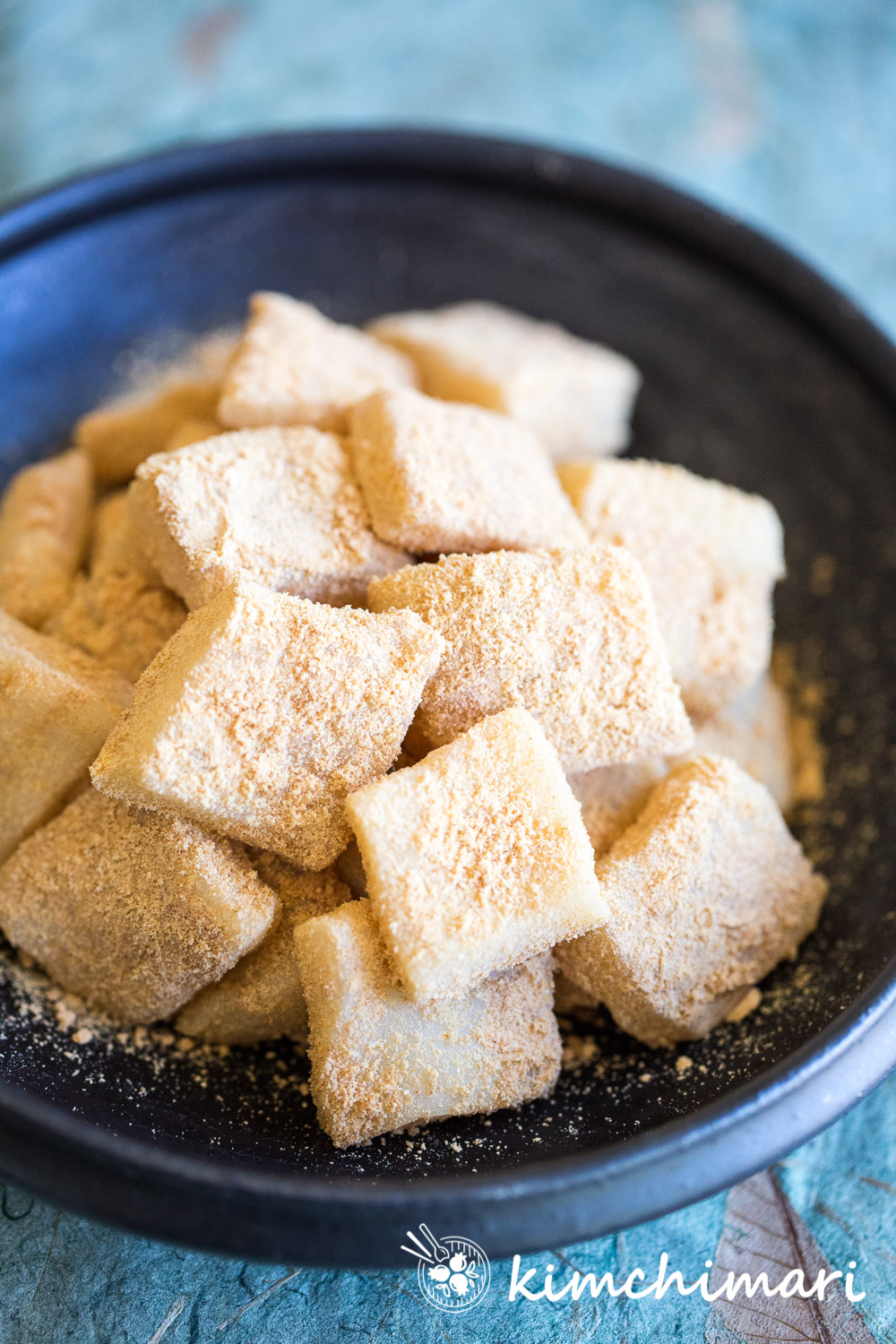 ---
4. Maangchi
Maangchi is a food blogger known for her dedicated community of followers. Though her youtube channel is more famous, her blog is just as amazing for recipes. I also highly recommend buying her cookbooks! She has two! Maangchi's Real Korean Cooking and Maangchi's Big Book of Korean Cooking.
My Current Favorite Maangchi Post: I am OBSESSED with Maangchi's Japchae recipe found on her blog and in Maangchi's Real Korean Cooking. Easy and simple to follow, my copy of the book now has penciled in alternatives for vegan, vegetarian, soy-free, and gluten-free options as I have altered the recipe for different groups of people. This recipe is ALWAYS a crowd pleaser and a perfect introduction to people trying Korean food for the first time. 1000% recommend it. 
---
5. Beyond Kimchee
Holly is the writer behind "Beyond Kimchee." As a world traveler (she lived in South Korea, Malaysia, Argentina, and the U.S.), she writes about more than just her Korean heritage. Holly has gained knowledge from all her travel and experience to make a multicultural blog! She has sections for western recipes, Korean recipes, and much more.  
Around this time last year, Holly released a cookbook titled Korean Cooking Favorites: Kimchi, BBQ, Bibimbap, and so much more. 
My Favorite "Beyond Kimchee" Blog Post: Holly's sweet potato rice donuts are very popular on the internet and with my family. We did have to slightly alter the recipe for our gluten-free diets by omitting the wheat flour (which she mentions in her post). Chewy and sweet, these donuts are perfect for a hot cup of coffee or tea during the fall. I love the cinnamon coating!!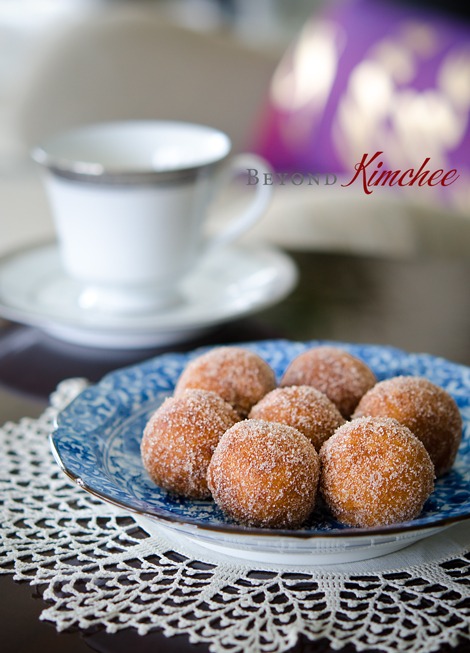 ---
Honorable Mentions:
---
6. CarvingAJourney
It is a little selfish, but I wanted to add our blog to the list. Though we are a newer blog, we are committed to making tasty recipes influenced by our Southern USA and Korean heritages! Follow our journey as we add more and more Korean recipes to our blog. 
Also important to note, if you are looking for allergen-free recipes, send us a note! As a gluten-free household (I have celiac disease) we care A LOT about dietary restrictions and allergies. All of our posts contain information to make recipes more friendly for everyone eating. We are happy to do research, test recipes, and try different products so that we can inform you of different options. 
Our most recent Korean recipe post was Korean pickled garlic (Maneul Jangaggi). Maneul Jangajji is a crunchy, sweet, salty, and a bit spicy side dish. Perfect to eat alongside Korean barbecue! 
---
7. Wife's Cuisine
"Wife's Cuisine" is a YouTuber, blogger, and online shopping market. She created a brand and has become a successful and powerhouse entrepreneur all on her own. I LOVE HER RECIPES! I placed her in the honorable mention category because her blog is entirely in Korean. As a blogger targeting English speakers, I didn't want to send you over to her site without giving you a heads-up. 
Wife's Cuisine is an expert Korean recipe developer. If you speak/read Korean, are learning Korean, or are willing to take the time to translate with online translators, you will not be disappointed in the recipes. You will learn all about traditional Korean ingredients and how to use Korean cooking methods. 
My favorite Wife's Kitchen go-to recipe: is her shrimp-stuffed tofu. A minced shrimp mixture is stuffed into hollowed-out tofu and then steamed. The steamed tofu and shrimp are then added on top of an incredibly thick and gelatinous sauce that tastes similar to egg drop soup (minus the eggs. Weird right?.) It is the ultimate comfort food when feeling ill! Filling, mild, warm, and easy to consume, it is the best when you have a cold or the flu. 
Who are Your Favorite Korean Food Bloggers?
Who are your favorite Korean food bloggers and what are your favorite Korean recipes? If we did not mention your favorite blogger, let us know! We always want to learn about other Korean food bloggers out there!
You can follow us at @carvingajourney on Instagram, Twitter, Facebook, and Pinterest. You can also subscribe to our blog by joining our mailing list.
Carving A Journey is a participant in the Amazon Services LLC Associates Program, an affiliate advertising program designed to provide a means for sites to earn advertising fees by advertising and linking to Amazon.com. Although we may earn commissions for our endorsement, recommendation, testimonial, and/or link to any products or services from this website, these opinions are my own and I fully support these products.