It's marshmallow making time! In our last post we made a beautifully decadent white hot chocolate. But, you can't have hot chocolate without marshmallows right? I love white chocolate and peppermint. They are a great combination in Christmas peppermint bark, mints, and apparently (though I haven't tried it yet) over popcorn. Also, they are a serious comfort food. They go with everything that screams CHILDHOOD. What other food, besides chocolate, goes with summers around campfires and winters in hot chocolate? Enjoy these peppermint flavored marshmallows decorated with a beautiful red swirl.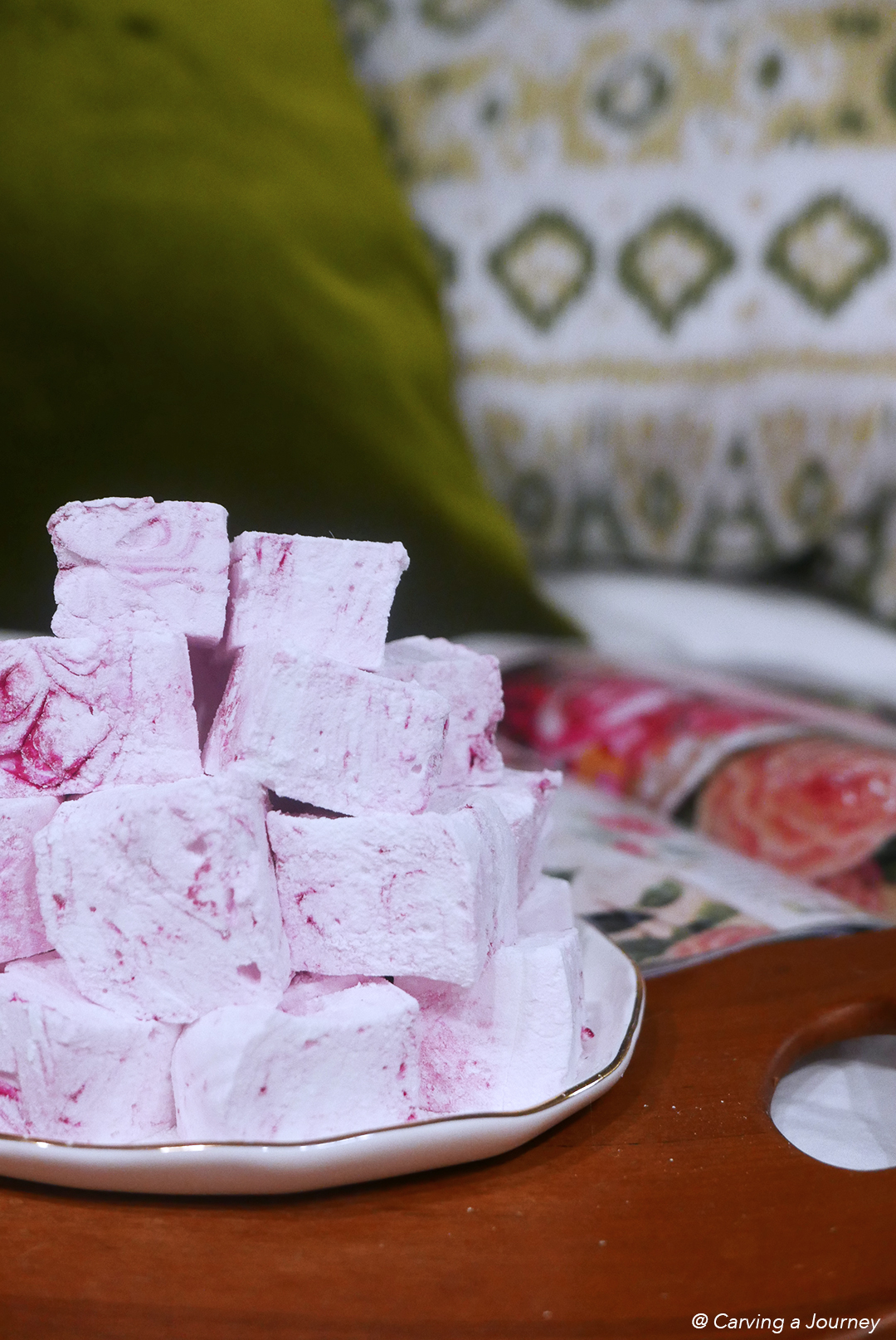 Marshmallows are as easy to make as they are to buy. What I have definitely noticed while making them from scratch is that they are 100% not healthy. It should have been obvious but it was something I hadn't thought about as a child or as an adult. It wasn't until I poured in the proper amount of corn syrup and sugar that I grasped exactly how unhealthy they are…but oh so good.
Besides this, do not be surprised by a strong scent if one surfaces while working with the gelatin and hot water. Gelatin is made from animal byproducts (you can buy vegetarian and vegan gelatin). Depending on the brand, what the gelatin was made from, and your own personal sensitivity to smell, the gelatin can give off a horrible stench until the marshmallows cool and set. Do not let this deject you! It shocked me at first but I learned to get over it quickly… after hurriedly looking for answers online and trying to make it again and again I realized it is just part of the process. It just happens…or doesn't. There is nothing you can do. The brand of gelatin we used was KNOX. Let us know if y'all had the same issues as us. Just know that your marshmallows will taste great either way!
These marshmallows were adapted from a Martha Stewart's recipe found here. We tweaked the amount of salt, peppermint, and added a red swirl to look like a candy cane. Bite into the chewy gooey yumminess for a squeal of joy! Childhood is back in the mintiest way possible!  
P.S. our bunny decided to hop into the frame. Everyone, meet Clementine! Our devilishly cute bunny who chewed up my magazine clippings. You can read about that experience here.
Carving A Journey is a participant in the Amazon Services LLC Associates Program, an affiliate advertising program designed to provide a means for sites to earn advertising fees by advertising and linking to Amazon.com. Although we may earn commissions for our endorsement, recommendation, testimonial, and/or link to any products or services from this website, these opinions are my own and I fully support these products.