It's marshmallow making time! In our last post we made a beautifully decadent white hot chocolate. But, you can't have hot chocolate without marshmallows right? I love white chocolate and peppermint. They are a great combination in Christmas peppermint bark, mints, and apparently (though I haven't tried it yet) over popcorn. Also, they are a serious comfort food. They go with everything that screams CHILDHOOD. What other food, besides chocolate, goes with summers around campfires and winters in hot chocolate? Enjoy these peppermint flavored marshmallows decorated with a beautiful red swirl. 
The other night, while dizzyingly watching the white gooey mixture blend together in the mixer, I decided it is time to come up with a nickname for the beau. He doesn't really want his name or picture anywhere on the website anytime soon (though there was a sneak peak of his back in one photo). I have been following Molly Yeh for an extremely long time, seriously forever, and she has a wonderful nickname for her husband: Eggboy. For the longest time I didn't want to use a nickname and steal any of her thunder, but at this point using "my beau" or "my boyfriend" or any other cliché pet name is just getting plain annoying. Mainly because I don't like claiming him as mine when he is his own person and not a personal object. Elizabeth even said it was annoying for her to read! Sorry y'all!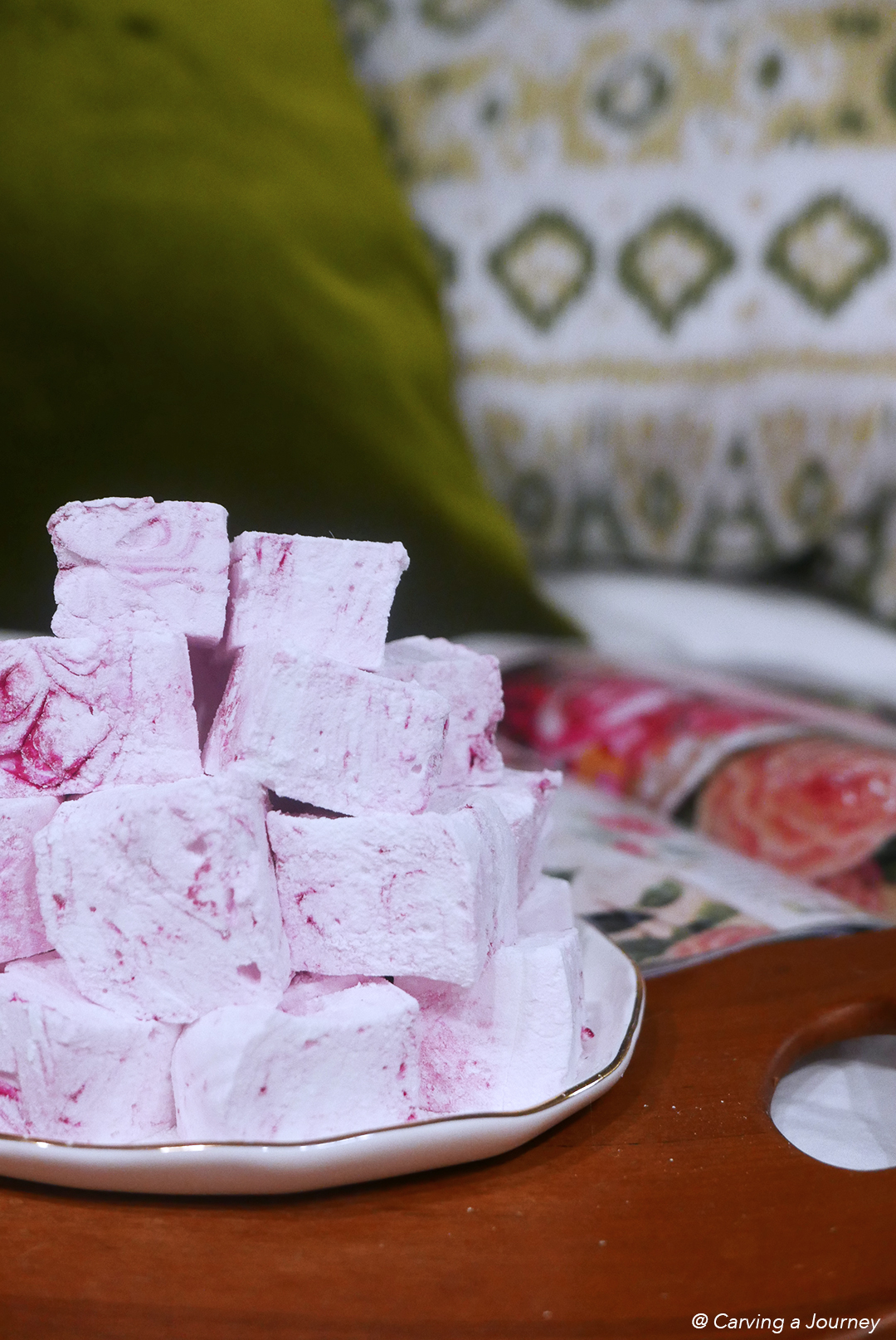 So here it is. Drum roll please. I would like to introduce Jay the Giraffe, named after the extremely tall animal that grazes and consumes a lot! Giraffe has been a name that has followed him around since childhood. Standing over 6 feet tall he is well above the average size in his native South Korea. Besides that, he just eats a lot. Eventually, the nickname passed from friends to me after told me after learning of nicknames of the past. I named the giraffe Jay because it is like childhood storybook name. It is a good fit. At least I think it is cute!
Anyway, that's what I was thinking of as I mixed together batch after batch of Marshmallows. No better time to take a second to think or let the imagination run then when standing over a mixer! 
Marshmallows are as easy to make as they are to buy. What I have definitely noticed while making them from scratch is that they are 100% not healthy. It should have been obvious but it was something I hadn't thought about as a child or as an adult. It wasn't until I poured in the proper amount of corn syrup and sugar that I grasped exactly how unhealthy they are…but oh so good.
Besides this, do not be surprised by a strong scent if one surfaces while working with the gelatin and hot water. Gelatin is made from animal byproducts (you can buy vegetarian and vegan gelatin). Depending on the brand, what the gelatin was made from, and your own personal sensitivity to smell, the gelatin can give off a horrible stench until the marshmallows cool and set. Do not let this deject you! It shocked me at first but I learned to get over it quickly… after hurriedly looking for answers online and trying to make it again and again I realized it is just part of the process. It just happens…or doesn't. There is nothing you can do. The brand of gelatin we used was KNOX. Let us know if y'all had the same issues as us. Just know that your marshmallows will taste great either way!
These marshmallows were adapted from a Martha Stewart's recipe found here. We tweaked the amount of salt, peppermint, and added a red swirl to look like a candy cane. Bite into the chewy gooey yumminess for a squeal of joy! Childhood is back in the mintiest way possible!  
P.S. our bunny decided to hop into the frame. Everyone, meet Clementine! Our devilishly cute bunny who chewed up my magazine clippings. You can read about that experience here.
Peppermint Swirl Homemade Marshmallows
February 2, 2018
: 25 min
: 2 hr
Enjoy these festive peppermint marshmallows decorated with candy cane swirls.
Ingredients
Nonstick cooking spray
1/2 cup cold water
2/3 cup light corn syrup
1/2 tsp peppermint extract
3/4 oz unflavored gelatin (about 2.5 packs of Knox)
2 cups granulated sugar
1/2 tsp course salt
Confectioners' sugar to coat and finish
Directions
Step 1

Line a 9-by-9 inch pan (we used a 8-by-10 in) with plastic wrap. Leave a 2 inch overhang and set to the side. Attach the whisk attachment to your standing mixer.

Step 2

Pour the 1/2 cup cold water into the bowl for your standing mixer and sprinkle in the gelatin, letting it stand for 10 min.

Step 3

While the gelatin is setting, combine the granulated sugar, corn syrup, and 1/4 cup water in a medium saucepan. Place over medium-high heat and bring to a boil – at this point let it boil rapidly for 1 min then take off the heat.

Step 4

Turn the mixer on high and slowly pour the boiling syrup into the mixing bowl. Let it pour down the side so it doesn't splash you with the whisk. Add the salt and continue to mix for 12 min.

Step 5

Add the peppermint extract and mix until it is fully combined.

Step 6

Spray a spatula with cooking spray and fold in a few drops of red food color. Because it is still warm, it will bleed and become pink fast, so do not over-stir. To get the saturated, streaked finish on the top, pour the marshmallow into the prepared pan. Using a couple more drops of the few color and a skewer or toothpick, decorate the top with swirls or any other design to your fancy.

Step 7

Spray a sheet of plastic wrap with cooking spray and place on top of the marshmallow. Lightly press and even out the surface. Let it set for at least 2 hours.

Step 8

Remove the marshmallow from the pan and discard the plastic wrap. Spray and knife with cooking spray and cut into squares (you can choose how big). Toss the marshmallows in confectioners sugar to finish them off.