After being diagnosed with Celiac Disease, for a long time, I felt dejected around the holiday season. No matter how hard I tried, I could not make our traditional family recipes taste like I remembered. After a while, I tried making new recipes that are naturally gluten-free. Soon, I had a plethora of gluten-free Christmas treat recipes in my arsenal to pull from. I still use these recipes to this day even after learning how to bake delicious gluten-free cookies with gluten-free flour.
Below is my 2020 guide to naturally gluten-free Christmas treat recipes. None of these recipes require buying or making a gluten-free flour blend. We hope you try out and enjoy our recipes! 
Note: For those who are looking for an AMAZING gluten-free flour blend, check out our blog post for The Best Gluten-Free Flour Blend!
Gluten-Free Christmas Treat List: 
For this recipe list, we decided to add a drink pairing to go with each treat! We hope you enjoy the treats. Cheers to a wonderful holiday season! 
Meringue Christmas Tree Cookies
Meringue Christmas tree cookies are the cutest little bites! Simply make a delicious meringue, add green food coloring, and pipe into trees. If you want added flavor, you can dip your Christmas tree meringues into chocolate and roll into different ingredients.
I am a pistachio lover. So, we roll our meringue cookies in ground pistachios. 
Meringues are crunchy and airy. They are the perfect cookie for those who don't want to feel overly full after a large meal. 
Drink Pairing: A Christmas celebration champagne. A bubbly glass of champagne goes well with the crispy and airy meringues. The dryness of the champagne pairs well and tones down the sugariness of the crunchy dessert! 
Peppermint Creams
Peppermint creams are a candy treat originating from the U.K. Similar to York Peppermint Patties, these treats are cooling, sweet, and refreshing. Peppermint creams are a no-bake recipe using just a few ingredients. 
We dipped our peppermint creams in different chocolates for more delicious flavorings. If you want to try a traditional U.K. Christmas treat, try making these treats. 
Drink Pairing: Try eating these peppermint creams with a White Russian. During the holiday season, peppermint White Russians are incredibly popular. Instead of adding peppermint to the drink, why not serve as a dessert to go with your after-dinner cocktail? Best served in front of a warm fire. 
White Chocolate and Smoked Salt Pistachio Brittle
In my opinion, you cannot have Christmas without a tin of brittle sitting on the counter! Thankfully, unless the recipe calls for a cracker layer, brittle is an excellent gluten-free Christmas treat option. 
Our Pistachio brittle is nutty, sweet, and a tiny bit savory. The smoked salt heightens the flavor of the pistachios and lets them shine. At the same time, the creamy-white chocolate balances out that strong nutty flavor from the pistachios and brittle. 
Drink Pairing: I highly recommend drinking a cold glass of eggnog with this brittle recipe. Leave some eggnog out with our pistachio brittle if you think Santa needs something a little stronger than milk to get through the night!
Peppermint Swirl Marshmallows
Do you enjoy marshmallows in your hot chocolate? Why not make them even more delicious? Try making your marshmallows taste like delicious peppermint and decorating them with a beautiful red swirl. They are not only wonderful to add to your kid's hot chocolate but are also a great hostess gift to give during the holiday season. I know my friends enjoyed receiving these during our Christmas cookie and treat exchange!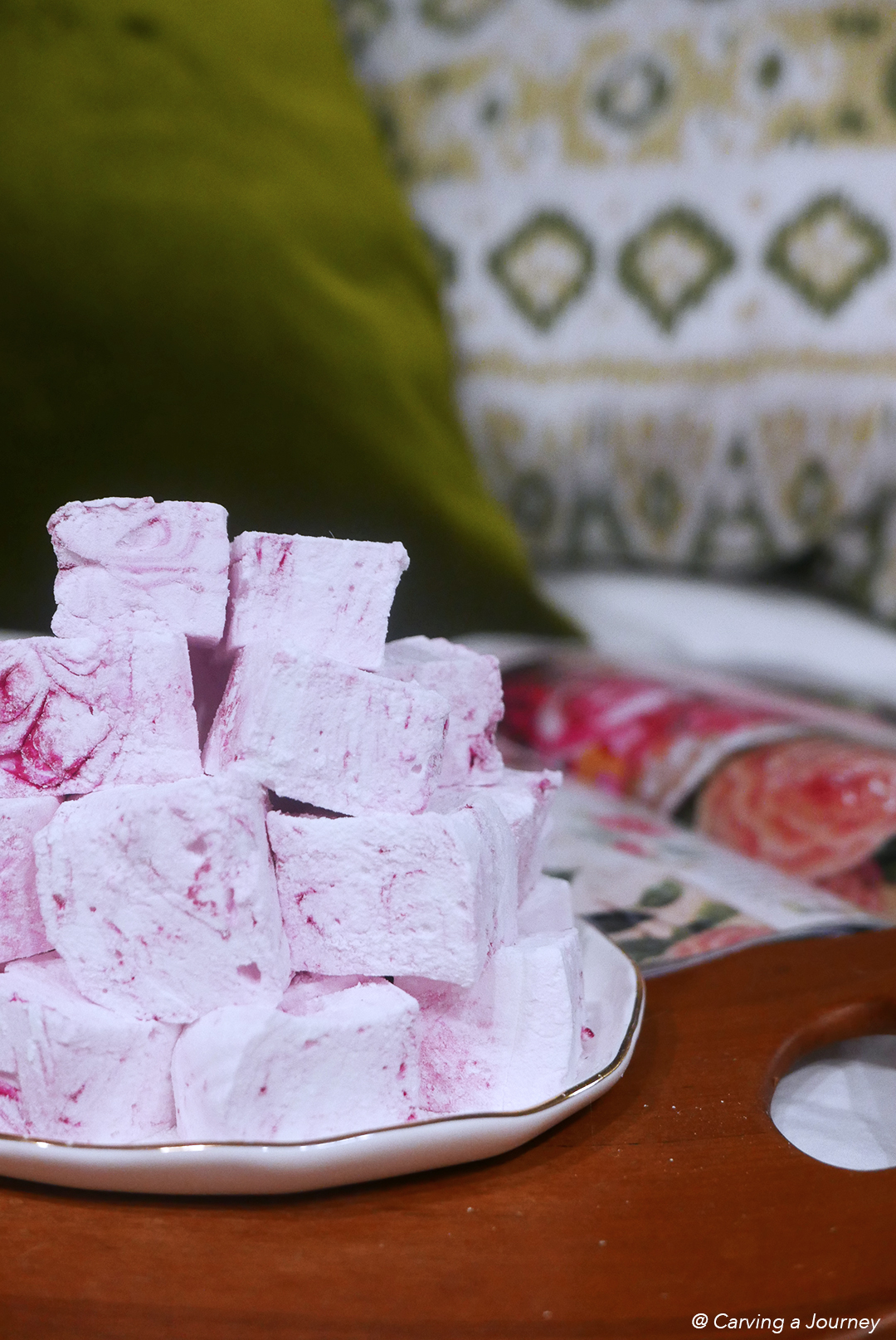 Drink Pairing: I enjoy the peppermint swirl marshmallows the most when I put them on top of white hot chocolate. 
Note: For all those wondering about the difference between hot chocolate and hot cocoa, check out our blog post! 
Korean Ppopgi Cookies 
After getting married, I started adding Korean options to my Christmas arsenal of treats. This way, my husband also has some of his childhood flavors to enjoy during the holiday season. 
Honestly, I am surprised Korean ppopgi isn't well known in America. It is so easy to make! Ppopgi is made by mixing baking soda with sugar over the stove heat. You stir and stir as it slowly combines into a thick syrup. Then, you pour onto a flat surface and let it harden.
Those two ingredients make a deliciously nutty and rich flavored cookie! 
Drink Pairing: During these quarantine months, you may have heard of Dalgona Coffee. It became a trend on the internet! Actually, the coffee is named after these ppopgi cookies. Dalgona is another name for these delicious street food cookies! It just so happens that the coffee drink goes well with the actual street cookie! 
Do You Have a Favorite Gluten-Free Christmas Treat?
When baking in your home, do you have a favorite gluten-free Christmas treat? If you do and would like to share, please comment below or email us at  [email protected].
We hope you enjoyed our list of gluten-free Christmas treat recipes. If you try any of the treats or drinks, let us know in the comments below. We love hearing from you! You can also follow us at @carvingajourney on Instagram, Twitter, Facebook, and Pinterest. Finally, you can subscribe to our blog by joining our mailing list.
Carving A Journey is a participant in the Amazon Services LLC Associates Program, an affiliate advertising program designed to provide a means for sites to earn advertising fees by advertising and linking to Amazon.com. Although we may earn commissions for our endorsement, recommendation, testimonial, and/or link to any products or services from this website, these opinions are my own and I fully support these products.