This post may contain affiliate links. Please read my disclosure for details at the bottom of this page. As an Amazon Associate, I earn from qualifying purchases on this 'the 2021 year in review' post. We hope you enjoy reviewing 2021 on Carving A Journey as we enter 2022! 
In August of 2020, when Covid-19 was in full swing, I made it my mission to focus on my hobby blog. While I posted here and there every few months, I never consistently worked on it. I decided that Carving A Journey would give me something to do as the world remained shut down. 
At the time, I decided to write two blog posts every week. Since then, I kept my promise to myself, only missing two weeks for scheduled vacation time. I wrote about cooking tools, ingredients, and recipes–focusing mainly on what I continued to learn about my husband's Korean food culture as well as some seasonal southern recipes. 
In 2021, my little hobby blog, which had maybe (MAYBE) 100 people visit every month, slowly grew each month. Now, this blog is my career! 
To reflect on the past year, I will share my favorite blog post for each month, as well as some insight as to why it is my favorite! 
Carving A Journey's 2021 Year in Review:
Below, we list some of our favorite 2021 Caving A Journey recipes! Let us know if you have a favorite recipe from our site in the comment section below!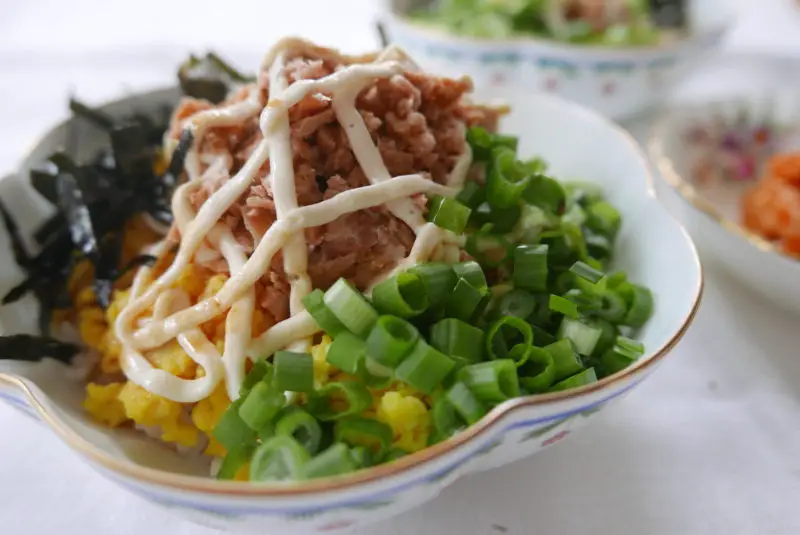 In every culture, people make comfort food that is also affordable and a perfect quick bite. In South Korea, tuna mayo rice is one of those meals. To make the recipe, you top fluffy white rice with canned tuna, eggs, green onions, and thinly sliced dried seaweed strips. Then, you add mayonnaise and a soy sauce-based dressing to the bowl.  
For me, while I worked and my husband attended school, this saved us on exhausted nights at home. Everything mixes together in a bowl and is packed with protein. So, when my husband studied late into the night, it fueled his brain and kept him full for hours. I recommend serving with sides of kimchi or other fermented vegetables as well!
Honestly, I am not a huge egg lover. I rather eat them as an added ingredient in a dish rather than the main attraction of the meal. That being said, I LOVE Korean marinated eggs. The first time I tried mayak eggs, I fell in love with their jammy center and flavorful egg whites. 
In Korean, the word 'mayak' literally translates to 'drugs.' People call these 'mayak eggs' because they are so addictingly delicious!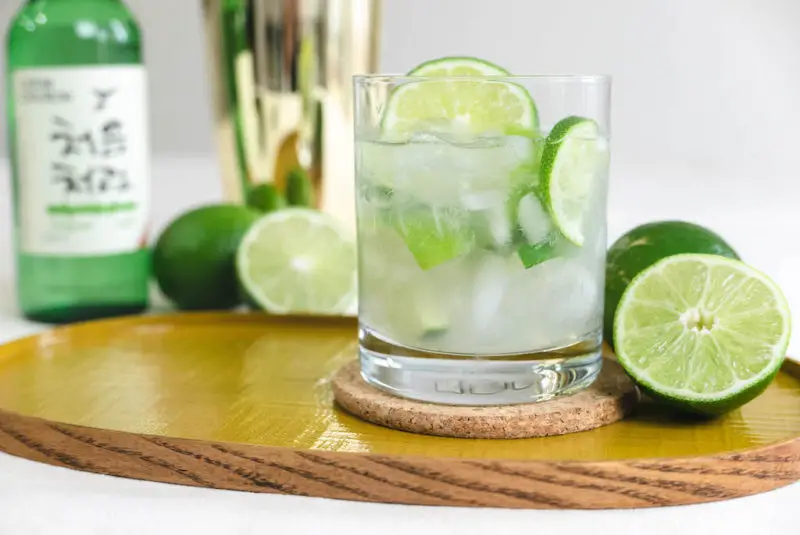 In March, I started experimenting with cocktails, specifically soju cocktails. Soju is a Korean liquor that tastes like a sweeter vodka. While my husband loves drinking it straight, I find it difficult. Instead, I enjoy drinking soju mixed into cocktails. 
This soju cocktail is based on the national drink of Brazil! If you are interested in other soju cocktail recipes, try making somaek (soju and beer) or soju and tonic!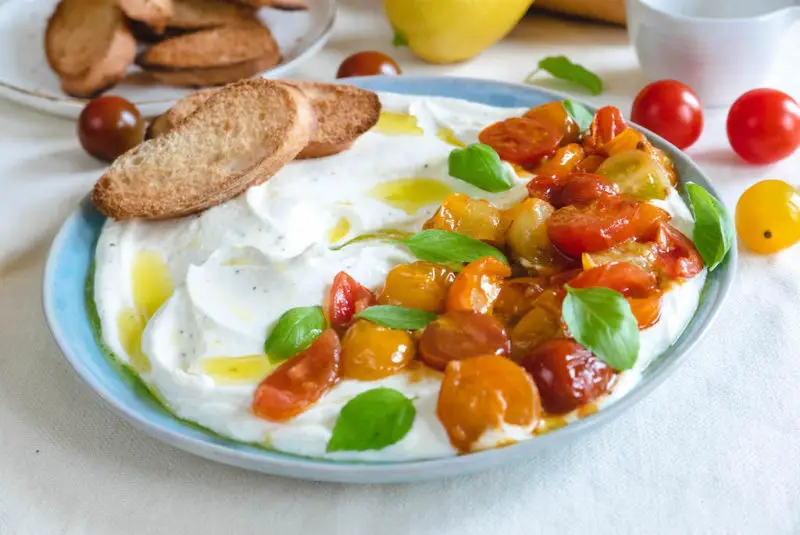 We love hors d'oeuvres in our family–think of cheese boards, bruschetta, dips, and spreads. You name it, we love it. This whipped feta and tomato crostini recipe is the perfect summer treat to share with friends and family as you sit around before a meal. 
Who doesn't love family time around delicious food? 
As a Georgian, I love peaches. After all, Georgia is the peach state! This yogurt-based banana peach smoothie makes the perfect breakfast drink. It contains fruit, protein, and healthy probiotics all in one recipe!
In May, I start getting excited about the summer fruits and vegetables. I can barely wait to eat them. This was my favorite recipe for May because it kick-started my summer cooking!
I adore Korean sweet potatoes. Unlike yams in America, these sweet potatoes have a golden flesh and taste very similar to chestnuts! Once you try one, you will never have enough–for that reason, it is on my list of favorite blog posts.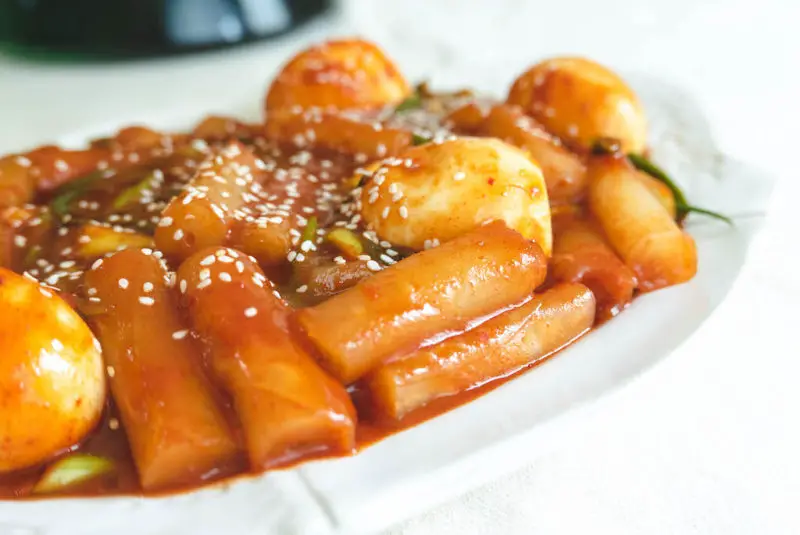 Tteokbokki is probably one of the most famous South Korean dishes internationally– for lovers of Korean pop culture, they will have seen it on dramas and tv shows. During the summer, a trend started happening online. Instead of using traditional 'tteok' (rice cake), people started making this recipe using rolled rice paper. This unique idea allowed people outside of South Korea and without access to rice cakes to try making tteokbokki. 
The Greek Momo is another trendy recipe that started spreading online during COVID-19. This recipe includes peach, yogurt, honey, and granola. To make this recipe, peel and remove the pit of the peach. Then, you place yogurt at the center of the peach before freezing the entire thing. Top the frozen peach with honey and granola to make the perfect summer breakfast!
I love this because all the ingredients are healthy, and it tastes like dessert! 
Kim bugak is a type of Korean snack- You make it by first coating slices of dried seaweed with a rice paste. Then, you redry the seaweed before frying them into crispy treats. 
Interestingly, this snack is a type of temple food in South Korea. Learning different aspects of Korean cuisine is a passion, so I was excited to try making my first (Buddhist) temple recipe! 
I love this recipe because it was my first attempt at making a one-pot meal. Jajang tteokbokki is based on the Korean-Chinese dish known as 'jjajangmyeon,' otherwise known as black bean noodles. 
This tteokbokki is made using Korean rice cakes and a black bean fermented and fried sauce. Rich, slightly sweet, and deep in flavor, it is a unique Korean-Chinese treat! 
This past fall, I started playing around with southern Korean fusion dishes. The base of this dish is southern cheese grits, the top includes Korean marinated ground pork, spinach, and fried kimchi. For our family, it is the best of both our cultures.  
For another southern Korean fusion dish, try making our kimchi deviled eggs.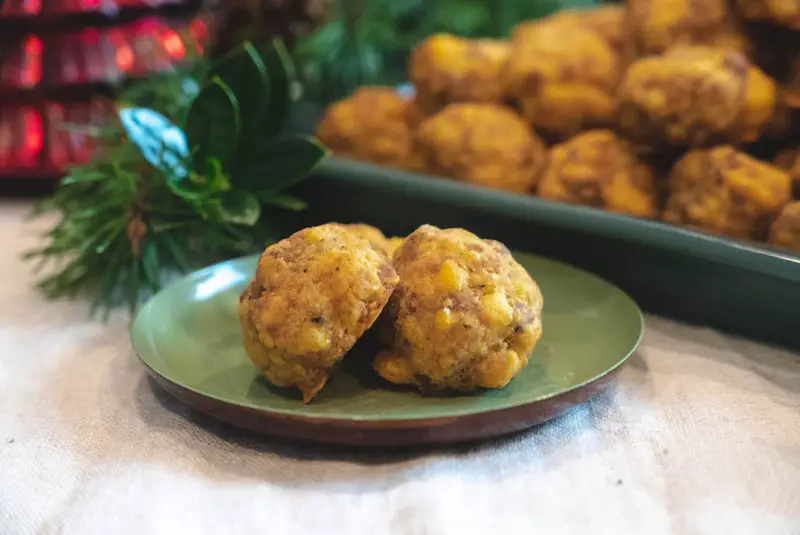 Every Christmas, my family makes cheesy sausage balls. While I love them, I am trying to reduce the amount of meat I eat. This recipe allows me to eat my favorite Christmas treat!
If you want the original recipe using real meat sausage, check out our cheesy sausage balls recipe.
Do You Have a Favorite Carving A Journey Recipe?
In the end, we hope you enjoyed reading about my favorite 2021 Carving A Journey recipes. If so, let us know in the comment section below.!
If you would like to read more about Korean and Southern culture as well as recipes, check out further articles on our blog. For reference, many recipes are influenced by our blended Korean and Southern heritage.
If you have any questions or comments, you can also email us at [email protected].
And, finally, we would love to hear from you through our social media as well! You can follow us at @carvingajourney on Instagram, Twitter, Facebook, and Pinterest. Or, if you would like more articles like these, you can subscribe to our blog by joining our mailing list. We hope you enjoyed our 2021 year in review. Happy New Year! Goodbye 2021, hello 2022!
Carving A Journey is a participant in the Amazon Services LLC Associates Program, an affiliate advertising program designed to provide a means for sites to earn advertising fees by advertising and linking to Amazon.com. Although we may earn commissions for our endorsement, recommendation, testimonial, and/or link to any products or services from this website, these opinions are my own and I fully support these products.